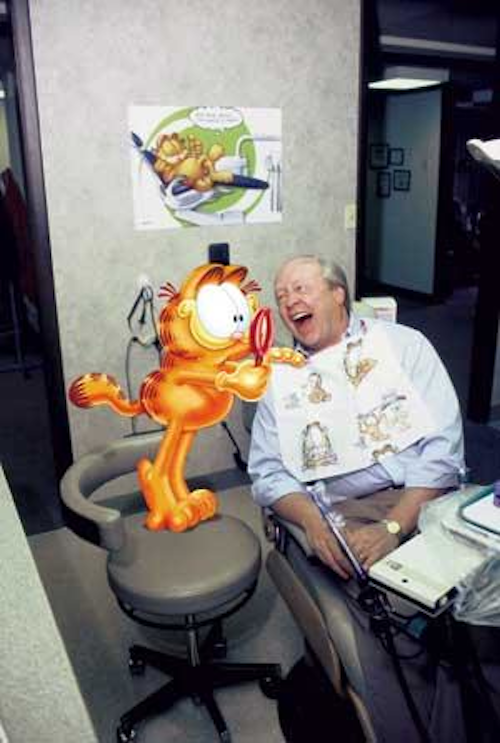 By Curt Hamann, M.D.,
SmartPractice
I'm staring at the most current addition to our family — our family of products, that is. He guzzles coffee, inhales pizza, makes fun of the dog, and hates Mondays. Sound familiar? Here's another hint: Even after nearly a quarter century, he rarely utters a sound but is never at a loss for words. Confused? His name is Garfield, and his cartoonish sarcasm snaps at our collective funny bone. And his cynical cat grin litters — every pun intended — a wide variety of patient care products used in dentistry.
You might have seen this irascible orange fur ball lounging in your practice patient reminder or appointment cards, as well as your daily newspaper. Created by cartoonist Jim Davis in 1978, Garfield has cultivated millions of fans. Debuting in 40 newspapers, Garfield is now syndicated and published in more than 2,500 papers, making it the most widely syndicated comic strip in the world. His cantankerous quips can be read in more than 100 countries and dozens of languages.
With his 26th birthday just ahead, Garfield's influence extends far beyond comic strips and books. You might have spotted his animated antics during the 1980s in several Emmy award-winning television shows. But this summer, Garfield goes Hollywood with his new movie, "Garfield." The tabby catapults to life on the big screen replete with computer-generated imagery and live action. Given voice through the talents of Bill Murray, the movie promises a solid dose of Garfieldisms.
While television, film, newspapers, books, and other products feed fans' appetites for the feisty fat cat, dentistry helped give him some professional teeth. Garfield grins Cheshire-like on a myriad of dental and medical supplies. What patient can resist smiling when donning a Garfield dental bib or using a Garfield toothbrush?
Frisky business
How did this comic strip cat evolve into such a megastar? Even Davis has been surprised by Garfield's success.
"In my wildest dreams, I hoped for a Garfield book and maybe — if I was real lucky — a TV show," Davis says.
He applied his Ball State University business lessons with savvy. Davis was inspired by the success of cartoonist Charles Schultz and his "Peanuts" comic strip, which led Davis to develop similar licensing and merchandising strategies. (He is known throughout the industry as a master of branding.) Of course, it all started on a smaller scale, and that's where dentistry lent a helping paw, so to speak.
In 1980, "Garfield At Large" was hitting No. 1 on the New York Times Best-Seller List. At about that same time, a dentist and serious Garfield fan approached SmartPractice (then Semantodontics) founder Jim Rhode with a request. The company already personalized his other patient recall cards; couldn't they also create and personalize a Garfield patient reminder card? Thus was born the "Remember Me?" postcard.
As Davis remembers, approximately 2 million Remember Me cards were sold that first year, creating a noticeable blip on his year-end business statements. This number was eclipsed as more Garfield cards were added to the dental repertoire.
"We started personalizing stuff for dentists many years ago, but it wasn't until SmartPractice started using Garfield that we really sunk our teeth into the whole dentistry thing," Davis says.
Garfield's appearance in dentistry reflects a combination of creative business enterprises: Davis and Garfield (Paws, Inc.), SmartPractice, and one dentist with a wry sense of humor who wanted to communicate with his patients in a special way.
For some 20 years, many dental offices have adopted Garfield as their favorite celebrity. They've purchased millions of cards and related printed products emblazoned with Garfield. Since 1980, at least 183 million Garfield-based cards have been sold to dental practices in the United States, according to estimates. If they were stacked on top of one other, these cards would reach past the stratosphere of our planet, more than 27 miles high.
Customer purchase estimates show nearly 20 percent of U.S. dental practices have purchased Garfield cards — an average of 10 million Garfield-based cards a year. One in every 15 dental patients probably received a Garfield card, according to U.S. Census data and estimates of peak card sales.
The furry fireball turns pop icon
Of course, other events helped fuel Garfield's popularity. Most of you probably remember the suction-cup "Stuck-On-You" Garfields that adorned countless cars in the late 1980s. Demand for the plush orange kitty was so great that stores had difficulty keeping them stocked. Tens of millions were sold eventually — not including the illegal knockoffs. After they appeared on television and feature films, Garfield had become firmly embedded in popular culture.
Garfield also continued to garner awards. The first animated special aired in 1982. It was rated highest of its kind for the year. Garfield books regularly made the New York Times Best-Seller List, selling more than 130 million to date. Garfield has dazzled finicky art aficionados and is displayed in art museums and personal collections. His television specials repeatedly were nominated for and won Emmys. Garfield shared the spotlight with his creator in 1989 when Davis won the National Cartoonist of the Year Award.
The root of Garfield's toothy charm
Why does Garfield appeal to so many people? According to Davis, cat lovers instantly recognize Garfield's feline habits. Who hasn't had an aloof cat that sleeps all day? Like other cats, Garfield has the upper hand and rules the house. Dog lovers often relate to the loveable, obedient Odie, Garfield's sweet-but-sloppy canine sidekick. But Garfield's more universal charm is his basic humanness.
As Davis says, "He's a human in a cat suit."
Garfield does things we'd often love to do or say, but can't. He represents a selfish human persona in a charming and funny way — one we all identify with.
Some dental professionals really love Garfield. Some dentists collect paraphernalia, including custom poster art. Davis hears from dentists and patients who look forward to the wisecracking feline's one-liners on their next cards and comic strips. Some even hoard Garfield memorabilia, requesting cards for their collections. Others have used cards and products to create identities in their communities, becoming known as "Garfield dentists."
Are Garfield cards as memorable as those of other cartoon characters? Yes, and in many cases, more so. Evidence for his presence in the media and popular culture can be seen in Garfield's Q score, which is an annual benchmark of the familiarity and appeal of characters and celebrities from comics, film, television, toys, video games, and other media or entertainment venues. According to studies conducted by Marketing Evaluations, Inc., adults and children rank Garfield in the top 10 percent of their cartoon favorites.
After more than 20 years, why do dental practices continue choosing Garfield cards for patient recalls, appointments, and other occasions? Once again, people relate to his human persona.
The frisky feline tickles dental patients regardless of age and culture, true to his cartoon Q scores.
Irreverent Garfield one-liners such as, "I'll rise, but I won't shine," and "Smile! It'll make people wonder what you've been up to," bring smiles to most patients' faces. During the past decade, these cards have showcased Garfield's world of "catty" humor. The most popular include: "You can run, but you can't hide," "Long time, no sea," and "Now that I have your attention."
While the majority of dental practices use these postcards to recall patients for appointments, they also welcome patients, wish them happy birthdays, and congratulate them on special occasions. More important, these cards establish a good rapport with patients. Education and communication experts agree this is critical in encouraging regular dental hygiene.
Health care professionals probably have read articles about how patient reminder systems improve attendance at immunization clinics, colon cancer and cholesterol screenings, eye exams, and follow-up visits for heart disease and diabetes, and, of course, dentistry. Countless studies report women are more likely to get mammogram and cervical cancer screenings when reminders are sent. With modern hectic lifestyles, patients are thankful for reminders and recall cards. As Garfield would say, "Well, duh!"
Although dentistry and medicine have long histories of patient reminder systems, there still is a lot to learn about effectively using health messages. One expert suggests that nearly half of dental patients are lost somewhere in office record systems, and nearly $1 million in potential dental treatment may be sitting unscheduled in the charts of a typical dental office. As the population ages and communication methods change, it becomes increasingly important to manage patient communication systems wisely.
In 2003, the surgeon general released his report, "A National Call to Action to Promote Oral Health." Building on a previously issued report and "Healthy People 2010," the goals are to promote oral health, improve quality of life, and eliminate oral health disparities. Research continues establishing links between oral health and major diseases such as smoking, obesity, diabetes, and cardiovascular disease. This places dentists on the front line, giving them opportunities to encourage better health care through improved oral health.
Most practitioners recognize methods that can be used for patient recall. For example, patients may be pre-appointed or notified to make appointments at appropriate times in the future. Whatever strategies are chosen, dentists should use memorable, recognizable appointment and reminder cards to communicate the need for regular dental care. In an optimal system, the message and style of communication would be tailored and appropriate for each patient. Ideally, these devices would deliver the right message at the appropriate time and with the right style to get the desired response.
Of course, in this endeavor, Garfield scratched his way in that direction from the beginning. When I asked Davis if he ever envisioned Garfield's role in public health and the millions of patient reminder cards, he replied with typical wry wit, "No, I mostly pictured him on wanted posters."
Garfield loupes into the future
Although Garfield is 26, he's really ageless. He's everything you expect from a human cat — he likes to sleep, eat, and dream about eating so he can do both at the same time. Like many of us, he hates Mondays — even though his "work" is confined to gulping down strong coffee and keeping Odie and Jon, his owner, in line.
What started as a few posters and a handful of postcards offered by SmartPractice has mushroomed to more than 20 catalog pages, not including items offered by other suppliers. Garfield products range from dental bibs to toothbrushes and everything in between. The most recent addition to the Garfield product family is medical-grade examination gloves — available only in brilliant orange, of course.
You may be wondering, "What does the future hold for Garfield and dentistry?" Not one to bite the hand that feeds him, Garfield is looking forward to "lots of cat naps in the dental chair." Demand for the fat cat is not diminishing. According to experts, the cartoon character licensing industry is in its infancy, making Garfield a front-runner, paws down.
As I contemplate these new Garfield medical gloves and the array of other products, I remember Davis' mantra, "Take care of the cat, and the cat will take care of you."
Here's to you, Garfield, at 183 million cards and still counting.
Acknowledgements: The author gratefully acknowledges the contributions of Pamela Rodgers, Ph.D., and Kim Sullivan of SmartPractice, as well as the assistance of Jim Davis, Kim Campbell, and Kassie Adams of Paws, Inc. (and of course, Garfield).
---
Groovy Facts
First comic strip: June 19, 1978.
First dentistry comic: 1979, less than a year after Garfield's creation.
Has four Emmy awards and was nominated for nine.
Most widely syndicated comic strip in the world and in more than 2,500 papers.
More than 183 million Garfield dental postcards have been sold.
More than 130 million Garfield books have been sold.
Eleven Garfield books were No. 1 on the New York Times Best-Seller List.
Garfield is in products ranging from aquariums to massagers and toilet seats to vitamins, yo-yos, and zodiac cards.