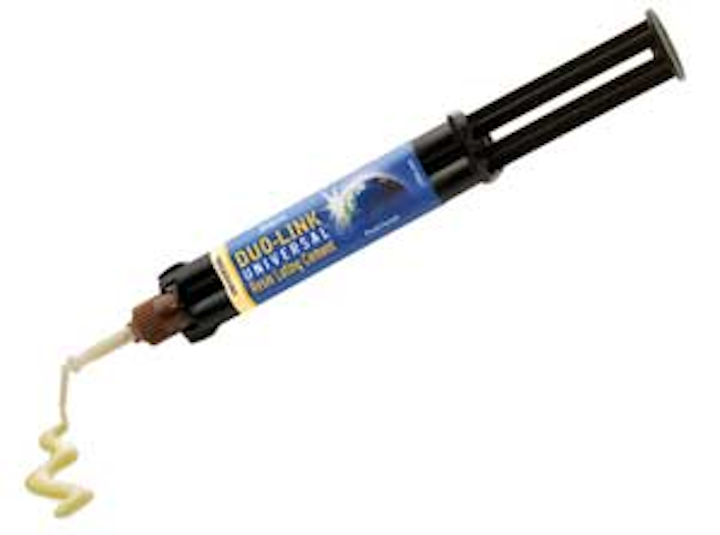 by Dr. Joe Blaes
Booth # 400
DUO-LINK UNIVERSAL™ Kit from BISCO Dental Products is an adhesive cementation system designed for final cementation of ALL indirect restorations. The kit includes Bisco's innovative ALL-BOND UNIVERSAL™, DUO-LINK UNIVERSAL, Z-PRIME™ PLUS AND PORCELAIN PRIMER to provide the ultimate combination of products to achieve high retention and durability of crowns, bridges (fixed prostheses), onlays, inlays, and posts/dowels, fabricated from metal, composite, porcelain, ceramic, zirconia, alumina, etc. To learn more, visit www.bisco.com.
Booth # 226
UltraSeal XT® hydro™ from Ultradent Products, Inc. is the next evolution in Ultradent's line of dental sealants with hydrophilic chemistry to eliminate the need to pretreat the tooth with a drying agent, allowing for faster treatments. It fluoresces under a black light making it easy to check for retention. It securely bonds to enamel, increasing marginal retention and reducing microleakage so fewer patients need sealants replaced. To learn more, visit www.ultradent.com.
Booth # 514
Ultimate Web Presence Solution from Officite — Dental practices today need one solution to manage their entire online presence. Officite's new solution allows dentists to establish their complete Web presence starting with a website and enhanced with programs including search marketing, reputation management, mobile marketing and social media —all in one, patient-focused package. To learn more, visit www.officite.com.
Booth # 803
The SafeSiders® from Essential Dental Systems were designed to eliminate the fear of separating instruments during the root canal procedure. EDS has expanded the SafeSiders® product line to now include 31mm length instruments and 06 SafeSiders instruments for use in smaller, tighter, or calcified canals that require a smaller instrument to gain initial access to the apex in the beginning of endodontic instrumentation. To learn more, visit www.edsdental.com.
Booth # 1006
BioSurf: the 50-Second Solution Surface Disinfectant from PureLife Dental now offers the 50-Second Solution, a next-generation surface disinfectant that kills TB in 50 seconds flat. The product is non-toxic, making it healthier for staff and patients. Make your way to Booth 1006 and experience the 50-Second Solution for yourself! To learn more, visit www.PureLifeDental.com.
Booth # 1400
Aquasil Ultra Fast Set from DENTSPLY Caulk. The Aquasil Ultra Smart Wetting® Impression Material portfolio has expanded to include Super Fast Set. The optimized formula offers an adequate intraoral work time of 35 seconds and Super Fast mouth removal time of 2 minutes 30 seconds. To learn more, visit www.aquasilultra.com or call an authorized DENTSPLY distributor.
Booth # 1600
DENTSPLY Tulsa Dental Specialties WaveOne® Reciprocating File System is geometry combined with M-Wire® Nickel Titanium technology that provides user benefits from the reciprocating movement of the e3® Torque Control Motor or ProMark® Endodontic Motor. It has overall flexibility and greater resistance to cyclic fatigue, which is widely regarded as the leading cause of file separation. Using a single WaveOne file for each shaping procedure makes it affordable to implement a single-use policy for endodontic instruments. To learn more, visit www.TulsaDentalSpecialties.com.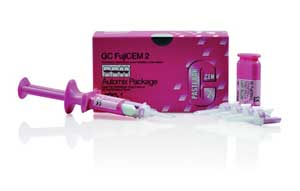 Booth # 1813
GC FujiCEM 2 from GC America Inc. This next generation resin modified glass ionomer luting cement powered by F2 Flex Fuse Technology, incorporates new high-elastic crosslinking monomers with a modified filler-surface treatment to increase strength properties. Indicated many indirect restorations including all types of metal-, resin-, alumina- and zirconia-based inlays, onlays, crowns and bridges, GC FujiCEM 2 delivers superior bond strength, allowing you to do more restorations in less time. To learn more, visit www.gcamerica.com.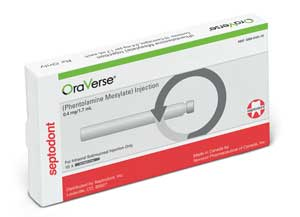 Booth # 2018
OraVerse® (phentolamine mesylate) from Septodont is a breakthrough drug that reverses unwanted lingering soft tissue anesthesia after routine dental procedures when a local anesthetic with a vasoconstrictor is used. It restores normal function so that patients can speak, smile, and drink normally in approximately half the time. It is easy to use, and requires only a simple injection with a standard dental syringe. OraVerse is all about time. To learn more, visit www.oraverse.com.
Booth # 2027
PermaCem 2.0 from DMG America is a universal, self-adhesive and dual-cure composite luting cement for the permanent cementation of crowns, bridges, inlays, onlays, and root posts without the need for a separate enamel and dentin bonding agent, conditioner, or primer. PermaCem 2.0 provides a strong reliable bond between enamel and dentine and all metal and ceramic substrates, particularly zirconium and aluminum oxide substructures. To learn more, visit www.dmg-america.com.
Booth # 2418
Waterpik® Complete Care from Water Pik, Inc. combines superior Water Flosser and Sonic Toothbrush technologies in one effective product. Now your patient's brushing and flossing needs can be accomplished with one convenient device that saves counter space and power outlets. To learn more, visit www.waterpik.com.
Booth # 2036
The NSK Ti-Max Z95L is a differentiated, durable, high performance, high speed electric attachment handpiece (1:5 increasing). It features the smallest head and slimmest neck dimensions, a titanium body (30% lighter than stainless steel) and a special Diamond-like Carbon (DLC) coating applied to the gears that can double the handpiece's lifespan.
To learn more, visit www.NSKDental.com.
Booth # 2609
ScanX® Digital Imaging from Air Techniques, Inc. is "Dressed in white and a polished silver trim, provides a 3.5" x 5.5" LED display that shines in blue when the system is ready and amber while reading plates. Patients love the light, flexible, soft, wireless PSP plates that are 10 times thinner than hard sensors." To learn more, visit www.airtechniques.com.
Booth # 2618
Estelite Flow Quick® & High Flow from Tokuyama Dental America Inc. has optimal flowability utilizing 100% spherical fillers. These are the ideal solutions for a wide variety of cases and combine versatility and strength. Available in syringe and new PLT dose for isolated lining to targeted areas. To learn more, visit www.tokuyama-us.com.
Booth # 2833
PerioLase® MVP-7™ from Millennium Dental Technologies received the Pride Institute "Best of Class" award for the world's first integration of the Samsung Galaxy tablet display and Android™ platform/control system into a medical device. It supports the LANAP protocol, the only evidence-based laser periodontitis treatment with guaranteed clinical results and proven ROI. To learn more, visit www.lanap.com.
Booth # 3007
Three-Quarter Arch T-LOCTM Triple Tray® from Premier® Dental captures all four canines and premolars for canine rise and incisal guidance for greater symmetry in the aesthetic zone! The patented adhesive-free design features retention tracks that mechanically lock in impression material preventing distortion. Large, ergonomic handles and flanges allow for simplified handling and easy tray removal. Three techniques in one saves time, money and material. To learn more, visit www.premusa.com.
Booth # 3203
Duo:PCH™ from DENMAT presents a more affordable veneer solution that you can stand behind clinically. Porcelain Composite Hybrid is an entirely new esthetics category that combines the convenience of a composite build-up with the finishing beauty of porcelain. You'll create beautiful, long-lasting and stain-resistant porcelain finishes. This easy to use product gives more patients than ever before a chance at a beautiful, new smile. To learn more, visit www.denmat.com.
Booth # 3016
Carestream Dental is redefining panoramic imaging with the new CS 8100—the sleek and simple panoramic unit that's ideal for everyday use. Blending advanced, sophisticated technology in an extremely simple and compact system, the CS 8100 makes positioning easier, image acquisition faster and higher image quality more accessible. To learn more, visit www.carestreamdental.com.
Booth # 3216
Structur 3 from VOCO America, Inc. a new temporary crown and bridge material with nano technology for the quick fabrication of strong and aesthetic provisional crowns and bridges, inlays and onlays, and veneers. It has a very smooth surface that takes on a brilliant gloss when wiped off with alcohol. It sets in only 45 seconds, has high fracture resistance, high compressive strength, and is perfect for long-term temporization. To learn more, visit www.vocoamerica.com.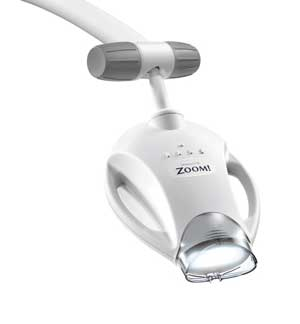 Booth # 3600
The all new Zoom WhiteSpeed System from Philips is clinically proven to whiten teeth up to eight shades in 45 minutes. The new LED light technology emits at the optimal light spectrum with 100% greater light intensity. The light then activates a photo catalyst within Philips Zoom Chairside Light-Activated Gel to accelerate and enhance whitening results and deliver the dramatic results your patients will love. Ask about the new programs to integrate Zoom. To learn more, visit www.philipsoralhealthcare.com.
Booth # 3928
DentiMax releases its 2013 software upgrade. DentiMax has a knack for making software that is easy-to-use but powerful. From checking in patients, to viewing x-rays while treatment planning, to scheduling appointments, the software flows just like your dental office. This 2013 version includes electronic prescription writing and digital X-ray/charting integration. To learn more, visit www.dentimax.com.
Booth # 3829
DrQuickLook™ Intraoral Patient Viewer is easier to use than a hand mirror! NO Training, Software or Computer Needed. It is intuitive, easy to use and freezes crystal clear images one at a time while the patient holds the viewer. It has a 3x zoom for superb clarity showing calculus deposits, caries, fractures and fillings. Patients receive "visual clarification" and ownership of their dental care, immediately increasing case acceptance and practice revenues. To learn more, visit www.DrQuickLook.com.
Booth # 4027
CEREC Omnicam's revolutionary design features a completely new, ergonomic handpiece and special optics to guarantee unsurpassed intraoral access. New ColorStreaming allows continuous capture of the oral cavity as well as displaying the 3-D data in full color – an industry first. Operator convenience has been greatly improved by making the system completely powder-free while retaining Sirona's high standards for precision. To learn more, visit www.cereconline.com.
Booth # 4400
The Inclusive® Tooth Replacement Solution from Glidewell Laboratories is the first all-in-one treatment package for a missing tooth, featuring implant, surgical drills, custom temporary components for patient-specific soft tissue management, and the final CAD/CAM restoration. Available for one low price, the open platform solution now supports most major implant systems, enabling you to take advantage of its many benefits with your implant of choice. To learn more, visit www.glidewelldental.com.
Booth # 4609
The 3M™ True Definition Scanner is shattering the high financial barrier of CAD/CAM dentistry with an unprecedented price. The scanner features powerful and accurate "3D-in-motion" video technology and is supported by an open and secure cloud-based platform. The True Definition Scanner wand never needs calibrating and is light and balanced like a handpiece. To learn more, visit www.3M.com/TrueDefinition.