Twice proves nice in Texas
Relocation shows that even a short distance between sites can result in a big impact for a practice
Mar 1st, 2007
Relocation shows that even a short distance between sites can result in a big impact for a practice
by Duane DaPron
So what can the relocation of a dental practice on the same road - with the old and new sites a mere two stoplights and roughly one-fourth mile apart - mean for the practice?
Well, in the case of Cross Timbers Dental in Flower Mound, Texas, that small difference in location has resulted in a big change in terms of new patients walking through the doors during the last 14 months at the new location.
"At our old location, we were averaging 70 new patients a month," Cross Timbers Dental owner Dr. Brad Revering said.
"At our new place, we have been averaging 120 new patients a month. In fact, (gaining) 170 new patients has been our biggest month since we moved. Overall, it's been a good flow of new patients," added Revering, a 36-year-old dentist who hails from Minnesota but grew up in Georgetown in the Lone Star state.
Dr. Revering, who earned his degree from the University of Texas Dental School at San Antonio, and his staff moved into a new 6,600-square-foot facility at the practice's current location on Jan. 2, 2006. Flower Mound, a community of some 50,000 people, is near the Dallas-Fort Worth International Airport on the northwest edge of Dallas.
Cross Timbers Dental provided treatment at its previous location for seven years. While situated on the same road and only a short distance from the new office, there are some major differences between the two locations.
Cross Timbers Road, for which the practice is named, was adjacent to a two-lane street at its previous location. At its new home, Cross Timbers Road is six lanes wide and positioned at one of the busiest intersections in the Dallas suburb.
The difference in locations resulted in a change in traffic flow between the two sites.
"At our previous location, traffic flow was 11,000 cars a day, while at our new site the traffic flow is 21,000 cars a day," Dr. Revering said.
In addition, a next-door pharmacy at the current location, combined with the exterior look of the new facility, has helped make the current practice more noticeable.
"We are more visible in our current location," the dentist said. "At our old office, we had the same name and good frontage yet no one seemed to know we were there. After having been in our new facility, I realize that we don't require as much marketing of our practice because the building serves as its own marketing piece."
For Dr. Revering, who did research in the cosmetic dentistry department while in dental school, the "look" of Cross Timbers' building was important.
"I think the exterior of our building attracts people. When they see an attractive big building, they think the practice is going to be here for awhile and they are going to see a good dentist," he said.
"Also, I wanted it to look nice because I come here to work every day."
About five years ago, with patient numbers increasing and space becoming cramped in the previous 1,450-square-foot, four-operatory practice, Dr. Revering began thinking about the possibility of a facility change.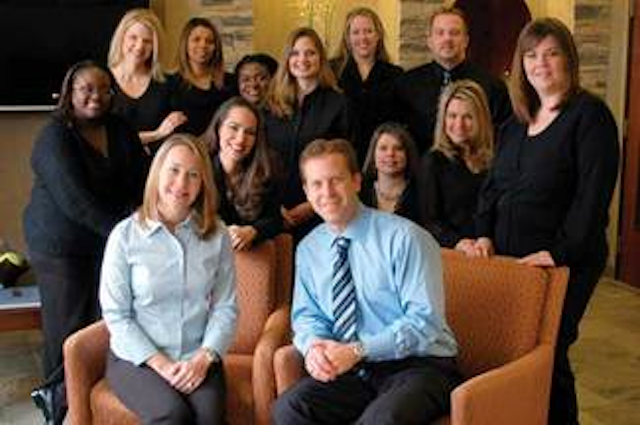 The Cross Timbers Dental team includes (front row, from left): Dr. Kellie Cleveland and Dr. Brad Revering. Middle row: Shanah Jefferson, Katherine Wall, Josie Loane, Marla Nelson, Bethany Thornton. Back row: Randi Martin, Norma Gardner, Nancy Dunning, Alyx Bayer, Lisa Dowst, Ricky Clack.
Click here to enlarge image
"I knew that if I wanted the practice to get bigger, then I was going to have to expand," he said. "I needed to do something to accommodate our demand at the time and also plan for future expansion."
Added the dentist: "Initially, I thought that the last thing I wanted to do was to buy a piece of land and construct a building."
But Dr. Revering's offer to purchase the tract of land on which Cross Timbers Dental now resides was accepted and ground was broken in July 2005.
To be sure to get what they wanted in a new building, Dr. Revering and his staff did a tremendous amount of research before construction began.
"We visited several other offices and I took a camera with me to take photos of what we liked," Dr. Revering said. "In addition, with the Internet today, I found photos, put them in a folder on my computer, and then showed them to my designer so he knew what I wanted."
As a result, the construction phase went smoothly. Six months after groundbreaking, the doors to the new facility - which features 4,400 square feet for Cross Timbers Dental - opened.
Currently, there is an additional 2,200 square feet of unused space in the building.
"Since we did a lot of research, we had very few change orders. In fact, we finished on time and on budget. Of course, the budget was big," the dentist added with a smile.
Besides increasing the number of treatment rooms to eight, the current facility includes several other improvements.
Unlike the old location, the current practice has a consultation room as well as a private office for Dr. Revering. The number of restrooms has increased to three (from one in the old location). In addition, an associate - Dr. Kellie Cleveland - was added to the staff.
"We have a little more luxury and functionality now," Dr. Revering admitted.
One feature of the new office is what the Flower Mound dentist calls its "race track" design.
With the design, the eight treatment rooms are situated on the outside of an oval (much like the layout of a racetrack) that runs within the office. To get from one side of the practice to the other, a series of four "cut throughs" were added.
"I guess I had never heard anyone call it that," Dr. Revering said of the race track reference. "But the cut throughs have really worked out well. They allow us to get from one side of the clinic to the other. They provide an efficient means to get from Point A to Point B."
Besides the main floor area, a second floor - with some 800 to 1,000 square feet - was part of the new facility's design.
"We have a staff person there who is away from the distractions of the first floor," Dr. Revering said. "We also use the area for records storage and a conference room. Having a second floor has really worked out well."
While most of the equipment in the current location came from the previous site, some upgrading has been done, one piece of equipment in the paperless practice has changed.
"Our old panographic X-ray machine conked out after about two months in the new building," Dr. Revering said. "At the time, we had a big decision to make. Did we want to spend $20,000 to replace it with a film-based machine or $50,000 to buy a digital X-ray system?"
With an average of 120 new patients flocking to the practice each month, the dentist is glad he decided to spend the extra money for the digital system.
"It has helped with the office's efficiency, considering our number of new patients," Dr. Revering said. "Actually, it is one of the better purchases we made. We didn't plan on spending that amount, but it has turned out to be a blessing in disguise."
Through the first 14 months in the new location, Dr. Revering is pleased with the continued progress of Cross Timbers Dental despite a few growing pains.
"To this point, we haven't yielded the return I would have liked. But the last few months have been very good," the dentist said.
"Currently, I am doing some tweaking. Several expenses now have been paid. Overall, I have no major complaints. I am looking forward to the practice's potential."
Future plans for Cross Timbers include increasing the number of operatories to 10 as well as the staff size so that there will be four hygienists and two dentists at the practice on any given day.
Besides Drs. Revering and Cleveland, Cross Timbers Dental also has the services of an endodontist, a periodontist, and a third molars specialist.
"We are starting to get booked out (into the future) already," Dr. Revering noted.
Yes. It has been quite a success story in the last 14 months for Cross Timbers Dental. It's interesting what a simple move of just two stoplights down the same street can mean for a practice.