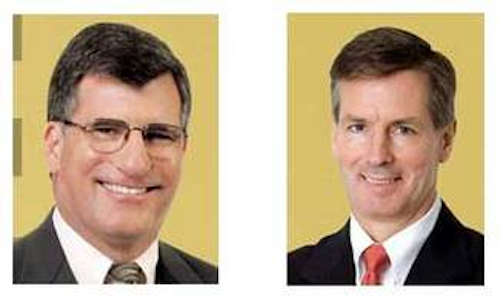 by Joe Blaes, Editor
During the past two years, the dental industry has witnessed some amazing company consolidations. One of the main players is a company that is completely new to dentistry, yet is a major player in the business world. Danaher Corporation has an enviable track record of company acquisitions, and the corporation has rarely divested a company. They are known for improving their acquisitions and making them even better.
In the dental industry, Danaher now owns six dental companies: KaVo, DEXIS, Gendex, Pelton & Crane, Imaging Sciences International, and Sybron (including Kerr and Ormco), and it is my understanding that they are not done yet. In fact, Danaher has already completed two more dental equipment acquisitions in 2007. One was Imaging Sciences (manufacturer of the market-leading 3-D digital imaging solution, the i-CAT®), and the other was the Dentrix proprietary imaging business. The imaging hardware and software business of Dentrix is merging with DEXIS.
Danaher is now the No. 2 dental company in the world. I thought our readers would be interested in learning more about this company and how it operates, so I invited Bob Joyce, who has responsibility for the Dental Equipment Group in the Americas, and Daniel Even, President, Sybron Dental Specialties, to tell us about how Danaher operates and what we can expect from this company in the future.
Dr. Blaes: Can you give us some basic information about Danaher?
Bob Joyce: Danaher Corporation is a Fortune 500 company based in Washington, D.C., and is traded on the New York Stock Exchange (stock symbol: DHR). We have six strategic platforms of businesses: Motion, Product Identification, Electronic Test, Environmental, Mechanics' Hand Tools, and Medical Technologies. The final platform includes our dental businesses.
Dan Even: When I started researching Danaher, the range of their businesses and products surprised me. Their products span from some of the most demanding applications, such as the digital microscope used to detect cancer cells or equipment that helps ensure the safety of municipal drinking water, to products that most people use but never think about. Chances are, if you've paid with a credit card at the gas pump, you've used a Danaher product.
Dr. Blaes: These certainly are quite a variety of businesses and products. What links them together, and what is the common denominator in how they are run?
Bob Joyce: The Danaher Business System, or DBS, is the one thing that is distinctly similar across all our businesses, and we are incredibly passionate about it because it defines our culture and drives our performance. It's a very powerful system of values and continuous-improvement tools, including a well-honed training model for our associates. DBS is used to guide and measure everyday activities to meet and exceed customer expectations.
Dan Even: Guiding all our efforts is a simple philosophy rooted in four customer-facing priorities: quality, delivery, cost/price, and innovation. Always keeping these priorities in mind, we use DBS to guide what we do, to measure how well we execute, and to create options for doing even better ­- including improving DBS itself!
Dr. Blaes: What do you mean by "customer-facing" priorities?
Dan Even: Throughout Danaher, the customer and the perspective of the customer is always the starting point for establishing the priorities for the business. We use DBS to work more efficiently and effectively so we can bring a better-quality product to the customer in a shorter delivery time frame, at a better price, while continuing to improve the process.
Bob Joyce: To expand on what Dan said, typically we start with quality, then delivery, then we look at cost/price. These are things that exist today, that are clearly controllable, that we're able to change and improve in the short term. The final customer-facing priority - innovation - represents mid- and long-term changes. Innovation is driven by our team (engineering, marketing, sales, and operations) spending time with customers to understand what our customers' needs and issues are, and then translating those needs into designs as quickly as possible. We use DBS tools for these efforts, too.
Dr. Blaes: Can you give me an example of how DBS works?
Bob Joyce: Central to DBS is "kaizen," or continuous improvement. Everyone within Danaher, including our leadership team, gets involved in kaizens, our continuous-improvement events. We start by identifying a customer issue and gathering a team to participate in an event that will fix a customer issue in less than a week. It's not uncommon to see Larry Culp, our CEO and President, in the middle of a kaizen, moving equipment around the factory floor. As I said, we are incredibly passionate about DBS because of the rapid impact it can have on customer satisfaction and our business performance.
With a number of other team members, I participated in a recent kaizen to address an issue related to one of our imaging products. It was taking too long for our customers to receive the product after ordering it. We needed to reduce the total manufacturing time so that we could satisfy customers' needs on time.
The kaizen began first thing Monday morning and, by Wednesday evening, we had completely revamped the production cell - the area where the product is built - and implemented new standard work procedures with the operators in the cell. In just three days, the team had implemented just two DBS tools (5S and Standard Work) and solved the problem!
The experience is incredibly exciting because of the impact we see within the first couple of hours of a kaizen. We actually move things on the floor and see results very quickly, which builds an incredible amount of momentum. As people see the results, they become more engaged. We end up working long hours because we're so eager to get to the finish line and implement the tools to their fullest extent. It's very energizing and exciting and high impact.
Dr. Blaes: Why will a company be better as part of Danaher?
Bob Joyce: Probably the most significant advantage of being part of Danaher is the Danaher Business System. It's an operating model and a culture that is proven. Our dental businesses have responded well in this new environment; they are committed to their own successes. By offering DBS, we give an already established business with strong, leading brands, the tools necessary to achieve their full growth potential while meeting their customers' needs.
Dan Even: I agree. DBS was one of the really attractive aspects about Danaher that, as an acquirer, we were particularly interested in pursuing.
Our first kaizen was on the factory floor. We have a product, the clear ceramic ortho bracket, which is very difficult to make. Any slight variation in the manufacturing process causes the material to chip or fracture, and we end up with a lot of scrap. Even though the materials to build this product are very expensive and the time to build it is lengthy, it's a very important product for us because patients want braces that don't show. This product is ground out of a block of crystal; the crystal itself is actually grown. On top of that, it has to cure for a long time. The entire process takes almost 24 days and takes up a lot of floor space. During a kaizen, we literally shrunk the floor space 30 percent, and we significantly reduced the number of days it takes to build the part to six days. So, we ended up with the same quality product, but with less floor space and a faster delivery time to the customer.
Our organization has embraced DBS. At that first kaizen, we became believers at what we could accomplish through this methodology. We continue to schedule more events. We're very excited about the opportunity this is going to bring us - improving customer satisfaction and driving growth and efficiency.
Dr. Blaes: What attracted Danaher to the dental market?
Bob Joyce: Like any new market we enter, we study the customer base, competitors, trends, and opportunities until we have a comprehensive understanding of how we can create value for customers and our shareholders. The dental market is no different. We saw a terrific opportunity to acquire some of the leading brands in the market that could clearly stand on their own, yet also be linked to present a broader spectrum of dental solutions. By supporting individual brands, yet at the same time having them work closely together, we knew we'd be able to present the best array of options to dentists and their patients.
Dr. Blaes: What are Danaher's plans in dental?
Bob Joyce: Danaher plans to continue to invest in its existing dental companies and brands - Sybron (including Kerr and Ormco), KaVo, DEXIS, Gendex, Imaging Sciences, and Pelton & Crane. We know that oral health is a primary concern for people in developed countries and a growing concern for people in developing countries. We are firmly committed to addressing the current and future needs and concerns of patients throughout the world.
Our way of meeting patients' needs and concerns is to offer dentists the best products. This means investing in our dental businesses and expanding organically. We will continue to improve our current line of equipment and consumables. We are also investing in research and development of esthetic solutions, minimally invasive products that minimize or eliminate pain, and products that increase efficiency in a dentist's office.
As far as overall strategic growth of the entire dental platform, we're going to continue our investments in the existing businesses while continuously assessing inorganic expansion opportunities, whether they are acquisitions or partnerships.
Dr. Blaes: At Dental Economics, we see a bright future for dentists in the United States. Demand for high-margin procedures such as cosmetic restorations and implants will drive dental offices' top and bottom lines higher and higher. How much did this market factor influence Danaher's decision to enter the dental market?
Bob Joyce: Obviously, we saw the potential in this area. The growing trends in cosmetics and implant technology are critical in dentistry. These trends were important considerations in our decision to acquire the businesses that we did. They will become even more important going forward as we strive to develop products that meet the needs of the dentists who perform these services.
Right now we have a wide range of products, from those used in conjunction with cosmetic and implant procedures, to complete diagnostic and clinical equipment systems ­-
Consumables and implant solutions from Sybron
Digital radiography and imaging solutions from DEXIS, Gendex, and Imaging Sciences International
Specialized handpieces from KaVo
Delivery systems, lighting, and dental equipment from Pelton & Crane.
Dan Even: And we see a potential for real growth in cosmetic and implant treatments. Consider this: consumers spend billions of dollars annually to look healthier, younger, and more beautiful. From billboards to magazines to television, everything is centered on plastic surgery, fitness training, and cosmetics.
We foresee a rise in requests for these types of dental treatments. Most consumers don't yet have the perception of what dentistry - whether orthodontics or high-quality veneers - can do for them. Our driving mission is to develop products that dentists can use to help patients meet their goals of looking healthier, younger, and more beautiful and, in doing so, build their practices.
Dr. Blaes: Danaher has purchased companies that supply operatory equipment. Do they see the number of new offices being built or remodeled increasing rapidly in the near future?
Bob Joyce: We see steady mid single-digit growth rates in the dental equipment and consumables markets during the next three to five years. New offices and expansions or remodeling are certainly increasing the sales of new equipment, but there also is a growing interest by dentists who choose to upgrade their equipment to ensure that they have the most effective and efficient technology to address patient needs and business needs.
Dr. Blaes: The dental industry has long had a distribution system that includes a dealer network. What are the strengths and weaknesses of this system?
Bob Joyce: We think the strengths of the distribution network to serve the broad market of general practitioners far outweigh any weaknesses. Dentists have long been accustomed to buying products from distributors because of the efficiency associated with distribution and the strong service network. Strong relationships exist between distributors and dentists. We think this model is one that has served us well, and we are committed to the dealer network for many of our products.
Dan Even: We've also found that in the arena of very strong technological products, our customers, the specialists, feel they are best served by direct relationships with our businesses' sales representatives. We will continue to support these orthodontic, endodontic, periodontal, and oral surgery specialties by providing products on a direct basis.
Dr. Blaes: In closing, what would you like our readers to remember from our conversation?
Bob Joyce: Danaher dental businesses are committed to the needs of the dental community. Our strategic planning coupled with the execution tools of DBS ensures that we can effectively meet those needs.
---
Bob Joyce is President of the Danaher Dental Equipment Group in the Americas. He has been with Danaher Corporation for 13 years and has run its businesses in the industrial controls segment, power quality segment, and product identification segment. He joined the Danaher Dental Equipment Group in December 2005. Today, Bob is responsible for KaVo, DEXIS, Pelton & Crane, Gendex, and Imaging Sciences International in the Americas. Bob obtained his undergraduate degree in English from Holy Cross in 1986 and his MBA in Finance and Marketing from Georgetown University, Washington D.C., in 1993. His office is located in Lake Zurich, Ill.
Dan Even is President of Sybron Dental Specialties. He joined Danaher in May 2006 when Danaher acquired Sybron, a world leader in consumable dental products. At that time, Dan was the Chief Operating Officer for Sybron. Dan's history with Sybron spans 28 years, during which time he has also served as president of Sybron Specialty Products Group, which includes Ormco, the world's leader in orthodontic products, Sybron Endodontics, a leader in specialty endodontics products, Innova Life Sciences, a leading implant company, and AOA, a leader in orthodontic appliances. Dan obtained a BA in Economics from the University of California in 1974 and his MBA with honors from California State Polytechnic University in 1984. His office is located in Orange, Calif.