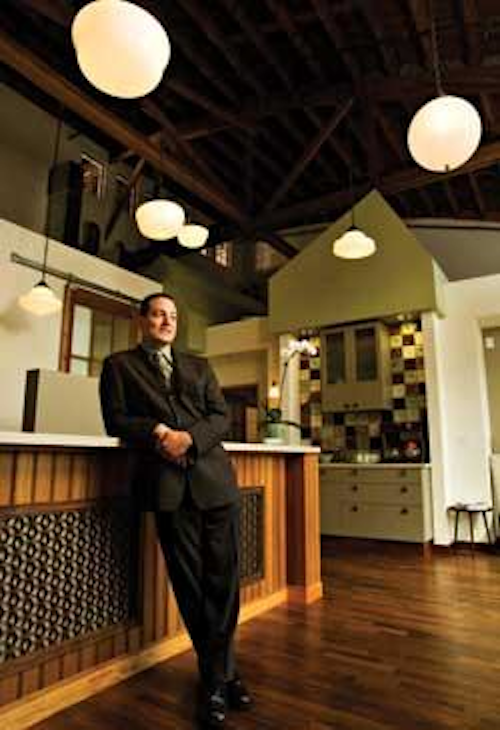 Dr. Michael Gradeless talks with Portland's Dr. Jason McMillan about his practice and why green is a way of life, not just a color. The interview follows:
After graduating from the Oregon Health Sciences University School of Dentistry in 2000, I spent three years as an associate in several different offices. In 2003, I found an aging practice in Portland that needed improvements to the physical space, existing systems technology, and patient education.
The original practice started in 1917. In 1948, the dentist built a new 980-square-foot, three-operatory facility. This was where I took over the practice. The small cinder block structure had a bit of a bunker feel to it and needed an extensive face lift.
The lack of any modern business equipment presented an enormous challenge. The most high-tech piece of equipment in the front office was an answering machine. The schedule was written in pencil, and then typed on a typewriter for the next day. Recall consisted of filed index cards, and the accounting was 1950s-style peg board. The operatories were equipped with dental chairs from the 1950s.
The most complex aspect of the transition was patient education. The previous dentist had not accepted new patients for quite some time, and the existing patient base had become comfortable with an outdated model of dentistry. Patients were not accustomed to having a full series of X-rays. Often they just "wanted to have their teeth cleaned." I spent a great deal of time teaching the value of professional cleanings and diagnostic X-rays. Even more challenging was the fact that most patients had never received a bill, believed their insurance covered everything, and told me that the previous office manager "just took care of it."
Fortunately, the practice had a long history in the neighborhood. I developed a good rapport with a very passionate and loyal patient base.
While many might prefer the purchase of a turnkey practice, I recognized a good deal. Because the practice had barely been tapped restoratively, it was undervalued. I also knew that I could inject revenue by performing procedures that had previously been referred to specialists. Success hinged on paying attention to the patients' needs. I worked hard to help them understand that I brought value to them by providing more comprehensive services and continuity of care.
I also saw opportunity in the flexibility of my new lease and the reasonable purchase price. The opportunity for immediate production increases gave us an opportunity to be mobile within three years and build a new office that would be true to my vision.
I have always believed that, in a professional office that seeks to improve the well being of its clients, a healthy green building that reflects this commitment just makes good sense. I want to demonstrate to our patients that we recognize the relationship between one's oral-physical health and the health of our environment. Improved air quality, elimination of toxic materials, and waste reduction affect our society's welfare.
My wife, Rebecca, was the marketing director for a commercial contractor, giving her experience with the U.S. Green Building Council's LEED program. LEED (Leadership in Energy and Environmental Design) is the nationally recognized certification program for green buildings. We knew this process would help us realize my vision of creating a model for an environmentally responsible dental facility. LEED promotes a comprehensive approach to sustainability by focusing on five key areas during construction — sustainable site development, water savings, energy efficiency, materials selection, and indoor environmental quality.
Projects garner points by demonstrating that they have met the goals in each of these areas. Then they are awarded certification at different levels (certified, silver, gold, or platinum) based on how many points are accumulated. Although we are still several months away from receiving our official certification, we expect to reach the platinum level. This facility is slated to be the first LEED dental office in the nation.
In order to achieve platinum certification, our office implemented a variety of measures. This included the creative integration of reclaimed materials and furnishings, the selection of materials and paints that don't have harmful emissions, energy-efficient lighting and equipment, and the recycling of 100 percent of our construction and demolition waste.
This process helped me create a healthier building for my patients and inspired me to lighten our environmental footprint in our day-to-day work practices. For example, we chose to use an alcohol-based hand rub in each patient room. This hand rub eliminated the need for medical-grade sinks, faucets, water, soap, and paper towels. Conservative estimates show that this will save 360 paper towels and 90 gallons of water each day in our practice! Data from the Centers for Disease Control show that it also reduces the number of bacteria more effectively than washing with soap and water.
Jim Hammon from Sullivan-Schein provided crucial preliminary layouts for the new space and helpful research on environmentally friendly equipment and materials. Due to the extensive nature of our build-out, Jim's architectural background was critical to the project's success. His willingness to share his knowledge in the area of dental cabinetry functionality and design also made it possible for us to build custom "green" cabinets. For anyone considering a renovation or build out of an office, it is imperative that you have someone like Jim that can help you avoid costly mistakes and guide you through the process.
Going green also makes sense from a business perspective. There are some substantial local and national tax incentives for earning LEED certification. Studies also show that sustainable work environments reduce employee absenteeism and boost morale, as well as providing lower operating and maintenance costs. We are finding that our sustainable features distinguish us in the marketplace by showing the public that we are a community-minded practice. Portland is especially supportive of green businesses, and we have had a huge positive response from new and existing patients. Patients are amazed by our interior space. The interesting mix of vintage and modern lines creates a hip "refurbished loft" atmosphere.
Additionally, I envisioned a practice that could facilitate the highest quality, comfort, and comprehensive treatment for patients. I want to provide as much treatment in our office as possible (e.g., surgical procedures such as impacted third molars, endodontics, and full-mouth rehabilitations). I have always strongly believed that continuity of care generates better long-term care for my patients. The new office allowed us to install superior diagnostic equipment, and has improved my confidence in performing these procedures.
As we were creating a unique space, we decided to change our name, too. Mint seemed a fitting symbol for our vision of the practice: it's green, healthy, and reflects our fresh approach to dentistry. Our new name, Mint Dental Works, gives our patients and the public an instant impression of what's important to us.
Since graduating, I have realized that dental school was just the beginning of my professional training. Continuing education, study clubs, and involvement in professional organizations are vital to my personal and professional growth. One of the most exciting things about the field of dentistry is that it is constantly changing. To truly serve the best interests of your patients, you must commit to a lifetime of education.
We track monthly practice statistics such as overhead, production, and collections. On a broader strategic level, our plan includes goals for myself and my staff in terms of continuing education, community outreach, charitable giving, exploring and integrating appropriate new technology, as well as evaluating different reimbursement models.
The number of new patients we receive monthly is a benchmark for our practice. This factor tells us how satisfied our current customers are, and if our marketing efforts are effective. The implementation of new procedures is also a good indication of our professional growth since we are always seeking to expand our clinical capabilities to benefit our patients. We also understand the value of targeted marketing. A huge, glossy direct mail piece blanketing zip codes isn't nearly as effective as internal marketing programs to develop referrals from your existing patient base.
I believe the staff looks to me for direction and a sense of purpose. But once they have that, the best thing I can do is stand back, let them manage their work, and encourage their growth.
Most important, I have learned that while there are many people with great knowledge about how to build successful practices, ultimately you have your own vision. My personal commitment to sustainable construction and green business practices led me into a new direction for the dental industry. There are a lot of experts who will sell you a formula for success, but those who find the greatest success are the entrepreneurs who create their own way. The bottom line is that no one understands your staff, patients, and your market better than you do.
A 2000 graduate of the Oregon Health Sciences University School of Dentistry, Dr. Jason McMillan has been practicing general dentistry in the Portland area for seven years. He can be reached via e-mail at drmcmillan@mintdentalworks.com.
Dr. Michael Gradeless, a 1980 graduate of Indiana University, practices preventive dentistry in Indianapolis with an emphasis on cosmetics and implants. He is an adjunct faculty member at Indiana University, where he teaches the Pride Institute university curriculum of dental management. Contact him at (317) 841-3130, or e-mail drmike44@aol.com.
---

Tips to go green in your practice
Go digital! Get the lead out
Digital radiography eliminates photochemical wastes such as fixers, developers, and cleaners. It removes radiation from the dental office, which is better for your patients and your staff. And it gets the lead out! You can say goodbye to lead aprons, bite wings, and lead foils.
A greener clean
Chemical vapor solutions can be considered hazardous waste, so choose sterilants with less-hazardous materials.
Tow the line
Non-bleach alternative line cleaners reduce the use of hazardous materials and they're noncorrosive.
Oil-free, dry dental air and vacuum
Get the oil out of your operatory with an oil-free air compressor. Oil-free/water-free dry dental vacuums also remove oil from the dental office — and they reduce water consumption. Most hand gels and sanitizers kill 99.99 percent of germs in 15 seconds.
Reduce, reuse, recycle
Reduce waste with digital thermometers and fluorescent light bulbs. Reuse with rechargeable batteries. Recycle lead foils and shields in intraoral dental packets through a licensed recovery facility.
Green practice solutions
Practice management software saves paper, money, and time. Go paperless!
— Jim Hammon, Sullivan-Schein