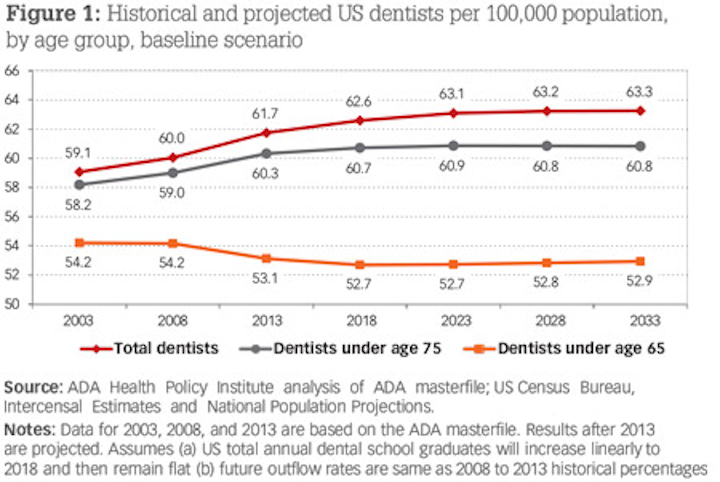 Joseph G. Unger, DDS
Knowing how to properly perform complex dental procedures is a requirement to be a licensed dentist, but how well prepared are you to handle the business side of dentistry? Upon graduation, you quickly discover that in addition to clinical knowledge, there is a huge entrepreneurial component to practicing dentistry. You must market yourself, your skills, and your office. If you own your own practice, you will be responsible for payroll, hiring, firing, and making sure you are attracting enough patients and generating a sustainable income. How much of your dental school training covered these aspects? According to most surveys, dental students do not feel well prepared to oversee the management and marketing of their practices.
In their September 2013 report, Centers for Medicare & Medicaid Services (CMS) actuaries projected that 2013 dental spending would total $113 billion, which represented a 1.9% annual increase over that of 2012. In a study by the journal Health Affairs, published in December 2014, actual dental spending in 2013 was said to have increased by only 0.9%.
Micah Hartman, a CMS statistician, told reporters at the National Press Club prior to the release of the Health Affairs study that we are now seeing a slowdown in dental spending.
The slow growth in dental spending is consistent with the slow recovery of the economy. When the reduction in dental spending is coupled with an uptick in dental school graduation rates, dentists are potentially experiencing a decrease in demand in an expanding dental marketplace.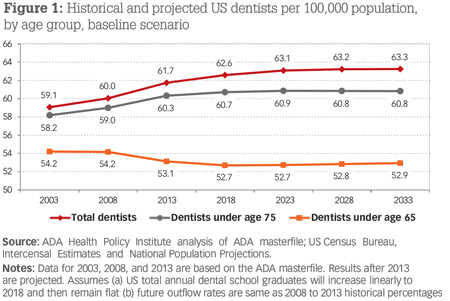 A new research brief published by the American Dental Association's Health Policy Institute (HPI) shows the number of dentists in the United States will continue to grow through the next generation (figure 1).
The report found that the number of dentists practicing per 100,000 population has climbed 2.6% from 2003 to 2013. This trend is projected to continue by an additional 1.6% by 2033 based on the most likely scenario.
With an increase in competition, a decrease in dental spending, and a need to balance clinical and administrative work, entering the dental workforce could seem daunting.
Through proper planning, clear goals, and practice management training, your dental practice will prosper financially. New dentists will face a multitude of decisions whether they join an existing practice or set out to start their own. Increasing your knowledge of practice management can alleviate some of the pressures associated with practicing dentistry and prepare you to face obstacles that were not covered in the classroom.
How can the ADA help?
In an effort to better prepare you to join or start a successful practice, the American Dental Association's Center for Professional Success is offering a comprehensive, six-course executive dental practice management program. Dental practice experts combined with highly rated, ADA-selected lectures from the University of Notre Dame's Mendoza College of Business merge to provide an online certificate program in disciplines crucial to practice success.
Dental practice management training will maximize practice efficiency and success. The video-based, e-learning platform accommodates busy schedules. Accessible by desktop, Internet-enabled mobile device, MP3 and MP4 formats, the state-of-the-art online classroom is available anytime and anywhere, with around-the-clock technical support.
Designed specifically for dental professionals looking to operate an efficient practice, this certificate program covers some of the most critical topics in dental practice management today.
• Business Strategy and Systems
• Dental Team Management
• Financial Management
• Legal and Ethical Issues in Dental Practice
• Negotiation and Conflict Management
• Understanding Leadership
What can you expect from the program?
A solid business strategy is the foundation of a well-run practice. Successful practices have a good plan with goals and a way to track results. The Business Strategy and Systems course of the ADA Executive Program in Dental Practice Management will teach you to identify and capitalize on the strengths, weaknesses, and opportunities found within your practice, as well as develop strategic, financial, and marketing plans.
Another significant aspect of the practice setting is the dental team. A great staff is important to the patient experience. Selecting and maintaining staff can often be a tedious task for a dentist. The online program features a comprehensive course that will teach you how to build and motivate your dental team. From interviewing techniques to managing your staff, the Dental Team Management course will cover various aspects necessary to evaluate results and handle conflicts that may arise between staff.
With the slowdown in dental spending, it will be important to maximize your practice's financial performance. Even if you decide to join an existing practice, understanding the financial aspects of dental practice management is essential. The Financial Management course will help you to identify key performance indicators, understand how to value a practice as an owner or potential buyer, and evaluate your company's overall financial performance.
It cannot be said enough: Your practice is a business. There are people to manage, patients to protect, and regulations to follow. You should know the legal and ethical issues that can arise in your field. The Legal and Ethical Issues in Dental Practice course covers legal aspects of business, contracts and employment law, and regulatory compliance. Being informed can help you spot potential legal issues and protect yourself from legal and ethical liabilities.
As a leader and/or coworker, your ability to communicate with staff, patients, and peers will be crucial. Cultures, backgrounds, and the way in which we communicate vary. The Negotiation and Conflict Management course provides insight from experts on how to deal with conflicts in the office, negotiation with vendors, and identify communication strategies to best resolve disagreements.
Understanding your leadership style and adopting effective leadership traits will also be important as you start your own practice and oversee staff. The Understanding Leadership course will emphasize the importance of organizational behavior and leadership, as well as coach you on ways to overcome fears and positively lead and influence your team.
How does this help a new dentist?
As a new dentist, you may struggle to find a balance between your personal and professional lives. That stress may be compounded when you need to meet the obligations of recruiting a staff, maintaining financial goals, pay back any student debt, and meet patient needs. In any career, you want to make yourself as highly valuable as possible. To an existing practice, this means bringing a wealth of knowledge about practice management to the organization and having a higher level of expertise about the operational side of dentistry. For patients, this means marketing yourself and setting and meeting goals for driving new business. Marketing through word of mouth is still a highly effective way of gaining business, but being able to address less satisfied customers should be something a new dentist can handle.
The ADA Executive Program in Dental Practice Management helps you navigate the tricky nature of business operations while reducing the time loss and trouble associated with learning the hard way.
In addition, many courses provide continuing education credits, though subject to each individual state's practice act parameters. These continuing education programs have been planned and implemented in accordance with ADA Continuing Education Recognition Program (ADA CERP) standards. With customized training from the ADA and utilizing ADA-selected content from a top-ranked business college, you will be more prepared to deal with the business of dentistry.
Stronger, better-managed practices allow you to deliver quality patient care and find the balance between work and life that is so critical. Learning to delegate and manage your staff will allow you to do what you were trained to do-care for and treat patients.
If you are interested in learning more about the ADA Executive Program in Dental Practice Management, visit PMcertificate.Success.ADA.org/DE.
---
Joseph G. Unger, DDS, owns and operates a solo general dental practice in Chicago, Illinois. He is a past president of the Illinois State Dental Society and served on the American Dental Association's Commission on the Young Professional (precursor to the New Dentist Committee). He currently serves as chair of the ADA's Council on Dental Practice.