High-tech and high-touch in Hudsonville
Working in a small-town besieged by economic problems, Dr. Bradley Dykstra is using a blend of technology and caring to ensure his patients receive optimal care.
May 1st, 2006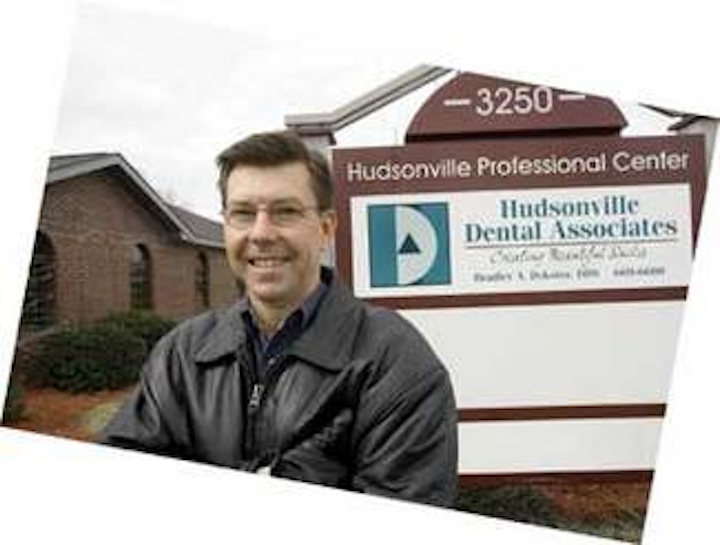 Working in a small-town besieged by economic problems, Dr. Bradley Dykstra is using a blend of technology and caring to ensure his patients receive optimal care.
Story by Kevin Henry, Managing Editor;
Photos by Dwight Cendrowski
For Dr. Bradley Dykstra, technology is an essential part of his practice. Based in Hudsonville, Mich., a mostly blue-collar suburb of Grand Rapids, Dr. Dykstra has many of the high-tech items in his practice that you see on every technology checklist. Intraoral camera? Check. Digital radiography? Check. Laser? Check. Computers in operatories with voice-activated charting and patient education software? Check. While every one of these items is important to the success of his practice, Dr. Dykstra claims his top-ranked piece of technology isn't found on the "must-have" lists of most gurus.
"My digital timer is my number-one high-tech item," Dr. Dykstra said. "You have to have consistency and quality when you're working in a dental office. I read the instructions on products. If it says something is done in two minutes, we set the timer for two minutes. Without a timer, two minutes can seem like an eternity or go by in a flash. The timer isn't relative. We time everything in the office, and it's a real eye-opener for the staff to see how long things take. The more data you can have on how long a procedure really takes, the more productive you can be."
It is this no-nonsense philosophy that has made Dr. Dykstra's practice stand out in western Michigan. Working in a bedroom community with a population of roughly 6,000 people, Dr. Dykstra knows the technology in his practice draws the attention of current and potential patients, but it is the human element of his practice that has made it a success.
"The majority of our patients are average Midwestern Americans who have gone through some hard economic times in recent years," said Dr. Dykstra, who practices near the hub of the three biggest office furniture manufacturers in the nation and has seen those businesses lay off half of their employees since 2000. "Technology will set a practice apart to a point but, if you don't have a combination of technology and truly caring about your patients, it won't take that long for them to see through you."
Dr. Dykstra has sought that balance of high-tech and high-touch since he began practicing in Hudsonville in 1978. Growing up on a fruit farm 60 miles north of Hudsonville, Dr. Dykstra was looking for a small town near Lake Michigan with an appropriate school and church for his family. He found just what he was looking for in Hudsonville, but he also found some things that disturbed him greatly.
"I noticed that patients were coming out of the local dental practices with mouths filled with patched fillings, and that bothered me a lot," recalled Dr. Dykstra. "Hudsonville isn't a place where you can have an esthetic boutique practice, but you can still do esthetic dentistry. My philosophy is that people deserve the best treatment they can get. They should be able to get high-quality treatment in Hudsonville just like they would if they were in Chicago, New York, or Los Angeles."
And part of that high-quality treatment comes from the technology at Dr. Dykstra's disposal.
"Patients love the technology," Dr. Dykstra explained. "I've had patients tell me they've never had a more thorough exam, and I've had others ask me the haunting question of why their previous dentist didn't tell them about the problems in their mouths.
"When a patient walks into my practice, the technology sends a subtle message that this office keeps up with society. Patients have cell phones and computers and they appreciate technology. If we can make their treatment easier, we're heroes."
Part of that heroic effort comes from a technology mix that includes an intraoral camera ("probably the best communication aid we have," Dr. Dykstra said), laser ("it shifts paradigms and our patients love it," he quipped), and digital radiography ("we can show patients their problems and it makes a big impact," he added). While technology plays a role, Dr. Dykstra is quick to point out that communication completes the successful equation.
5 Questions with Dr. Bradley Dykstra
"Technology sets a practice apart to a point, but there has to be a caring aspect there as well," he said. "I've spent many continuing-education hours on communication and listening, and that's been a very important part of my practice. Certainly high-tech in the practice is important, but the most important thing is that it allows us to provide better patient care. I'm really not a 'high-tech person,' but if high-tech can provide better care to my patients, I love it."
Dr. Dykstra moved his practice in 1994 to its current location and, with the move, found a bigger area in which to work. In his former location, the practice had six operatories within 1,400 square feet. Now, just two-tenths of a mile from his old practice, Dr. Dykstra has the luxury of six operatories within 3,805 square feet.
"Now, we have nice wide hallways and a more user-friendly sterilization room," Dr. Dykstra said. "Also, every operatory is identical, meaning we can do any procedure in any chair. When we moved into this new space, production went up and stress went down."
Helping to keep the stress down is a comfortable office atmosphere for both patients and staff.
"When someone walks into our office, they'll notice that they're in a very nice, comfortable environment," Dr. Dykstra said. "I'm not one for big cushy couches, or like a room at the Ritz-Carlton, but I don't want the office to look old-fashioned either. You have to know your clientele and have to match the office to them.
"One thing we do in our office is promote cosmetic dentistry. We use the Smile Channel and have photos of 'after' smiles on our walls. Smiles are the backgrounds of our computer screens and in photos as patients leave the reception room. Our patients know they are in a place where cosmetic dentistry is done."
In this practice, organization is a must. With 12 people working in the office, Dr. Dykstra has systems in place to keep things running smoothly.
"I'm an organizational freak," he laughed. "I have systems and I expect them to be followed. I respect my staff and give them opportunities to grow. I spent seven years getting my MBA so I pay attention to the business side of the practice, but I also love discussing with staff how we can treat our patients better. Working in this office is about being responsible and organized, but, more than anything, it's about taking care of people and helping them."
null