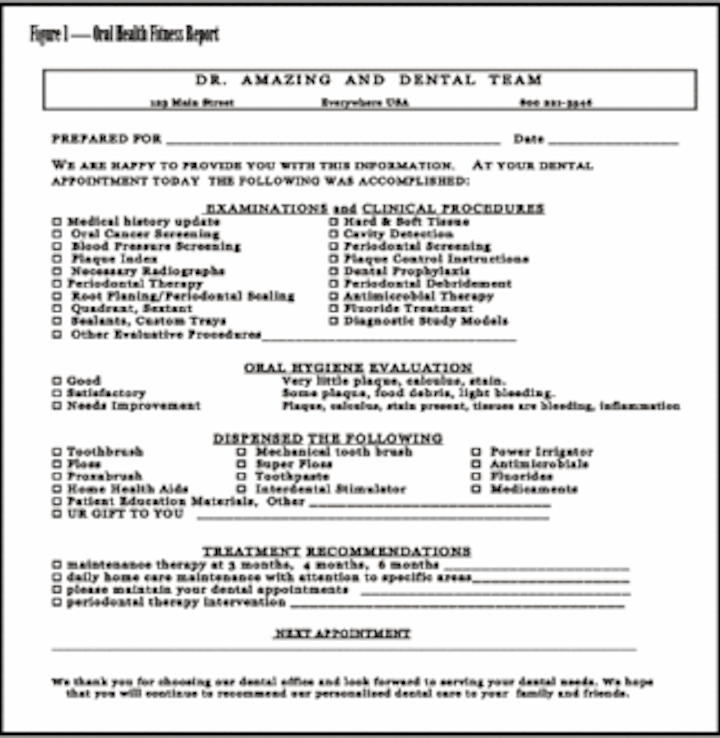 During a break at a recent lecture I was presenting, a dentist asked me the following question: "I've hired a new hygienist and we are discussing ways to increase productivity. Is it possible to have a hygiene department that does more than just 'break even' without compromising clinical excellence?" This is an often-asked, important question.
In his best-selling book, "Freakonomics," University of Chicago Economist Steven Levitt discusses how people get what they want with a "smart, deep, rigorous, open-minded consideration of facts."
Why do some hygiene departments produce more than others? Do they see more patients? Do more procedures? Is the overall practice larger and are there more patients available? Do they work longer hours? Having spent the last 15 years traveling as both a speaker and practice consultant, I offer in this article some answers to the questions regarding what I call "optimum Hygienomics™."
It begins with the partnership. Working together, the doctor and hygienist share a practice vision and philosophy for patient care. Hygienists play a huge role in practice growth and productivity. While each member of the dental team needs to be enthusiastic and well-versed in discussing the benefits of contemporary dentistry, the hygienist is in a very unique position to set the stage for and present the benefits of comprehensive dental treatment.
Hygienists have the opportunity to develop personal and professional relationships because they see patients on a continuum, every three, four, or six months. Patients often look to the hygienist for help in decision-making. A great hygienist is an ambassador for the practice. (Would you want anyone on your team who wasn't?) Regularly scheduled doctor-hygiene meetings provide the opportunity to explore new ideas and reinforce and encourage initiative. Doctors can discuss their expectations and review any questions or concerns. In other words, there is a consistent and ongoing open dialogue between doctor and hygienist.
Organized recall
Realizing that recall is the heart of the practice, organized systems for preventive recall and periodontal case management must be in place and implemented by the entire team. The recall system provides for prescheduling, ideally done at the hygiene chair with the hygienist scheduling appropriate units of time for the next hygiene appointment. Less than 10 percent of patients leave without their next appointment.
The hygienist sets the stage for ongoing care and patient compliance. An example might be: "Joe, I know that you prefer to schedule your appointment early in the day. This is a premium time of the day, with many patient requests for that time slot. To assure that you get a convenient appointment time, we need to reserve this time for you now."
This conversation allows patients to become involved in scheduling their appointments. This active participation on the part of the patient creates ownership and accountability and reduces the cancellation and failure rate. Written information is dispensed, such as the "Oral Health Fitness Reports" (see Figure 1) and statements detailing all of the wonderful services provided and "freebies" given (see Figure 2). Both of these written take-home reports serve to redefine the hygiene appointment and move the patient beyond "its just a cleaning and a check-up" and "I only want what my insurance pays for!" Patients have no concept (and therefore no appreciation) of the myriad of services such as blood pressure screening, home health-care aids and instruction, oral cancer screening, and periodontal evaluation that we routinely provide at no additional charge.
Telephone courtesy confirming calls and written communications clearly define the oral health examinations (including oral cancer screening) and hygiene functions, and do not undervalue the appointment by labeling it "just a cleaning-and a check-up." Chart audits and patient retention are ongoing projects in the office through daily review and computer reports. One person, typically from the business team, is designated as the hygiene coordinator and is responsible for assuring that the daily schedule is filled. Tracking systems and monitors are in place so that patients do not fall through the cracks, and the hygiene coordinator reports the data at the monthly staff meetings.
Hygiene mix of services
The most well-intentioned practices struggle with transitioning the prophy patient to appropriate periodontal treatment. The result is the attempt to provide scaling and root-planing, but only charging for a prophy. In addition to the legal risks, this perpetuates a cycle of incomplete care, low compliance, and unhealthy patients. Well-established research validates the efficacy for initial-stage periodontal treatment and mandates the need for ongoing soft-tissue evaluation. This is especially important in light of the most current research regarding the correlation between periodontal diseases and systemic health. Health history updates and prior notes in the chart are supportive in transitioning away from a prophy-based practice. An example of a case presentation dialogue to a recall patient follows:
"Mr. Patient-of-Record, at your last appointment we discussed the bleeding on the upper right molar. As we review together the results of your examination today, we see that the area is still bleeding and we are measuring a 5mm periodontal pocket. This area is not healing and I am concerned that, as a diabetic, you are at risk with the inflammation present in your mouth. Here is what we need to do."
Treatment is offered based on what the patient needs and not what the hygienist thinks the patient wants or what insurance will cover. Patients requiring additional treatment are informed and advised, and treatment is presented. Site-specific and individualized treatment plans include appropriate mechanical and chemical therapies. Localized delivery of anti-infective and antimicrobial agents, such as Arestin®, Atridox®, and PerioChip® are incorporated. Utilization of Oraqix®, subgingival anesthetic for periodontal therapy, allows the periodontal hygienist and the doctor to be moreefficient. Patients appreciate not having to "get a shot" and dentists are happy about not being interrupted during treatment of one patient to give an anesthetic to the hygiene patient.
How do you know if you are giving perio away as a prophy? Taking into account the amount of active periodontal disease in the adult population, a valid and achievable goal for hygiene revenue is for 25 to 40 percent of hygiene production to be generated from periodontal procedures. Review the computer "Production Analysis Report" for all hygiene procedures to determine what percentage of production the 4000 codes represent. During a monthly hygiene team meeting, review this data to track and monitor hygiene effectiveness. Many of my consulting clients have the hygienist download the report and review it with the doctor.
Consider thes two models to the left. The limited perio hygiene practice typically sees 90 percent of patients for routine preventive care (prophies) and 10 percent for periodontal treatment. The dental practice with an organized program for early detection, treatment, and ongoing and appropriate maintenance of the periodontally compromised patient typically sees 65 percent of patients for routine care, 10 to 15 percent for active periodontal therapy, and 20 to 25 percent for supportive therapy.
Please note an increase in production of 30 percent without increasing patient volume. The difference, of course, is the inclusion of appropriate periodontal treatment procedures. Additional services include fluorides, sealants, antimicrobials, localized delivery of medicaments, desensitizing agents, and product sales such as power toothbrushes, power irrigators, and oral health home-care products.
Effective scheduling
Efficient, productive hygiene scheduling occurs when the patient is scheduled for the amount of time necessary for the next appointment. Just as the doctor's schedule varies based on procedures, the hygienist schedules each appointment based on the clinical requirements of the patient (i.e., FMX, complete perio exam, update status exam, etc.). Not all patients require the same amount of time, and yet many practices still schedule a standard 45 to 60-minute appointment, regardless of the procedures to be performed.
Many dental practices are benefiting from assisted hygiene. Working with an assistant, the hygienist utilizes two treatment rooms and accommodates additional patients. The patient receives care from two providers, the hygienist performs clinical duties (rather than a myriad of other redundant tasks - sterilizing and scrubbing, breaking down, setting up, etc.), and becomes more productive. Overhead is drastically reduced.
Achieving low cancellation and failure rates
Implementing all of the changes we have discussed will be for naught if the schedule is not full. The recall/hygiene appointment is the most canceled and failed appointment in dentistry. One cancellation per day in hygiene leads to enormous losses in both hygiene and doctor productivity. National norms for cancellations and failures in hygiene average 20 to 25 percent. A realistic and achievable goal is 93 percent or better in scheduling effectiveness.
A major shift in patient attitude and compliance translates into a reduction in cancellations and failures when the hygienist schedules chairside as described above. In addition, patients should be provided with written appointment guidelines that include positive statements such as:
"We respect the importance of your time and work very hard to schedule appointments which accommodate the busy scheduling needs of all of our patients. In return, we ask that patients make every effort not to change reserved dental appointments. Broken and missed appointments create scheduling problems for other patients as well as the practice."
Many offices have incorporated a fee for cancellations and failures without ample notice. However, I stress that the ideal integration of a failed appointment fee is to not have to charge the fee. This is accomplished with a series of two to three letters sent to patients who consistently fail and cancel appointments.
Letter No. 1 restates the office appointments guidelines and basically gives the patient the benefit of the doubt this time. The second letter is more to the point, reminds the patient that there is a fee for failed appointments, but that Dr. Terrific has said no charge wil be applied in this instance. If, after two communications, a third failure occurs, then a charge is applied. Dental teams report big changes in patient attitudes when they do not make it easy to cancel and fail appointments. (See my previous articles on this topic.)
Compensation
This discussion on what I term "Hygienomics" would not be complete without some suggestions for compensation. Many of the calls I receive for consultation services are prompted by dentists seeking help in hygiene overhead. It is not unusual to see 50 to 60 percent overhead margins in hygiene. Annual raises (regardless of a lack of increase in productivity), increases in medical and other insurance rates, pension and profit-sharing plans, vacation, and nonproduction days all contribute to rising costs. We all want to retain the best staffs, so the modifications must come on the production side of the equation. The steps discussed in this article outline a plan of action for achieving this goal.
Here is a suggestion for hygiene compensation that I see working in successful and financially healthy practices throughout the country. It provides for an equitable sharing of the profits, while at the same time stabilizing hygiene overhead at the 35 percent mark for the business owner (that is you, doctor!).
Determine a break-even point by calculating total hygiene costs including payroll taxes, all benefits and insurance, uniforms, continuing education, etc. Divide that number by the total hours worked for the year to derive an hourly break-even point. Multiply that number by three - one-third to pay the hygienist, one-third to pay the doctor for assuming the risk of running the business, and the final third to pay the hygiene costs of the practice - i.e., gloves, prophy paste, instruments, business staff, electricity, treatment room, sterilization, etc. The result is what the hygienist needs to produce per hour to pay for his or her salary.
Review this with your hygiene team members so that they know and understand the goals. On a monthly basis, multiply the hourly break-even amount by the hours worked that month. Subtract this number from hygiene production (exams are posted to the doctor), and provide a percentage of the overage - typically 18 to 35 percent, depending on the hygienist.
Use the percentage of the overage to equalize and reward the "stars" - the hygienists who not only are highly productive in hygiene, but also "sell" your dentistry, are passionate about the patients and the practice.
The era of cleaning teeth is over, and with it goes "loss -leader hygiene. The happiest and most productive dentists I know are those who have integrated these systems for Hygienomics into the practice. It is a big boat to push, doctor, and you do not have to do it alone.
Annette Ashley Linder, BS, RDH, is a recognized leader in the field and an award-winning speaker and consultant. She is a featured speaker at dental meetings and provides in-office consulting services with her team of business and clinical consultants. She may be reached at her Web site at AnnetteLinder.com, via e-mail at Annette@annettelinder.com, or by phone at (772) 546-2207.