Pearls For Your Practice
Pearl #1 - Dental Chair Headrest by Patterson Dental. This is a contoured, soft-foam, plastic pillow shaped to fit the body contours of the head, neck and shoulders. Its special shape supports the neck and shoulders and is comfortable for patients, particularly when in the chair for an extended period of time. It is indicated for use with all patients, but especially those with osteoarthritis, cervical disk dysfunction and TMJ. It is of superior quality, stain-resistant, easy to care for and dur
May 1st, 1996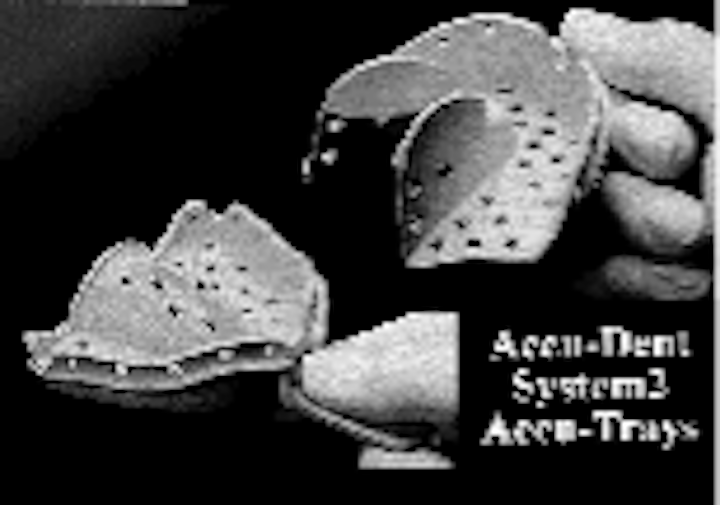 Joseph A. Blaes, DDS
Pearl #1 - Dental Chair Headrest by Patterson Dental. This is a contoured, soft-foam, plastic pillow shaped to fit the body contours of the head, neck and shoulders. Its special shape supports the neck and shoulders and is comfortable for patients, particularly when in the chair for an extended period of time. It is indicated for use with all patients, but especially those with osteoarthritis, cervical disk dysfunction and TMJ. It is of superior quality, stain-resistant, easy to care for and durable. Your patients will appreciate this caring gesture. Being more comfortable, patients are able to relax in the chair, and this makes your job easier. We have these headrests on all of our chairs, and patients comment regularly on how comfortable they are. Call Patterson Dental to order.
Pearl #2 - System2 by Accu-Dent Research and Devel-opment Company (Figure 1). Do you have problems with the fit of your partial dentures? Do you take a preliminary impression and make a custom tray for your final? Do you agree that the secret to great-fitting partials is a great impression? If you answered "yes" to any of these questions, I can save you some time and aggravation. The folks at Accu-Dent have been around since 1970 with what they call a Multi-Colloid concept. You may have tried it at one time or another like I did and had mixed results. Forget the past. Accu-Dent has a great product with its System2. It utilizes new, anatomically-designed impression trays that work. Accu-Dent`s Multi-Colloid impression technique uses two different, irreversible hydrocolloids in a single-entry impression. The light-bodied Syringe Gel is applied to the teeth under hydraulic pressure, with a unique syringe system to eliminate air bubbles, and to the vestibules for border molding. The heavy-bodied Tray Gel is brought to the mouth directly after the application of the Syringe Gel. The tray gel further pressurizes the syringe gel around the teeth, places absolutely uniform pressure over the edentulous ridge areas, and it will not flow down the patient`s throat. The two materials merge into a single, high-quality impression with no bubbles, excellent border molding and great detail. Since Accu-Dent recommends 80- to 85-degree water for mixing, your patient will be comfortable. The total time for upper and lower impressions is less than 15 minutes. Let`s recap what we have here: a final impression on the first appointment, a total time of less than eight minutes per impression, at a cost of less than two bucks per impression, easy cleanup, very good patient comfort and tolerance, and great-fitting partials. You save at least one appointment, have no remakes, and the material costs less. A video comes with the system, and Accu-Dent has a 60-day "try it in your own operatory" g
Pearl #3 - The Alma Gauge by Lantz Dental Prosthetics, Inc. (Figure 2). A number of years ago, I decided to eliminate dentures from my practice. It was a red-letter day in my dental life. I swore that I would never do another one-not even for my mom! With the advent of implants, I had to eat those words. If you are going to get involved with implants, then you must be able to do dentures well. A large part of your implant market is edentulous. The two most common statements you hear about dentures are: (1) "Make me a denture that looks just like this one." (2) "I hate the way this denture looks. I have never liked it." What do you do? It`s easy enough to match the tooth mold and shade in the first case, but how do you tell the lab where to set the teeth in the vertical and horizontal planes? The solution is the Alma Gauge, which is based on the fact that the incisal papilla is an anatomical landmark that does not change. The gauge will pinpoint the position of the incisal teeth relative to the papilla in the vertical and horizontal planes. Guesswork becomes a thing of the past, and time spent in resets is reduced dramatically, if not eliminated. Now you can reproduce that denture without all the try-in appointments. If you want changes in the setup, you can tell the lab accurately what it is you want, and they can give it to you accurately. The most important ongoing benefit of this new instrument is improved communications among the dentist, dental lab and patient. You will save enough time that you can schedule additional patients. The Alma Gauge will more than pay for itself the first time you use it. For a small investment, you can save a lot of time and dollars. Call Keller Laboratories at (800) 325-3056 to order.
Dr. Blaes practices in the St. Louis area and has developed every type of dental practice from solo to a 10-man group. He is known for his expertise in dental techniques and his innovative systems designs. He lectures, writes and conducts "in-house" seminars. He may be reached at (314) 843-3300.
Figure 1
Figure 2