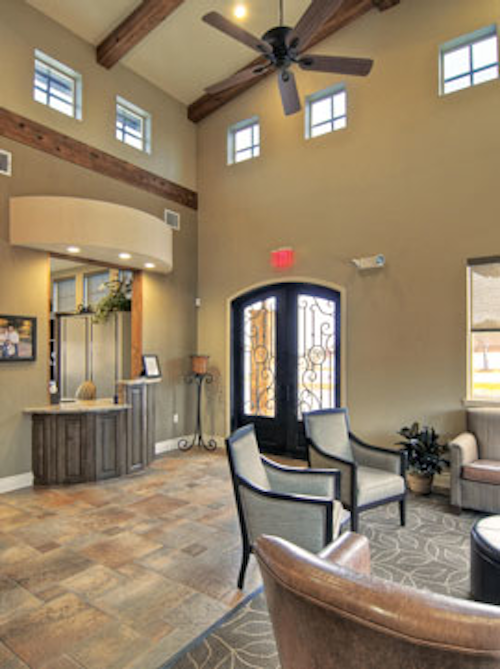 A Practice to Call Home...
By Dr. Joe Blaes, Chief Editor
Drs. Parrish first met on the eve of dental school orientation. Jennifer Elliott was a DS-2, having completed her first year at the top of her class. Chip Parrish was to be a DS-1, with no clue how to be a dentist, but with plenty of future plans. They met as neighbors and sat on the curb to discuss the coming year. As chance would have it, they both had plans to someday practice dentistry and raise their future families somewhere in the scenic Texas Hill Country. Little did they know that fateful day that those plans would come true -- together. As friends, as partners, as a team.
The reception area has a high, open ceiling, exposed beams, lots of natural light, and is ADA compliant.
As many young dentists do, Drs. Parrish spent a couple of years working for others in a variety of practice settings. Between the two of them, they worked in a high- end cosmetic practice, a small PPO practice, a large dental group practice, and a Medicaid public health practice. This variety of practice and management backgrounds was invaluable experience. When the opportunity presented itself, they knew their style and vision of what Parrish Dentistry was destined to be.
Opportunity knocked in 2004 when a small, 1,400-square-foot, three-operatory dental practice came up for sale in Llano, Texas. The little office was a definite "fixer-upper," but the location along a river, smack dab in the middle of Hill Country, was the ideal place to grow a family. For several years, Drs. Parrish had to split time in the tiny facility. This was a gift because it gave them both the opportunity to be part-time at-home parents with their two young children. Life was good.
By 2009, the practice was bursting at the seams. The variety of procedures the doctors provided (orthodontics, dental implant surgery, endodontics, TMD therapy, cosmetic rehabilitations) had grown the practice by nearly 20% per year. Chairtime was becoming precious, and the doctors had to make a choice -- expand to serve the demand or slow the growth of the practice. Fortunately, their children were to start school soon, so the time was right to expand.
Location, location, location. About this time, an ideal commercial property came on the market across from the town middle school. It was situated on one of the two main highways into and out of Llano. They quickly acquired the property, and the planning phase of Dr. Chip Parrish and Dr. Jennifer Parrish's dream office began.
It is a well-known fact that dentists are type-A personalities. When two dentists partner together in business, this personality trait is often doubled. When said dentists are also partners in life, this trait grows exponentially. From day one Drs. Parrish knew that they wanted to develop one of the top dental facilities in the country. To achieve this, they knew that they needed help. They needed expertise.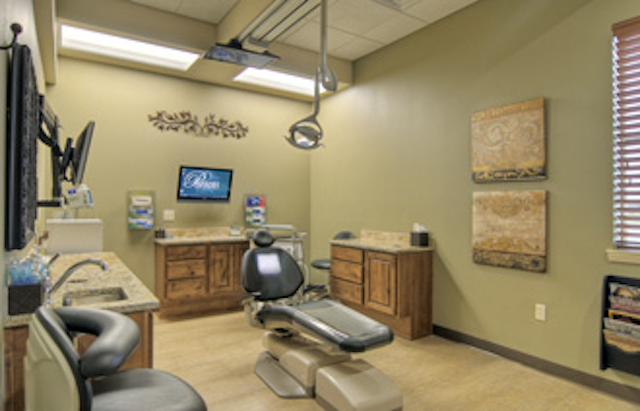 Drs. Parrish included a special VIP quiet operatory to accommodate surgeries and large, long treatment appointments. This room has its own ambient sound and can be completely closed off for patient privacy. Each operatory has three monitors. The two wall mounts are for practice management and for showing patients their X-rays and pictures. The overhead monitor is dedicated to patient relaxation and entertainment. The 12 o'clock overhead position encourages patients to look up and back, making access easier.
After several rounds of interviews with dental supply companies, architects, and designers, Drs. Parrish retained the services of Dr. Jeff and Pat Carter with Practice Design Group of Buda, Texas. Jeff and Pat have an impressive portfolio of offices all across the country, and they possessed the vision, experience, and skills necessary to bring the Parrishes' project to life. The construction became a family affair when Drs. Parrish also partnered with their brother-in-law, Beau Walker of Westridge Construction, to build the facility. To round out the team, Drs. Parrish brought on Ron Fernandez of Benco Dental to help with dental equipment selections, upgrades, and installation. The assembled team proved invaluable throughout the process.
After a year of hard work, meetings, planning, designing, selections, and bidding, it was time to break ground. Everything was in order, the financing was in place, the dozers were full of diesel. Then, on the eve of closing, the Great Recession hit. Due to the fact that there had been few buildings of this magnitude built in Llano, Texas, the bankers got cold feet. Current financials showed the practice to be in an upward growth swing, but that didn't matter. Nobody wanted to finance a practice that wouldn't appraise because there was nothing comparable in the area. The oil and natural gas boom had helped Texas to weather the recession just fine, but that also didn't matter. All of a sudden, nobody wanted to finance a state-of-the-art dental practice in a small Texas town. Despite all indications otherwise, it looked like a financial risk.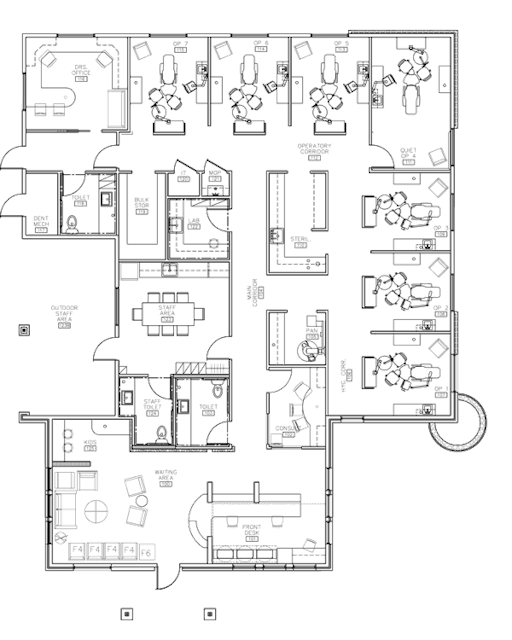 Through dogged determination, hard work, and a vision for the future, Drs. Parrish overcame and found a way to get the project funded. The dozers finally started moving dirt in the summer of 2011.
The true advantage of a "ground-up" project is that it is a blank canvas, a clean slate. If you can dream it, design it, and fund it, you can do it. The design concept behind Parrish Dentistry was to build a first-class health-care facility with a balance of the latest technology and the interior design comforts of a home. The exterior of the building exemplifies this with a blend of contemporary lines, multiple materials (wood, metal, stucco, stone), and Texas Tuscany styling.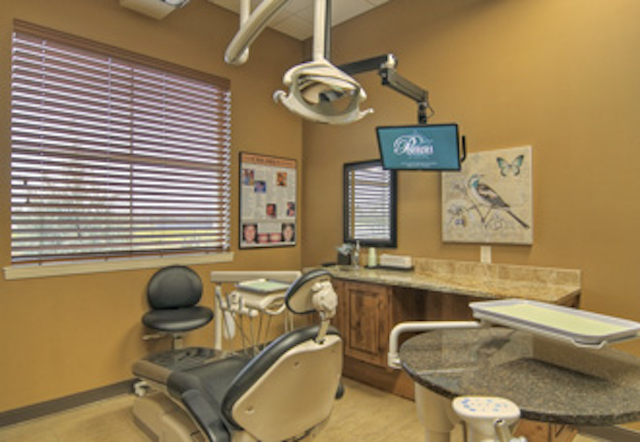 Every operatory has some type of artwork or décor to give it a personal feel. Large windows allow for a lot of natural light to help with shade matching.
Upon entering the building, there is a spacious patient area with 20-foot-high ceilings, abundant windows, natural light, and multiple living-room-quality seating areas. The lounge area incorporates a partitioned off children's section, and a water bar with custom Parrish Dentistry labeled bottled water. Branding is everything!
The patient experience includes warmly lit hallways, custom patient entertainment systems above each dental chair, and comfortable seating for family members. Every treatment room is equipped with both staff and patient monitors for practice management and patient education, respectively. Intraoral and extraoral pictures, X-rays, and all charting are done digitally in the operatories. Patients get to see what their dentist sees. It doesn't take years of school to diagnose a failing, cracked alloy on a 27-inch monitor! Show patients and they will want it fixed.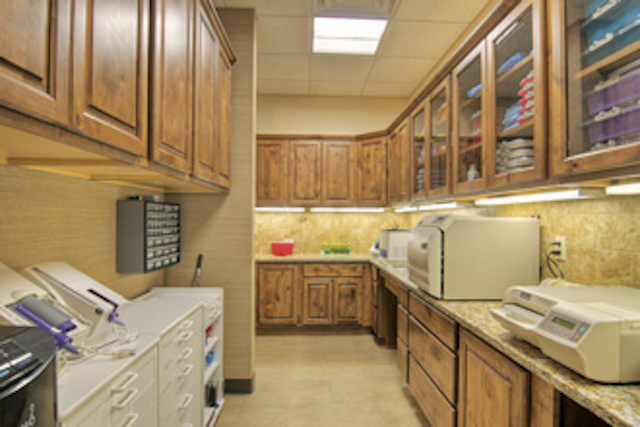 The large, centralized sterilization area is functional, clean, comfortable, and attractive to patients when they walk through the office.
The old 1,400-square-foot Parrish Family and Cosmetic Dentistry office had very little breathing room. It had no staff lounge, no common area, no lockers, and no team bathroom. Drs. Parrish wanted their new facility to reflect their commitment to their outstanding team members. After polling their team, Drs. Parrish designed a private staff bathroom, private staff entrance, individual lockers, a large team lounge with a 60-inch LED TV, and even installed an outdoor kitchen so they can cook out for the monthly team meetings.
To round out the office, Practice Design Group added a consult room, a digital imaging room large enough to accommodate future technology needs, a supply closet, a mop closet, a tech closet, and a good-sized laboratory. Drs. Parrish share a spa-inspired private office with their own exit and private bathroom.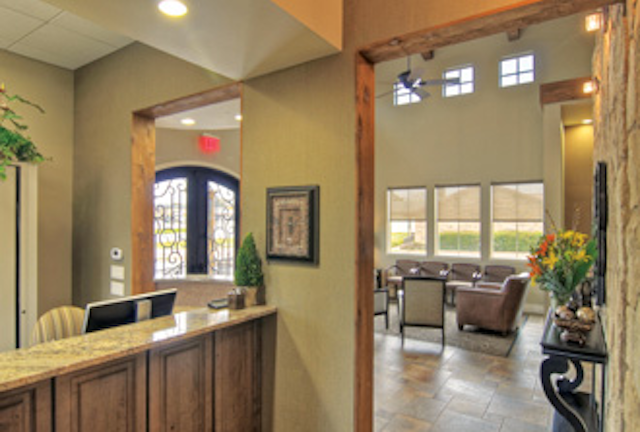 Upon checking out, patients have two stations divided by a wall for privacy. Fresh flowers in the reception area are a must-have.
After two years in the office, Drs. Parrish have no regrets. "We set out to build a first-class facility that is state-of-the-art and that blends into the community we call home. It was important to us to build something that both our patients and our community could be proud of."
It is truly a facility that patients, staff, and doctors are proud to call home.
To view the other 2013 Dental Office Design Winners, go to http://www.wellsfargo.com/dodc and click on "2013 Winners."
Outstanding New Dentist Practice
Parrish Dentistry
Llano, TX
Charles (Chip) Parrish, DDS, and Jennifer Parrish, DDS
More DE Articles
Past DE Issues