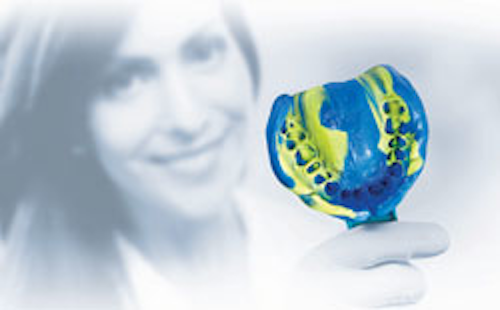 By Joe Blaes, DDS
Virtual® XD VPS Impression Materials
from Ivoclar Vivadent.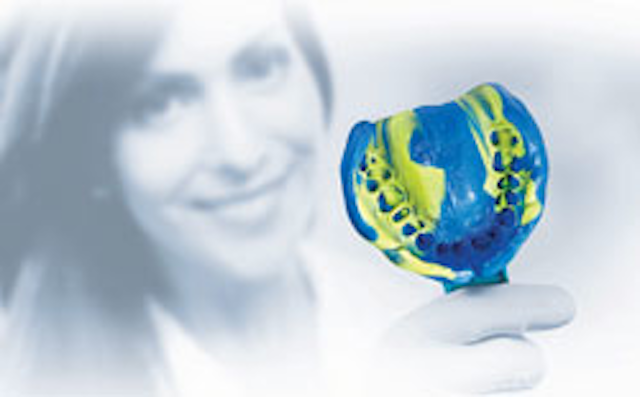 Just when I thought I was using the best impression material, I really believe that I have found a better one. This is an advanced system of VPS impression materials featuring XD, new "Extra-Definition" wash materials that result in more accurate and better-fitting restorations, minimizing the need for retakes. When I sent the first case to my lab that I have been using for more than 25 years, David immediately called me to ask about this new impression material that I was using. He was amazed at the detail that he saw. David scanned the impression before making any models, and said that when he magnified the scan he was even more impressed. He then poured the impressions and produced great models. David decided to make crowns from the scan and from the models. Both crowns fit extremely well, and the occlusion was perfect. I knew that the impression looked great with my 5x magnification, but I was happy to hear his comments. Virtual XD wash materials have been engineered to provide greater control when making final crown and bridge impressions. Once dispensed, the wash materials are designed to remain on the preparation surfaces until pressure is applied. This prevents them from flowing uncontrollably into undesired areas. Once pressure is applied, the wash materials flow deep into the sulcus, displacing oral fluids and capturing the fine details of margins and all prepared surfaces. Virtual XD wash materials are available in two viscosities; Light Body (orange) and Extra Light Body (yellow). So far, I prefer the Extra Light Body with Heavy Body tray material in my dual-phase, one-step technique. Virtual XD wash materials exhibit low contact angles. This allows them to thoroughly "wet" the surfaces of moist dentition and gingival tissue. The ability of the Virtual XD wash materials to spread easily across preparation surfaces to capture fine detail results in impressive impressions of extraordinary precision and extra definition. Excellent tear resistance, combined with outstanding elongation and recovery properties, make removal of Virtual XD impressions easy while reducing the risk of tearing fine margins. With Virtual XD, high-level definition of the final impression is maintained, even in cases that involve preparations below the gum line. Since I use a shoulder prep on restorations, most of my margins are at or about 1 mm below the gingival crest. Another great benefit is the thermosensitive characteristics of Virtual XD that allow the setting reaction to be accelerated immediately after the impression tray is seated in the patient's mouth. This saves valuable chair time and ensures high-quality impressions by reducing the risk of deformation that may be caused by movement of the impression tray during the setting time. Your patients will love the shorter impression setup time. Since Virtual XD impressions maintain their dimensional stability for up to two weeks, there is no need to pour models immediately. Virtual XD impression materials are easy to disinfect, and several models can be poured from one impression. Virtual XD is designed to accommodate popular impression techniques. This allows you to choose the materials and technique best suited for each individual case. The system includes tray and wash material in fast and regular setting times, featuring a fresh minty scent for the ultimate in patient comfort.
Visit www.ivoclarvivadent.com/virtual for more information.
Customized Assessment and Risk Evaluator (CARE)
by Philips Oral Healthcare.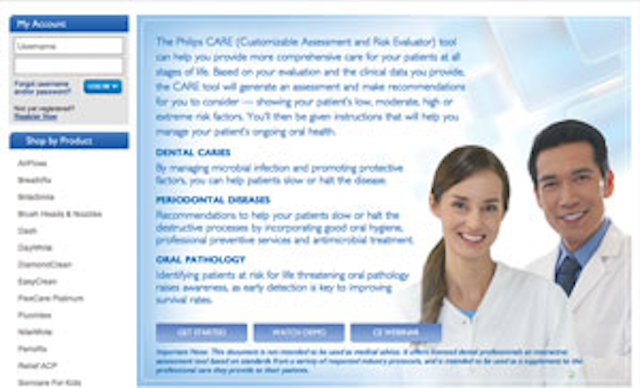 Most practices have developed a standard protocol for diagnosing their patients' dental-related diseases. The problem is that there is no standard protocol within the dental profession. Using industry-standard criteria and guidelines for each of three patient evaluations, the Customized Assessment and Risk Evaluator (CARE) Web-based tool offers comprehensive risk assessments for dental caries, periodontal diseases, and oral pathology. By assessing a patient's risk for each of these major concern areas, dental professionals are better prepared to identify disease at an early stage. This contributes to successful treatment options and outcomes.
Philips Oral Healthcare has partnered with a team of leading experts to provide this valuable resource to the dental profession. Michelle Hurlbutt, RDH, MSDH, chaired the CARE Board, and worked closely with Doug A. Young, DDS, EdD, MS, MBA (caries prevention, detection, and management), Gregory E. Oxford, DDS, MS, PhD (board-certified periodontist), and Ken R. Tilashalski, DMD (board-certified oral and maxillofacial pathology), to create this comprehensive and complimentary online resource. It was designed to serve as a supplement to dental professionals' clinical expertise in determining patient risk. CARE's online questionnaires for each area of concern include:
Disease indicators, pinpointing existing diseases or conditions and the patient's history of the disease;
Risk factors, related to the patient's oral health, systemic diseases, and lifestyle choices including nutrition;
Protective factors, identifying the patient's biofilm control habits, history of professionally-delivered dental care, adjunctive treatments (such as fluoride exposure, use of antimicrobials and sunscreen), and nutrition.
The Philips CARE tool can help provide more comprehensive care for your patients at all stages of life. Based on your evaluation and the clinical data you provide, the CARE tool will generate an assessment and make recommendations for you to consider by showing a patient's low, moderate, high, or extreme risk factors. By managing microbial infection and promoting protective factors, you can help patients slow or halt dental caries. By incorporating good oral hygiene, professional preventive services, and antimicrobial treatment, you help patients slow or halt the destructive processes of periodontal disease. Identifying patients at-risk for life-threatening oral pathology raises awareness since early detection is key to improving survival rates.
This is a free online program in which the dental professional's clinical input prompts the program to estimate the risk level for the patient. Deciding factors for the assessment, recommended clinical guidelines, and the patient's risk level aid in educational discussions with patients. You can save them to a patient's record. CARE offers a dental professional suggested protocol and a patient education handout that can be customized with the practice letterhead and contact information.
View and use this complimentary tool at www.philipsoralhealthcare.com/CARE.
Gazelle™ Polisher
from Microcopy.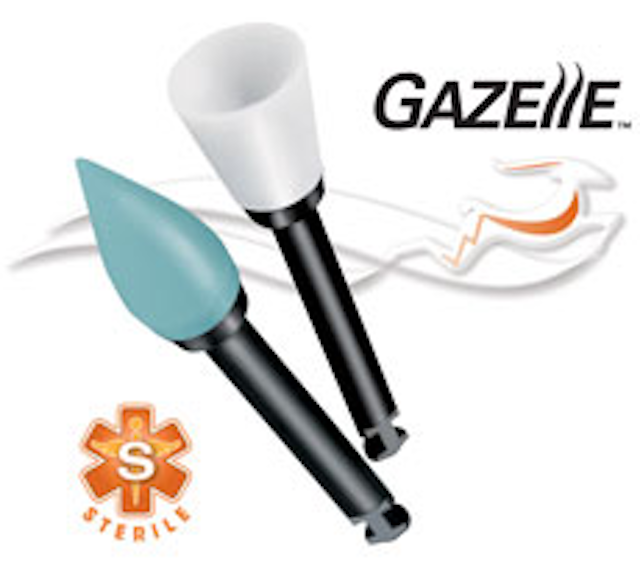 The newest product from Microcopy is a sterilized nano composite polisher. But this one is different from any polisher you have tried. I was amazed after receiving a sample early in December at the Greater New York Dental Meeting. Microcopy's exclusive Silitec™ process produces a flexible, durable polisher designed to last without falling apart. The Silitec process gives the shape of the polisher durability to retain its profile and flexibility to refine the tooth surface.
The name is unusual and deserves some explanation. The company had already picked a couple of "safe" names when Chris, the company's newest designer, suggested Microcopy step out on a limb and call it Gazelle after the animal from Africa. It seemed a little far-fetched, but he was persistent. "Gazelles are a symbol of grace and beauty like our polisher, which brings out a beautiful shine on nano composites. But that's not where the similarity ends," he said. "It's strong and agile like a gazelle. … It goes the distance." The Gazelle Satin polisher is a clinical workhorse for everyday nano composite restorations. This is a quick solution to leave a smooth, satin surface, using aluminum oxide in the Silitec process. It will remove surface striations and anatomical defects while leaving a smooth, satin gloss surface by using feather light pressure. The Hi-Gloss polisher is the quick way to leave a smooth, lustrous surface using diamond particles built into the Silitec polisher. The Hi-Gloss is perfect for anterior restorations such as composite veneers. You will end up with what I describe as a liquid luster gloss. You have to try it to believe it. Microcopy makes it easy to try. All you have to do is ask for samples. All Gazelle polishers come in individually sterilized packets for single-patient use. Microcopy has a "no questions asked guarantee" that unconditionally guarantees your total satisfaction with the quality and performance of the company's products. If you are not completely satisfied, Microcopy will pick up the product and gladly refund the full purchase price.
Ask for samples or order exclusively through Microcopy, (800) 235-1863, or online at www.gazellepolisher.com.
To have Dr. Joe Blaes present his lecture, "Pearls For Your Practice®," for your study group or dental society, please call (866) 274-4500.
More DE Articles
Past DE Issues