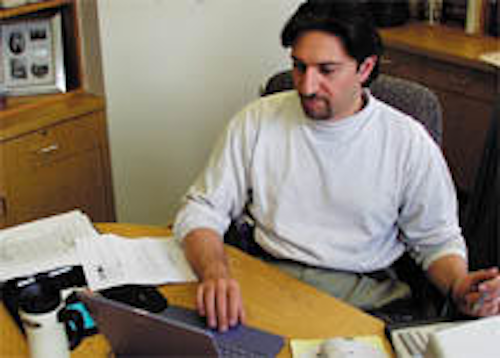 by William G. Dickerson, DDS, FAACD
In past issues of Dental Economics, I have interviewed a cross-section of dentists who have transformed their practices into highly successful aesthetics-based offices. One of the key elements that each of the dentists has attributed to his success is an enthusiastic team. I know from personal experience that a motivated, educated team can propel your practice to the next level. So, in this issue, I decided to interview a team member on his business role in the practice and how he has helped his wife (the dentist) develop the practice of their dreams in Shelby Township, Mich. I hope you enjoy this perspective from someone who understands that dentistry is a business.
Dr. Dickerson:
Joe, you have helped your wife develop a successful practice in less than four years! How did you do it?
Joe Dindo:
What I've done is free her up to focus on patient care while I take care of the business side of the practice. I get my direction from her, and it is understood that she, like any good leader, bears ultimate responsibility for all matters. I work with her to ensure that business decisions are aligned with her vision and that the details are under control. Ultimately, however, it's still a team effort, and I am a member of that team who is excited to be part of it. We're proud of what we have achieved and have enjoyed the challenges.
The credit really goes to her. She has a vivacious personality; she loves what she does; she cares about people; and she is a natural leader with a solid commitment to excellence.
Dr. Dickerson:
What is your role in the office?
Joe Dindo:
Specifically, I handle the finances, bookkeeping, accounting, and other administrative matters. Also, because of my technical background, I enjoy developing and managing the technology in our office. And, finally, I act as an adviser to the doctor. The staff also sees me as a resource and gets my advice where it makes sense.
I try to make sure that my participation is within the context of a strategic plan that the doctor and I have outlined and filled in with feedback from the team. We've taken that plan and developed an annual plan that drives goals, budgets, and various projects. From there, I oversee the annual plan and work with the team to keep things on track.
Personally, I feel that my greatest influence has been in implementing and using solid practice measures (metrics). They help us keep our eye on the ball by providing us with insight into the practice, and they enable us to build foresight about the decisions we make. Using metrics has really paid off for us, because they are tightly woven into the way we operate. For example, take production data — apparently, a straightforward measure used by most practices. We monitor production on a daily basis against a daily goal.
The daily goal is driven by a budget that's been determined from our annual plan. The annual plan is created to meet long-term strategic objectives, which are aligned with our vision. With a host of other metrics, we analyze production data weekly and have formal reviews every month. On a quarterly basis, we evaluate trends and adjust the affected systems appropriately. Further, we evaluate the effectiveness of changes that we have made previously and make necessary updates. This puts us on a cycle of continuous improvement and allows us to implement new metrics based on current needs.
Dr. Dickerson:
To what do you attribute your success?
Joe Dindo:
If I were to distill it to one element, it is that we stick to the basics: The doctor loves what she does. Her resulting firm belief and clear vision of comprehensive care is made explicit for the team. Her leadership empowers team members to contribute their best to planning the implementation of the vision. Once the planning is complete, we take a page from Nike and "Just Do It." The combination of leadership and the permission to accept nothing but the best for our patients and our practice. This manifests itself in terms of solid business practices, selection of highly motivated staff, effective application of technology, and a commitment to exceptional patient care.
Several closely related elements stem from these basics. One of the most challenging is "Patience With Process" — the ability to implement a best practice and to have faith in the team and the process and to let the change run until measurable results are obtained. When the results are clear, we make necessary changes.
That brings us to a second element, metrics. I've already discussed using them, but I must emphasize that if you can't measure what you're doing, you will never know where you are or if your changes are effective.
Woven through all of these elements is the team. We work with individuals, not just employees. We give team members opportunities to grow personally in addition to growing their technical skills. Excellence being equal, it is interpersonal relationships with our patients that build the patients' trust in our care. Above all, we have fun as a team and with our patients!
We have not invented the wheel with these concepts. What we've done is take the best practices and advice from other successful practitioners and implemented them in our practice to suit our vision.
Dr. Dickerson:
Well then, let's discuss each of those elements in more detail. What kinds of solid business practices do you have in place?
Joe Dindo:
We've assembled the right team of professionals (accountant, bookkeeper, financial adviser, insurance consultant, lawyer, etc.) and have made sure that they're all working together. They're all supported by an organizational scheme with information flowing in a timely manner, so that everyone can get his job done. This allows us to be proactive and work the annual plan. It also reduces any surprises.
The organizational scheme is made up of a set of interrelated systems, each of which has evolved throughout the life of the practice and is closely aligned with our practice philosophy. Each system has documented procedures with built-in follow-up mechanisms and communications. For example, the system for compiling the month-end numbers has a procedures description that tells me who is supplying the necessary data, the spreadsheets that I consolidate them into, and to whom I report them. A checklist used by all those involved keeps us on track and in-sync.
To go with these procedures, we document job descriptions along with office policies. As such, everyone has a clear understanding of their responsibilities. We use procedure documents and job descriptions to train new staff and do refresher training for everyone else.
On top of all of this, we communicate through morning huddles, regular staff meetings, and departmental meetings, along with regular employee meetings. The time we spend communicating is very productive and focused. The participation level is high, and the meetings are quite energetic.
Dr. Dickerson:
How do you keep your staff so motivated?
Joe Dindo:
Respect staff as individuals with a unique contribution to the vision! I cannot emphasize this enough, especially with staff issues being such a predominant challenge for many practices. Significantly, respect is a verb. That is, respect has to come from within and then be exhibited in all of your interactions with your patients and team members.
We believe that there has to be an intrinsic belief, on the part of the doctor, that this type of teamwork is crucial to success. So this means creating a work environment and compensation package that enables work to be a source of pride and accomplishment. They can't help but brag about it to anyone who asks, or, for that matter, anyone at all.
We recognize results and effort every day. We also support them through professional development, which creates an opportunity for personal growth. Our staff members see the doctor as a friend who is looking out for their best interests. In turn, we ensure that we provide them with outstanding training opportunities like what we have found at the Las Vegas Institute (LVI) for Advanced Dental Studies.
I want to emphasize that this approach is actually part of the doctor's leadership style. This is not a motivation program, but a reflection of her personal philosophy. It makes sense to her, and she does it.
Dr. Dickerson:
How do you put technology to good use in the office?
Joe Dindo:
Technology must improve patient care or our ability to deliver that care. It only makes sense to invest in something that is going to give you a positive return. Sometimes, it's difficult to measure that return, so we also rely on our judgment as well as the advice of others.
For the business staff, information technology has enabled us to gain insight into the business in terms of how we allocate our time, money, and other resources. Information is readily available, and that allows us to make timely decisions. We made the right decision when we chose our practice-management software, PracticeWorks, because of its unique capability to be customized and tailored to our needs. As the practice evolves, PracticeWorks enables us to modify and tailor data acquisition and analysis without changing our software.
For the clinical staff, technology has enhanced our ability to communicate with patients and deliver hands-on care. It has also enabled us to improve the quality of communication with the business staff, labs, and other external professionals. A key decision we made early on was to ensure that technology is integrated across the office. This has allowed us to be cost-effective in adding newer technologies. We've also adopted both analog and digital systems in the office and implemented them where they make most sense. This has really allowed us to be flexible about how we use that technology.
What's most critical to our approach has been a "learn-lean" process. When we consider a new piece of technology, those team members who will use the technology try it out before we commit to and fully implement it. This ensures that the team, the patient, and the business maximize the value for the dollar.
Dr. Dickerson:
What role has aesthetic dentistry played in the high-quality care that you provide?
Joe Dindo:
It is a natural and integral component of the excellent care that we provide. It was also a natural evolution in our practice. Initially, our aim was to provide comprehensive care to patients. We simply rejected the notion that dental care is optional or that "no one has ever died from poor oral health." Early on, we realized how important periodontal health was and worked hard to institute a periodontal care program. Built on that solid foundation of periodontal health, high-quality restorations meant the departure from amalgam. The next step was the effective use of porcelain restorations, which automatically required proper occlusion to ensure longevity. When you step back, not only does the patient's work look great, but it fits together and works great! In retrospect, we now see that all of the pieces fit together.
Oral health is like a three-legged stool; each leg is a component: periodontal health, restorative health, and proper occlusion. That stool will not work when one of those legs is broken! So, aesthetics is a natural outcome. Of course, for many patients, appearance is the goal, so we have made it a priority to fully understand each patient's desires and wishes before we present treatment options. This is where Bob Maccario's "Yes-to-the-Best" from the Dental Concierge Program concept kicks in by presenting each and every patient with the best that we can offer.
Dr. Dickerson:
What's next for you guys?
Joe Dindo:
We're always looking at ways we can continually improve what we are doing and achieve the goals outlined in our strategic plan. To do so, we are completing LVI's continuum of training this year and are continuing to participate with development opportunities offered through both LVI and the Pride Institute. We're also planning to continue working with the various consultants who have been an important part of our practice. One thing is for sure — we'll be having plenty of fun along the way.