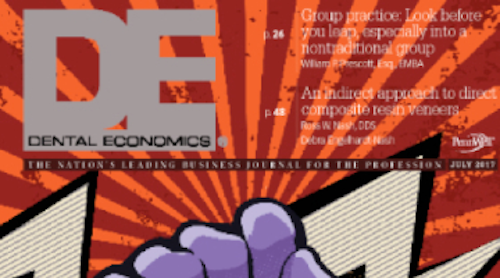 Paula is new to the area and is looking for a new dentist for her family. She does a quick Google search, finds your practice, and calls for an appointment. Paula arrives promptly and takes a seat to wait her turn. She is called to the back, where she is diagnosed and given your recommendations. Your financial coordinator tells her that her insurance will cover only a portion of needed care and asks how she wants to pay the rest. Paula responds, "You know, I'd like to think about it and talk it over with my husband. I'll give you a call." She never does.
Every day, thousands of great patients leave dental practices without committing to care. Why? Often it was simply that the practice team was not well-versed in communicating value.
Communication is the cornerstone of delivering a great patient experience that results in treatment acceptance and long-term patient relationships. Generally speaking, there are two definitions for the word "communication." The first is the imparting or exchanging of information. The second is a way of connection between people. If you would like to have great patient conversations, there are two key words in these definitions to focus on: exchanging and connection. The exchange of information and the connection to patients, if done right, result in understanding. Patients may exchange information, and they may connect with your team, but if they truly don't understand your recommendations and payment solutions, they won't be able to attach any value to them. When patients don't value your recommendations, they are not likely to accept them, regardless of cost or their personal financial situation.
Paula's patient journey
Let's look at what also happened along Paula's patient journey.
Her first contact with the practice was by phone. When she called, she didn't know it was an extremely busy time at the practice. She was abruptly put on hold. Then, when she was able to talk to the receptionist who answered the call, the receptionist seemed rushed and distracted, and the conversation focused almost solely on insurance benefits.
You've heard it before, but you truly do have only one chance to make a great first impression. That first phone contact is the opportunity to use excellent communication skills and get patients excited about dentistry. It's a chance to give them information that makes them confident they chose the right practice.
Let's see what happened next to Paula.
When she arrived, Paula was handed forms to complete, steered toward the reception area, and told "someone will be with you shortly."
Sound familiar? Consider this: Elevating the first in-person contact can make patients feel immediately connected to the team. When they are greeted by name, welcomed personally, and given a tour, they feel welcomed and valued. The practice environment can also communicate value to patients if there are patient testimonials available and information at hand that eases possible concerns, such as information on sedation and financing.
Here's what happened next.
Paula scanned a magazine and then looked up when her name was called from a doorway leading to the back of the practice. She followed a dental assistant to the operatory and was guided into a chair. The doctor arrived and asked Paula why she came to see him. He did an examination, shared the results, and explained his treatment recommendation. During the treatment discussion, Paula was shy about asking questions. She didn't truly understand the results of the examination or the treatment being recommended.
Now, was this a good interaction? According to the first definition of communication, the exchange of information can be a one- or two-way street. You can either "impart" or "exchange" information. When you are imparting information, you are delivering a monologue that talks at the patient. This can be uncomfortable for the patient and result in a less-than-positive experience. Conversely, when you are exchanginginformation, you are having a dialogue with the patient where there is opportunity to enhance and ensure understanding on both sides. This is an important distinction because strong relationships, treatment acceptance, and patient retention start with two things: First, the dentist and team must understand what patients want for their oral health. Second, patients must understand how the dentistry will benefit them - specifically and personally. In a great dialogue, both the dental team and patient will ask and encourage questions. Both will confirm that the exchange of information was interpreted accurately.
Now let's look at Paula's final experience with the practice.
Paula was led to the financial coordinator, who told her that her insurance was limited and that her out-of-pocket cost for treatment was $875. The financial coordinator asked Paula how she wanted to pay.
The financial conversation is one of the most critical dialogues in the practice. Most patients believe dentistry is important or they wouldn't come to the practice. Yet, many delay or decline care because of cost. Great communication skills are critical when the team discusses something as personal as money with patients. Visual aids can be especially useful in helping patients understand their financial responsibilities and options.
Great communication connects to patients' needs and wants
It's a fact: treatment acceptance is the natural result of connecting personally with patients by treating them as people, not patients. Over the past three decades, my colleagues at CareCredit who are practice development managers have discovered this truth in their tens of thousands of visits to practices, learning from teams on the front lines about communication techniques that work. Additionally, my company has worked with leading dental educators to create resources that can help verbal and nonverbal communication skills. Here are just a few that are highly successful:
Online payment calculator - A visual aid that shows patients what their estimated monthly payment may be and how dentistry can fit into their household budget.
Payment options form - A printable document that details all the payment options available and the payment responsibilities. This can be given to patients to take home for future reference.
Tips and scripts kit - These are practical communication tips and sample scripts for all patient conversations, and result in a great patient experience.
CareCredit Direct - This is a new software application that teams can download onto a patient-facing tablet or personal computer. Patients can then use CareCredit Direct to easily learn about and privately apply for financing at their own pace. Plus, the team saves time in its busy day.
Ultimately, when you approach all patients with the knowledge that the dentistry your team delivers can truly and positively impact their lives, you will communicate that with compassion, confidence, and a desire to help patients get the care they need - without delay! You will get a happy, compliant, and loyal patients in return.
Author's note: CareCredit's team of practice development managers are available to connect teams to additoinal free resources that can help them with key practice issues such as recall, patient retention, the patient hand-off, failed appointments, and referrals. Dental teams who accept CareCredit can reach their practice development manager by calling (800) 859-9975, option "1," then "6."
---
Sameer Bhasin, MHA, is vice president of strategic alliances at CareCredit, responsible for working with dentistry's key opinion leaders and educators to gather the latest insights and trends. Previously, Mr. Bhasin held positions as a CareCredit practice development manager and regional sales manager, where he acquired more than a decade of frontline practice experience.
RECOMMENDED: Same-day dentistry for dental practices: Making the transition | By Bete Johnson | DentistryIQ