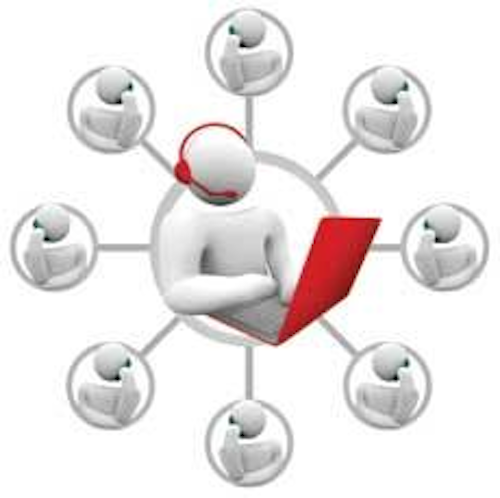 By Neil Vanik, DDS
For more on this topic, go to www.dentaleconomics.com and search using the following key words: software provider, professional support, Patterson EagleSoft, Dr. Neil Vanik.
Searching for dental office software can be grueling. Package choices are endless, with the option for combinations of packages or subpackages, all with multiple features, and some with integration problems. Then there's the hardware. Make no mistake about it, the options involved in choosing practice management abound, and the choices are as unique as each office.
In the confusion of sorting through the many options in practice management software, it can be easy to overlook a vital factor for the success of your installation — support. Installing new software is a complex process, and you'll need a lot of help. Fortunately, the right practice management partner will work with you and your staff to make the process as smooth as possible.
My practice has been running our software system (Patterson EagleSoft) for five years, and our experience has demonstrated how truly valuable support can be to keep an office running smoothly.
As we have learned with our system, there are numerous stages when support is necessary, or when you simply want to add value to your practice. This article explores the stages of support needs, and offers useful assistance to those considering a new practice management system.
Installation — the right way
Your first experience with your system's support will come during installation, when your system is up and running for the first time. Prior to our installation of EagleSoft, we had been running dental software in the front office for 14 years, so our transition involved significant data conversion as well as new hardware and software.
Before beginning installation, our Patterson installers performed an existing equipment audit that allowed us to upgrade our existing systems and check their compatibility with the incoming equipment and software. The new equipment was prepositioned in the office, cable drops were added, and our current system's data was copied and converted into the new database format. Conversion results were reviewed and verified for accuracy, and installation and training days were scheduled.
On installation day, the office was closed for the afternoon for trainers to teach the staff the new system. After another day of intensive training, our office went live and reopened. If I thought I knew what the software could accomplish, the training showed me that it was vastly more capable than I had dreamed. This leads to the next stage of support — ongoing needs.
Ongoing support
On the first live day with a new practice management system, I knew deep in my heart how much trouble I was in. Well, I thought I knew. But by 10 a.m. I felt really alone and that I must die bravely, like a captain going down with his ship. This was when I called support. I know the extremely calm support staff has dealt with all issues before. Not only did they have the answers to my problems, but they also made me believe I just might live until lunch (just as long as I remembered to hit the tab key that wouldn't let me enter the procedure).
The good support people didn't mind if I kept calling — they kept answering, the day passed, and by the time it was over I realized these folks were not going to let me sink. I knew more anxieties were ahead. But quickly my calls for help were replaced with comments like, "Wait a second, don't I just hit the tab key?"
I was entering the world of competence, and this transition led to new support needs. Fortunately, the good practice management company had already anticipated my needs. The next phase of support occurred when the day-to-day "stuff" became natural. At this point, I occasionally ran into some novel situation and had a question like, "Can I do this?"
In these situations, Patterson offers a live help mode that allows me to type my question to an online representative, who responds in real time, generally within five minutes. This function allows me to ask questions without interrupting my schedule, leaving my patient, or going to a phone.
This is great for quick questions that don't require a lot of information. Alternately, an online FAQ database and e-mail support options are available for more complex inquiries. This option can be used to search the database or receive an e-mail response within a few days.
Continuing to explore your capabilities
The next level of competence is achieved when you revisit your system's manual. When you access the manual through the software, you'll likely find all sorts of information you didn't notice the first time. A well-written manual is worth its weight in gold, and reviewing it several months after installation is a revealing demonstration of finally being able to see the forest for the trees.
What might you discover? It depends on the practitioner. My first revelation was that I could use the program to alert my hygienist that routine radiographs were overdue. This made recall exams much less stressful. But reviewing the manual definitely reveals large issues — whole areas of the software's capability that you're not and should be using! In fact, with your cumulative experience, you will quickly realize that you want professional help. This leads to the next level of support — full-fledged courses that unlock vast program areas in as quickly as one day.
Modern practice management programs are more like suites than stand-alone programs. They can do an astonishing number of tasks, including analytical reports, patient education, auditing, correspondence, and more. On the plus side, this means you can function in a modular fashion, using only the parts of the program you need. The downside is that you can be blissfully unaware of other modules, some of which could change your life.
Some of these modules are big, complicated, full-fledged programs that demand your full attention to learn and deploy. It may seem intimidating, but you already own these programs, and you'll get the maximum value from your investment if you learn to use them.
Great software requires great instructors and courses. You can learn more in a day of course work than in many nights reading manuals. Hands-on courses or training Webinars allow you to focus on specific areas rather than the whole program, which sharpens your understanding and helps you envision the possibilities. Patterson trainers will revisit your office to help you learn your software on a whole new level. These training options represent the penultimate category of support. The final category of support is "Armageddon."
The day the lights went out on the server
With practice management software and support, there is one ultimate consideration that defines the quality of support. For my office, the day my server went down required emergency support. That day I learned a lot, and fast. The first thing I learned was that, once you have come to rely on it, you cannot do effective dentistry without the system. In my office, we print schedules for the next day the night before. This means we can limp through a day without software.
But no computer means no radiographs, which really changes a diagnostic appointment. I will tell you that in this situation, the only thing you want is immediate help. Fortunately, that is exactly what we got from Patterson. We made one phone call to a support representative, who immediately arranged for a technician to be dispatched.
Next, we were directed to the hardware/software support teams. This turned out to be a fascinating experience (once my knees stopped knocking). You might remember that during installation, we performed a hardware review and arranged for new equipment as necessary. It turned out that the nice people in Illinois kept that information on file and actually knew what was in my office, so they knew that another station in the office had an identical card to the one that had failed on the server.
With the technician heading to my office and instructing me on the phone, I was able to grab the card, swap it out, and "up" my server in about 60 minutes flat, between patients. The support team was ready to recreate the server from backup to another computer station if all else failed. Isn't that cool? Normalcy returned. The technician showed up, diagnosed and replaced the damaged parts, and rode off into the sunset. That's what I mean by FULL professional support!
Choosing the right partner
There are many practice management software offerings on the market, often with similar capabilities in the software itself. However, when selecting the right one for your office, do not overlook the importance of the support options offered by your prospective company. Excellent support can not only keep your office running smoothly in an emergency, but it can also show you completely new ways to run your office and build revenue. The right practice management company will truly become a partner to your practice, which allows you to focus on doing great dentistry.
Dr. Neil Vanik has practiced dentistry in Annapolis, Maryland, for the last 25 years. He is married and has two sons, both of whom are interested in dentistry. Contact Dr. Vanik with any questions at nvanik@aol.com.