More than just a Building Project
Husband-and-wife dentists make their "green dream" into a real dental office in rural Michigan.
Mar 1st, 2009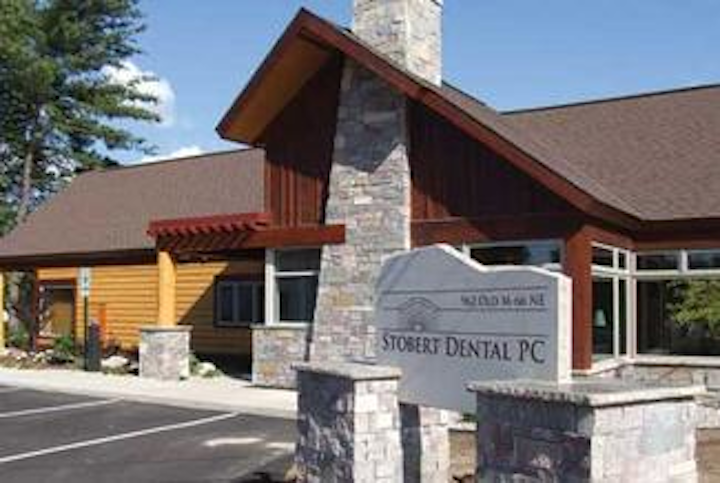 Husband-and-wife dentists make their "green dream" into a real dental office in rural Michigan. This is a facility that reflects their values — beautifully.
by Kevin Henry, Managing Editor
For more on this topic, go to www.dentaleconomics.com and search using the following key words: green building, building project, Stobert Dental, Carrilyn Stobert, R. Troy Stobert.
When Drs. Carrilyn and R. Troy Stobert began planning for their new dental office building, they were challenged by a long list of possibilities. As they developed their dreams into a vision and finally to reality, there was one option they never considered optional: They were going to build "green."
Beginning of a dream
Following graduation from the University of Illinois at Chicago College of Dentistry in 1999, Carrilyn and Troy moved to New Jersey where Carrilyn worked as an associate dentist and Troy served as a Captain in the U.S. Air Force Dental Corps. After completing their three-year commitment, they returned to the Midwest where they began their search for a practice that could fulfill their mutual calling — to serve the oral health care needs of a small community and ensure accessibility of care. They found it in Kalkaska, Mich., a rural recreational area in the northwest corner of Michigan's lower peninsula, known for its hunting and fishing. Its population is largely comprised of snowbird retirees and blue-collar workers.
The Stoberts purchased the practice from a retiring dentist in 2002 and began treating patients in the previous dentist's leased space. Its four operatories were a perfect fit for their schedule. "We consider ourselves stay-at-home parents and part-time dentists," Carrilyn explains. So they decided to split their work schedule two days per week for each dentist in order to spend time with their young children, daughter Kyra and son R. Troy.
Plans for growth
The Stoberts soon recognized a huge demand for dental services in their community, which created pressure to work more hours. They decided that when their youngest child started school full time, they would add more hours treating patients. However, this created a time each day when their office use overlapped. Knowing they couldn't continue to operate efficiently in their leased space, they developed a five-year plan to build a new facility.
Before they ever met with an architect, the Stoberts devoured advice about dental office design. They noted what they liked or disliked and clipped photographs of details that appealed to them. In a relatively short time, they had compiled a two-inch binder full of notes, designs, specifications, photos, and sketches. They were then well prepared to communicate their vision to the architect.
Staff input and design challenges
The Stoberts included their staff members in each step of the design process. From initial priority lists to choosing paint colors, they offered valuable insights that otherwise may have been overlooked. Carrilyn and Troy encouraged them to share their individual visions of an ideal working environment. With each plan revision, team meetings were held to discuss the changes, and team members were invited to offer more suggestions. The Stoberts feel that giving their team a sense of ownership in the project helps to ensure their facility will serve them well for years to come.
Architect Ray Kendra, of the firm Clark, Walter, Sirrine Architects in Traverse City, Mich., was presented with a challenge. The couple wanted to harmoniously blend two of their favorite styles while maintaining the natural beauty of the setting. They desired the look of a rustic northern Michigan cabin combined with an elegant Frank Lloyd Wright mission style. With Mr. Kendra's skill and creativity, they achieved it both in design and furnishings.
The new beginning
On Monday, June 25th, 2007 the Stoberts began treating patients at their new location. Built on scenic Mill Pond, part of the Boardman River watershed, the facility features a comfortable "Northern Michigan" atmosphere. It appears as a grand cabin in the woods, with log siding and exposed rough-hewn log columns that blend with the surroundings. The use of natural stone extends up the chimney, adding rustic charm.
Inside, stone forms an inviting surround for a functional fireplace that warms the reception area. Its high, wood-clad ceiling, sweeping curve above the reception desk, and windowed site lines give the feeling of a large, open space. Earth-toned walls feature a contrast of bold and subdued hues, accented with locally harvested Alder wood trim. Oil-rubbed bronze hardware and geometrically shaped furnishings carry the mission style throughout.
Though elegant and inviting, the larger esthetic is not the interior, rather it's the scenic beauty that surrounds the building. Expansive windows frame the views from treatment rooms, offering a calming and relaxing escape for both patients and staff. When asked about the building's construction and features, Troy says, "We hope to be working in this building for the next 30 years until we retire, so we figured we better do it right." No detail was overlooked in creating an environment designed to put patients at ease while enabling the dental team to provide top-quality dental care.
High esthetics combine with efficient function
While maintaining the open feeling of the front office, the Stoberts partitioned two checkout areas (one at wheelchair height) to provide privacy for patients during check out. The adjacent reception area encourages patients to relax in comfort while the children's reception area features a television, Nintendo, books, bean-bag chairs, and a play table.
The operatory design incorporates dual entry for convenience. A-dec cabinetry with solid-surface countertops provides ample and accessible storage. Decorative glass partitions above the cabinets reduce sound transmission and provide more privacy. Treatment rooms feature unique "floating ceilings" — fluorescent overhead lights are mounted above the ceiling on either side so that when a patient is reclined, he or she is not disturbed by glare.
With Carrilyn and Troy sharing equipment, versatility and ergonomics are important. They purchased the A-dec 542 side delivery system specifically because it has settings for dual operators, and the duo easily programmed their favorite patient positions. This unit also provides the flexibility to seamlessly incorporate electric handpieces, which Carrilyn and Troy are considering for the future.
They were able to save the expense of two Gendex 765 intraoral X-ray heads by installing pass-through cabinets from A-dec. The cabinets allow the sharing of one X-ray head between two operatories, and they can also conceal the equipment, which maintains the clutter-free look.
Computer monitors are mounted at the 12 o'clock position as well as suspended from the ceiling by adjustable ICW Dental Elite ceiling monitor mounts. Rear monitors are convenient for assistants during data entry and the ceiling monitors provide easy viewing for patients. They are also used as televisions for patient entertainment.
A separate consult room allows the Stoberts to discuss treatment options and educate patients in a private setting where patients are more comfortable expressing questions and concerns. It is equipped with impressive tools that help the clinicians display their abilities to improve patients' oral health.
The centrally located instrument-processing center enhances office function by allowing the dental team to switch to cassettes for instrument management. The L-shaped space creates a sequential workflow from start to finish. A-dec Preference ICC cabinetry organizes the instrument sterilization process. Materials for each step are within easy reach, and the space designated for this function allows several team members to process instruments simultaneously without impeding each other's progress.
When asked why an environmentally responsible facility was such a priority for them, Troy explained, "We believe that people are given the responsibility to act as stewards of the earth. We live with a mentality of respect and gratitude for all that we have been given. This then leads us to a desire to minimize our negative impact on the environment."
After they chose to build in such a scenic area, they felt it imperative to set stringent guidelines for how they would minimize their impact on the site. They chose to use guidelines set by the U.S. Green Building Council (www.usgbc.org) in design, construction, and use of this facility. Upon project completion, they applied for L.E.E.D. (Leadership in Energy and Environment Design) certification and are proud to have been awarded a silver rating, which requires that certain criteria be met. A few examples include recycling unused building materials, purchasing building materials harvested or manufactured locally, reducing water use, optimizing energy performance, incorporating geothermal heating and cooling, use of low VOC-emitting materials such as carpet, paint, adhesives, etc., and designing day lighting and views into more than 75% of the indoor spaces.
Patients frequently comment on the dual-flush toilets, which use less water for liquid waste and more for solid. They also mention the wildflower landscaping and ask about the locally harvested Alder wood trim. However, other environmentally important components are either hidden or often go unnoticed.
For example, patients don't notice the geothermal heating and cooling, the energy-saving light fixtures and lighting control panel, or the exclusive use of low-VOC paint and adhesives in the office. But Troy doesn't mind, because patients notice how good they feel when they enter the facility, and their comments are very positive.
Costs and benefits
From a strict business standpoint, the Stoberts admit that initial expenses for environmentally friendly construction exceed those for conventional construction. But they go on to explain that a net cost benefit will be realized by substantial savings in operating costs over the life of the building. Moreover, they feel that the environmental benefits of building "green" far exceed the financial costs.
Building a new dental office is a huge project, but the Stoberts say it was a labor of love and they enjoyed every aspect of it. Troy admits that now that the project is completed, he misses visiting the construction site daily to monitor its progress. "It was such an exciting time. Every day there was something new and amazing to see as the building we had dreamed of and worked toward became real. It is a time in my life I will always cherish and remember fondly."
---
2008 Matsco
Outstanding New Dentist Practice
Best new, remodeled or expanded
facility for the first practice owned
by a doctor or group of doctors
who have graduated since 1998.
Stobert Dental PC
962 Old M-66 NE
Kalkaska, MI 49646
Phone: (231) 258-9061
FAX: (231) 258-9497
Preventive and restorative dentistry
Web site: www.stobertdental.com
e-mail: office@stobertdental.com
---