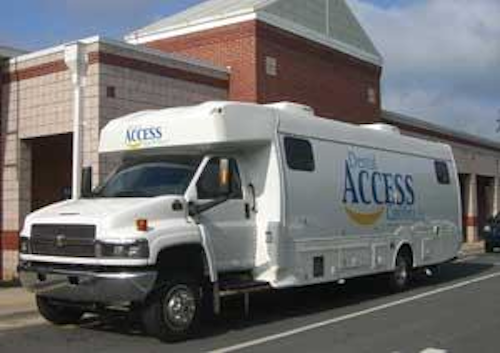 by John E. Reese iii, DMD
How to really improve access to care in dentistry
For more on this topic, go to www.dentaleconomics.com and search using the following key words: mobile dentistry, mobile dental clinic, access to care, public health, Dr. John Reese.
Mobile dentistry is a subject that has sparked much discussion. This is mainly due to the increased number of mobile and portable dental operations that focus on "preventive only care" in school settings, and those that provide more complex care without follow-up. Fraud is the No. 1 concern for most who oppose such a treatment delivery method, and lack of ability or intent to provide definitive care by "preventive only" groups is a close second. However, despite any concerns from skeptics, mobile dentistry is a treatment modality that is one of the best ways to solve the access-to-care dilemma that faces so many Americans today.
This article will illuminate the positive aspects of mobile dentistry and elucidate the fact that mobile dentistry can be done right so that everyone wins: the community, the doctor, the staff, and — most importantly — the patients!
Why would anyone want to practice in a mobile office?
Access to care is a major problem facing dentistry today. Many recall when the U.S. Surgeon General gave a failing grade to the level of dental disease in this country, and reported that the number one reason children visit the school nurse is for dental pain. Access to care issues became even more noticeable after the death of a young Medicaid-eligible patient due to a dental-related condition. The complete set of factors that inhibit access to care are far too complex to discuss in this article, but we can all be certain that they don't rest on dentistry's shoulders alone. However, two of the major barriers to receiving dental care for many are transportation and logistics, both of which can be influenced by the dentist.
In the traditional model, a patient makes an appointment, travels to the office, receives treatment, and returns home. For this process to be effective, a patient must not only be able to travel to the dental office for care, but the appointment must be scheduled at a time and place that meets the patient's needs. The other alternative is that the patient arrives at a "walk-in" clinic without an appointment and waits his or her turn for treatment. In this scenario, the patient is far more likely to receive symptomatic care only, leaving more needs to be addressed when symptoms return.
Enter the mobile dental clinic. The dentist and staff can arrive at a facility where the patients are already located, such as a school, community center, elder care facility, or manufacturing facility. The patients are treated on site with minimal interruption of their day or without the complex logistical issues surrounding transportation of the elderly and disabled. More patients can receive care who might otherwise go without or receive only symptomatic care.
Free enterprise approach to a public health problem
By operating the mobile dental practice just like a traditional fee-for-service practice, income is generated and bills are paid when the patients' needs are met, thereby creating a win-win relationship. A fully equipped mobile dental clinic can be purchased at a fraction of the cost of fitting and equipping an existing structure. Additionally, the IRS allows for a five-year depreciation schedule vs. 30 years for the building, further reducing the taxable income of the practice. When the IRS Section 179 deduction is factored into the equation, the tax benefits of purchasing a mobile dental clinic are astonishing!
As with any practice, overhead must be closely monitored to achieve optimal results and effective systems must be employed, but with a mobile dental clinic the chances for success are far greater than those of a traditional office because the direct costs are so much lower.
In our practice, we treat Medicaid-eligible children at their schools. We provide the school staff a list of students for whom we have consent to treat, and we call for patients when we are ready to see them. This allows the next patient to be ready for us at the exact moment we are ready for them, so there is no waiting by either party.
Patients benefit because they continue their normal activities until we are ready to treat them. We benefit by having zero downtime during our day caused by a late patient or a broken appointment. Another advantage to patients is that they are not wasting their time waiting if we are behind schedule, a significant marketing tool when treating patients in the private sector.
Mobile clinic design features
Mobile dental clinics come in many sizes, designs, and costs. The clinic designed for maximum effectiveness and economy should have two treatment rooms with an intraoral X-ray in each, a central sterilization area, a staff restroom, a panorex, and central suction and compressed air systems. It must be fully self-contained and self-supported with enough generator capacity to power the facility, as well as fresh and wastewater storage.
It should have adequate heaters and air conditioners for the climate where it will be used, generous 110- and 12-volt lighting, an underfloor wheelchair lift, and automatic leveling jacks. If desired, a small patient intake and waiting area can be included. But this can add unnecessary costs.
Shore power should be included so that lights and heat can operate without using the generators. To achieve full operational capacity from shore power requires special connections not normally found unless special modifications are made to the building, so it is not generally recommended except in special circumstances. The size and height of the vehicle should not significantly inhibit its maneuverability or require a commercial driver's license to operate.
Gasoline vehicles are more cost-effective, efficient, and user-friendly than diesel units because the vehicle is parked with the engine off when the clinic is in use and gasoline systems are much quieter during operation, allowing for a more tranquil clinical environment.
The real deal for increasing access to care
In our mobile dental model we provide much-needed care and truly increase access to care for the patients we serve. We can afford to provide high-quality care because we apply sound business principles in our practice and follow strict systems in our daily operations. Everything we do is geared so we can be more effective in providing continuing comprehensive preventive and restorative care to our patients. By operating this way, we create a win for all involved: schools, parents, staff, and — most importantly — patients! Done properly, mobile dentistry can provide the right things for the right people in the right way!
John E. Reese III, DMD, graduated from the Medical University of South Carolina in 1988. In January 2001, he founded Dental Access Carolina, LLC, a mobile dental practice. When its success was proven, he designed his own mobile clinic and now markets the clinics internationally. To learn more, visit www.dentalaccess.com.