Community's choice: America's most valuable team/team members
Editor's Note: Recently, the PennWell® Dental Group community site hosted a contest among its members to determine America's most valuable team/team members.
Dec 1st, 2009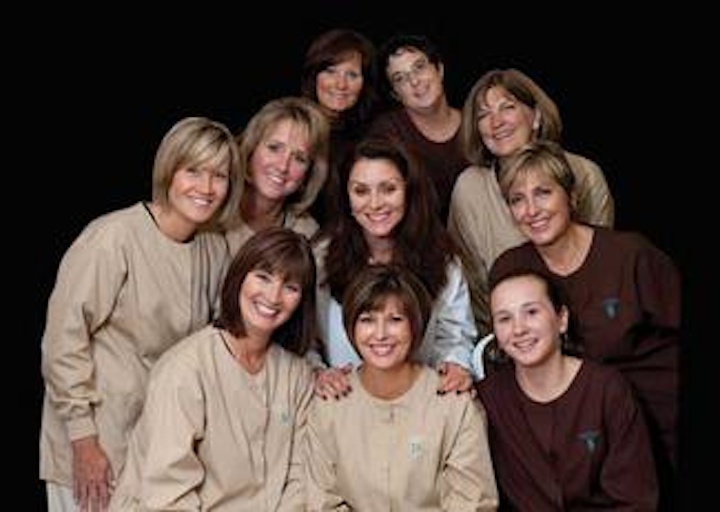 by Kevin Henry, Managing Editor
Editor's Note: Recently, the PennWell® Dental Group community site hosted a contest among its members to determine America's most valuable team/team members. There were 41 entries, and community members voted Bay Pediatric Laser Dentistry of Bay Village, Ohio, as the winner. Below, Dr. Diana Kyrkos, who submitted the winning entry, talks about her team members.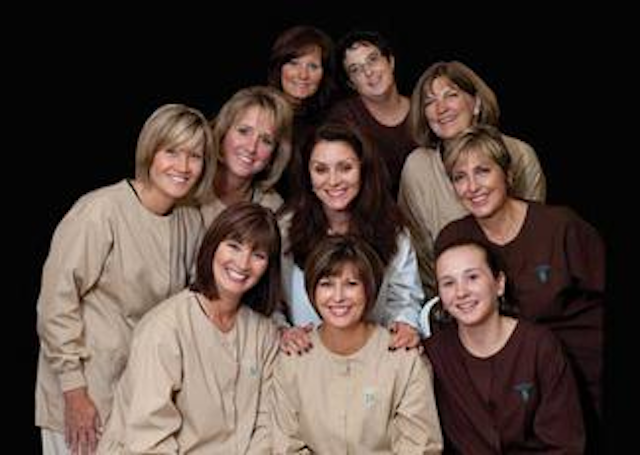 America's most valuable team members, as voted on by the PennWell dental community include, from left to right (clockwise, starting with the center bottom person), Lisa Vulpitta, Kelly Delmonico, Char Fisher, Jan Madigan, Vickie Emling, Cathy Flanigan, Carol Hay, Kathy Snyder, Amanda Schue, and Dr. Diana Kyrkos (in the middle).
Click here to enlarge image
For being selected as the winning entry, Loyal Patients Inc., was given a free Rewards Program for her office so her team members could be rewarded for excellent performance with a no–limit account. For more information on Loyal Patients Inc., go to www.loyalteamrewards.com.
I encourage you to become a part of our dental community. While online, browse through the forums, blogs, photos, and videos posted by your colleagues. The site's membership count is steadily increasing, and is currently more than 1,900 members.
Membership is free. PennWell's dental community is at community.pennwelldentalgroup.com.
Service to others is a commitment and a way of thinking that continues to make my dental professionals the "most valuable team."
Most of my team has been with me for more than 10 years and, needless to say, they perform their jobs flawlessly. However, the most compelling thing that my team has done to make our practice more succesful is to become thoroughly involved in local and extended communities.
Our patients are delighted to read and hear about our exploits and contributions as we take our outstanding "caring" and "serving" attitudes outside the dental office. From Hurricane Katrina relief to "Give Kids a Smile Day" at Case Western Reserve University, the Moms and Dads and their children in our extended patient family know that when they come to our office they are getting this same special care.
Every year, my team of caregivers gets together and selects a project that enables the team to give back to the community. This includes the Mission of Mercy in New Orleans where the team spent days in outdoor, makeshift clinics serving the dental needs of thousands of Hurricane Katrina victims.
Team members flew to Russia to help orphaned children during Project Sunshine, providing much–needed dental exams and emergency procedures to these often forgotten children. When our team members flew to Chicago and Portland, Ore., to participate in marathons, they also raised more than $10,000 in honor of our special–needs patients who suffered from leukemia and lymphoma.
"Give Kids a Smile Day" provided free dental care to many of Cleveland's underprivedged children.
These are just a few of the after–hours volunteer projects that sets my team at Bay Pediatric Laser Dentistry apart from others. I am blessed to have this selfless and dedicated group in my office and honored to nominate the team for this award.
Learn more about Dr. Kyrkos and her team by visiting www.bayvillagepeds.com.