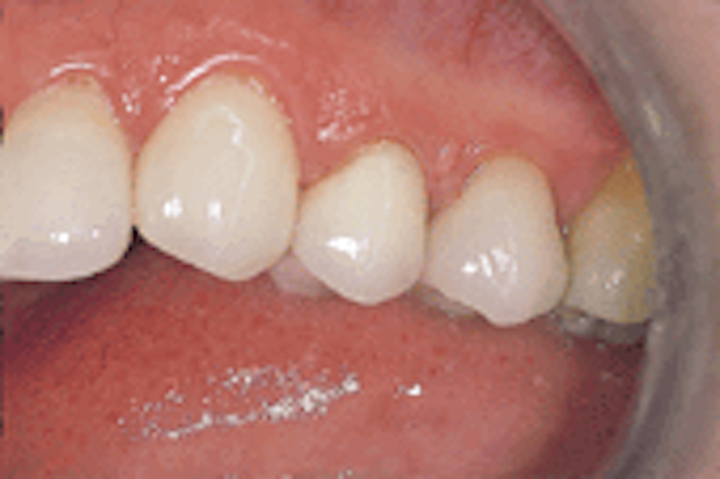 Joseph Blaes, DDS
Pearl 1 -
Goldtech Bio 2000 by The Argen Corporation. For many years, I have marketed to a special group of people who are very concerned about biocompatibility. They belong to that general group of people who are actively seeking alternative medical solutions. They are very concerned about allergic reactions to materials used in their mouths. A number of the metals used for casting by laboratories cause allergic reactions, and it has been difficult to find alternatives for our hyperallergenic patients. One of the largest alloy makers in the world, the Argen Corporation, has developed a solution - Goldtech Bio 2000. This material is ideal for this group of people, because it is 99.7 percent gold for exceptional biocompatibility and is palladium-free. Bio 2000 has the deep, rich color of pure gold, which will give you porcelain shades that are incredible, making this is an ideal choice for esthetic restorations. There is no graying of the porcelain and no shadows at the gingival. Because this is pure gold, you will never see a dark line at the gingival. The reaction of the gingival tissues to Goldtech Bio 2000 is outstanding. It is like you have used a nonmetal crown. The metal may be cast to a thickness of 0.2mm, and it does not require any special equipment in the laboratory. Gold has a long history of biocompatibility. Why not prescribe the best for all your patients? Tell your dental laboratory to use Goldtech Bio 2000 on your next case. And be sure to tell your patients that you are protecting their health while providing them with the very best in gold restorations. Call Argen at (800) 255-5524.
Pearl 2 -
Direct Crown by Flexible Dimensions. This is a new product I found as I walked the exhibit floor at the California Dental Association Meeting in Anaheim. This meeting was held in the newly finished Anaheim Convention Center, a very nice facility. Direct Crown is the answer to making quick temporaries for those single-crown preps. A dentist looking for a faster, better way to produce temporaries invented this product. I think he has found a great solution. You simply pick a preformed shell that has no contact points, adjust the shell at the gingival, and be sure it is seated all the way. Mix the powder and liquid provided and fill the shell, place the shell on the tooth, and have the patient close. Remove while still in a rubbery stage and finish, polish, check bite, and cement. That`s it! It is a quick, simple technique that saves a couple of steps and a lot of time. Call Direct Crown at (888) 910-4490.
Pearl 3 -
The Dental Insurance Coding Handbook 2000 by Stepping Stones to Success. Although most dentists wish they could stop dealing with insurance companies altogether, it is a fact of life that many of our patients rely on insurance to help them pay for the treatment they need. Containing much more than just codes and definitions, this user-friendly manual can help your office speed up insurance reimbursement and decrease payment delays. Set up like a reference book with a binder that features section guides for each type of treatment, the manual makes finding codes quick and easy. Each code features industry guidelines to let you know how the insurance carrier will likely cover the treatment. You`ll learn how to provide the concise narratives that insurers are looking for. Carol Tekavec RDH, Dental Economics` monthly insurance columnist, wrote this handbook. Call (800) 548-2164 to order.
Pearl 1 - Goldtech Bio 2000 crown is the 1st bicuspid
Pearl 2
Dr. Blaes has a general practice in the St. Louis area. He is known for his expertise in dental materials and techniques and his innovative systems designs. He writes and lectures on "How To Increase Productivity and Profitability." Dr. Blaes is a member of the American Academy of Dental Practice Administration. He may be reached at (573) 686-2388.