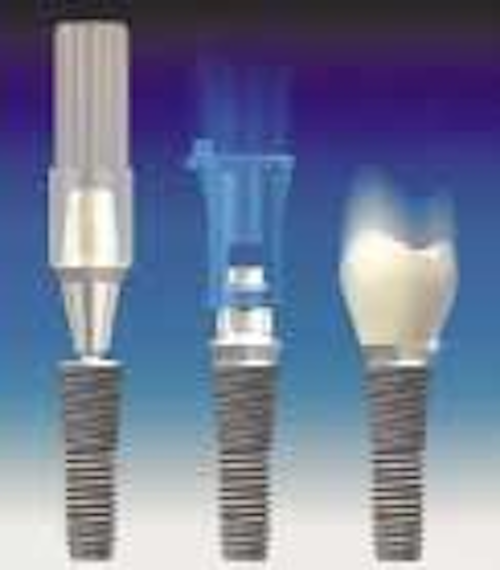 Astra Tech introduces Fixture MicroThread™
Astra Tech's Fixture MicroThread™ is a self-threading implant that features a fine, shallow microthread on the conical part of the fixture, and a coarser thread on the lower portion. The entire fixture has the unique surface texture TiOblast™. The combination of macro and micro retention elements provide a superior bone-to-implant interlock with increased capacity to withstand functional load and maintain the marginal bone.
Fixture MicroThread is an implant for all clinical situations — for single-tooth replacement, for the partially or totally edentulous jaw, narrow and wide spaces, and for both the mandible and maxilla.
For more information, call (800) 531-3481 or visit www.astratechusa.com.
3M™ ESPE™ Sinfony is now more versatile
Dentists now can utilize the light-curable 3M™ ESPE™ Sinfony™ Magic Shades to simulate the natural shade transitions and other specific colorations of direct, indirect, and temporary restorations. Originally developed for use with Sinfony indirect lab composite, Sinfony Magic Shades now can be used with additional 3M ESPE products such as Paradigm™ MZ100 block for CEREC™, and Protemp™ 3 Garant™ temporization material.
Comprising 11 tints, Sinfony Magic Shades enable technicians to create a wide range of special effects in restorations. Providing shade effects similar to porcelain, it can be used to reproduce all shade nuances and characterizations such as cracks in enamel, mamelons, decalcified areas, imitation fillings and wear facets, as well as various special effects in the cervical, pit and fissure, or enamel region. Sinfony Magic Shades are available in pastel tones — Ocean Blue, Atlantis, Chestnut, Havana, Orange, Khaki, Vanilla, Honey Yellow, Gingiva, Red, and Terracotta. A neutral transparent Opal material is also available.
Sinfony Magic Shades can be purchased in a Sinfony Magic Set that includes the nine most popular shades, plus a dispenser handpiece and shade guide. In addition, all tints and the transparent opal material can be purchased individually as single packs.
For more information, visit www.3MESPE.com or call (800) 634-2249.
Free Something to Smile About kit
biolitec™ is proud to offer dentists a new dental marketing kit — Something to Smile About, to help promote laser procedures to patients. Free for SmilePro 980 dental practitioners, the kit allows every patient in the office — and potential new ones in the community — to discover the benefits of laser dentistry.
Each kit contains patient brochures highlighting the benefits of laser dentistry, an office poster for the reception area, camera-ready advertisements to promote the SmilePro 980 in print media, a professionally-written press release for local newspapers, patient appointment and recall cards, and more!
For more information, call biolitec at (800) 934-2377 or visit www.biolitec.com.
New gloves eliminate powder worries
Dental professionals who prefer to avoid natural-rubber latex exam gloves will welcome yet another new choice from the glove experts at SmartPractice®.
Flextec™ powder-free, non-latex exam gloves offer wearers a new alternative to traditional powdered latex exam gloves. The glove's completely synthetic material is virtually free of powder, latex processing chemicals, and natural rubber latex. Wearers will appreciate the surface of this new glove which is soft and velvety to the touch while combining comfort, excellent barrier protection, and superb tactility.
The unique PVC formulation of Flextec renders the glove material resistant to decomposition by oxidative hazards such as ozone and ultraviolet light. These qualities serve to make the material an excellent defense against bacterial and viral penetration.
Flextec comes in X-Small to Large, are medical-grade, and feature beaded cuffs to help avoid unexpected "roll-downs." Also available in an extra-long, 11-inch cuff.
For more information on product selection and introductory pricing, call (800) 522-0595, Ext. 555.
DentalEZ CustomAir compressors
CustomAir, a DentalEZ Group brand, is now offering the 700 Series Plus compressors and 800 Series Basic compressors.
The 700 Plus compressors come standard with a cooling fan mounted below each head and a dryer membrane drying system. The 700 Plus lubricated compressors offer quiet operation, a three-year warranty, and exceptional air quality.
The 800 Basic compressors are the latest in the LubeFree compressor line. Basic units offer quieter operation and less vibration, a dryer-membrane system to provide dry air, and a three-year warranty. The 800 Series compressors provide superior air quality with their LubeFree motors to eliminate the possibility of oil contaminating the air.
For more information, call (866) 383-4636.
New Web site addresses patients' fears
It is estimated that 50 percent of the population avoids dental visits primarily because of fear. A new Web site, www.dentalfear.com, is dedicated to the elimination of dental fear. A multifaceted site, www.dentalfear.com provides patients with information on dental fear and phobias, offers on-line courses to doctors, and certifies them to be recommended to fearful patients. Patients will be able to find certified dentists in their geographical area on-site.
Treating dental phobics is the new growth area in dentistry. It offers the advantages of becoming independent of insurance companies, great marketing potential, deep patient loyalty and enthusiastic referrals, and tremendous practice growth.
For more information, call (860) 742-5206 or visit www.dentalfear.com.
Full denture stabilization
An acrylic/metal splint can be fabricated and cemented to MTI Transitional Implants (Dentatus USA) to stabilize a maxillary or mandibular full denture. The patient's denture is retrofitted using a soft reline material. Utilizing transitional implants will also slow down the bone resorption of the ridge. The concept is reported to be a creative strategy for "jump starting" the implant aspect of a practice. The MTI transitional implants can be routinely used to provide a provisional restoration at the time of implant surgery so the patient is never without teeth, and the patient can master oral hygiene techniques before receiving the final prosthesis.
For more information, call Dentatus at (800) 323-3136.
New alloy offers strength and beauty
Ivoclar Vivadent announces the introduction of Brite Gold™, a newly developed dental alloy that delivers the warm gold color clinicians and patients want and the strength they need for today's porcelain-fused-to-metal (PFM) restorations. Indicated for inlays, onlays, full cast crowns, and PFM crowns, Brite Gold exhibits a warm, jewelry-like gold appearance, accommodates metal collars and full-metal occlusals, and can be conventionally processed.
The bond achieved between the Brite Gold alloy and the porcelain is exceptional, and the technique is familiar. Brite Gold's physical properties accommodate a full range of indications. In particular, it demonstrates the Vickers hardness necessary to polish the material without scratching. And, Brite Gold is compatible with IPS d.SIGN ceramic porcelains.
For more information, call (800) 533-6825 or email to mail@ivoclarvivadent.us.com.
New Kodak samples of SureSoft packets
Dentists interested in trying Kodak's innovative SureSoft packets can now receive and sample the product in free trial packs.
SureSoft packets feature a soft, cushioned edge that feels more comfortable in patients' mouths. The new sample size includes six SureSoft packets featuring Kodak InSight intraoral dental film, enabling dentists to realize up to 60 percent less radiation exposure time than D-speed film along with improved patient comfort.
For more information about SureSoft packets, or to order a SureSoft packet sample pack, call (800) 933-8031 or visit www.kodak.com/go/dental.
Zenith/DMG introduces new MagicFil™
Zenith/DMG has announced the release of new MagicFil™, a colorful compomer material that is ideal for filling cavities in deciduous teeth.
MagicFil allows dentists to give their pediatric patients a choice of four sparkling shades, helping to ease patient anxiety by actively involving children in their treatment. Kids can choose from Ocean Blue, Wild Berry, Sunny Yellow, and cool white Universal.
Despite its youthful appeal, MagicFil is a serious filling material that features all the benefits of Zenith/DMG's patented compomer chemistry, including superior biocompatibility, insolubility, and strength. MagicFil is an easy-to-use, dual-cured filling material with a low viscosity for easy placement. The material also releases fluoride to help prevent recurrent decay, and zinc to reduce bacterial activity.
Zenith/DMG supplies MagicFil exclusively in the smart and small 9g double-barreled Smartmix™ handheld automix syringe. Smartmix is a convenient and compact dispensing tool that won't intimidate young patients.
To order, contact your dealer. For more information, visit www.zenithdmg.com or call (800) 662-6383.
New interactive digital radiography demo
PracticeWorks, Inc. announces an interactive Trophy Digital radiography demonstration on its Web site. The demonstration can be viewed on www.practiceworks.com under the Dental tab from the home page.
PracticeWorks is the premier provider of software-based information technology systems and related services for dentists, orthodontists, and oral maxillofacial surgeons in the United States. PracticeWorks' product offerings include practice-management applications, cosmetic imaging and digital radiography systems, business-to-business e-commerce services, electronic data interchange (EDI) services, and ongoing maintenance, support, and training related to all products.
For more information, visit www.practiceworks.com.
Brushless electric motor system from KaVo
KaVo America introduces the new ELECTROtorque Plus, featuring a unique brushless motor that does not require brush changes, reducing downtime and maintenance headaches. The powerful motor provides constant, no-stall speed and torque, runs absolutely vibration-free, and is quieter than conventional brush-type motors.
Together with KaVo's durable cellular optic attachments, the system features a speed range from 27 to 200,000 rpm. The control box offers two programmable speed settings, which can be individually set by the user. Users appreciate the fact that the water spray can be conveniently adjusted at the motor. The system can be easily retrofitted in virtually any existing delivery system and uses the existing rheostat. The unit can be calibrated to the existing air pressure of the dental unit for optimized performance. The motor, tubing, and control box are backed by a three-year warranty.
For more information call (800) 323-8029 or visit www.kavousa.com.
DENTRIX provides integrated e-attachments
Dentrix Dental Systems, Inc., in partnership with National Information Services (NIS), recently introduced eClaims Attachments, a new HIPAA-compliant service that gives DENTRIX users the ability to send electronic attachments with their eClaims from within the DENTRIX clinical and practice-management system.
With eClaims Attachments, doctors can attach any patient's image from the DENTRIX database to an electronic claim. It eliminates the need for double entry of data, and streamlines insurance submission and processing. The end result is quicker payment on claims, reduced uncertainty for patients, and easy access for payors.
The ability to send attachments is available to practices using DENTRIX 9.0 or later. Customers on previous versions can call (800) 336-8749 for upgrade information. Questions regarding eClaims for DENTRIX can be directed to an eClaims Specialist at (800) 734-5561, Option 3. For additional information, visit www.dentrix.com.
New Dental Insurance Coding Handbook
The completely updated Dental Insurance Coding Handbook — 4th Edition contains the required HIPAA current version CDT-4 codes needed by all dental offices and insurance carriers (effective January 2003).
More than just a listing of codes, this comprehensive manual details payment guidelines, information on writing narratives, attachments, common terms, and charting and documentation essentials.
Easy to use and understand, it can help speed up insurance reimbursement and protect offices against adverse utilization review. Written by Carol Tekavec, RDH, insurance columnist for Dental Economics magazine and speaker on recordkeeping and insurance for the ADA Seminar Series.
The manual is available for $97 plus $6.50 shipping. For orders and information, call (800) 548-2164 or visit www.steppingstonestosuccess.com.
New dual-cured core buildup material
Premier Dental Products Co. is introducing CompCore™ AF dual cure, a superior-performing core material with improved handling.
CompCore AF maximizes the strength of CompCore build-ups and significantly reduces shrinkage; its superior clinical performance derives from its dendrimer chemistry and nano-filled technology. Clinically, less shrinkage, outstanding compressive strength, and diametral tensile strength help to improve success with CompCore AF core build-ups.
The material syringes directly from the automix gun onto the tooth structure without slumping. Dual curing allows dentists to work at a convenient pace and, when set, the material trims like dentin without ditching.
CompCore AF dual cure is available through dealers with a special introductory value including the chemically compatible IntegraBond starter pack and a free 50gm cartridge shrink-wrapped to each introductory package to ensure satisfaction. To learn more, contact your local dealer rep, view the brief tutorial on www.Dentrek.com, or call Premier Dental at (888) 773-6872.
Ultra-Access™ — high power, small size
Lares Research announces Ultra-Access™, a high-speed handpiece with a head size smaller than any other handpiece currently available. At just 9.7 mm in length and 8.5 mm in diameter, the head is more than 25 percent smaller than the average "small-head" high-speed, yet delivers cutting power equivalent to many larger-head handpieces. Ultra-Access provides increased visibility and superior access, making it ideal for precision cavity preparations in difficult locations, children, or on patients who have difficulty opening wide enough.
It is constructed of stainless steel that withstands current sterilization protocol, and uses the same full-sized bearings as other Lares handpieces to provide smooth power and long life. The Ultra-Access comes standard with the Lares SuperChuck™ push-button for quick bur changes.
The handpiece carries a one-year warranty and a 30-day money-back guarantee. Options include dual-beam fiberoptics to further enhance visibility, and 360°-swivel quick-disconnect.
For more information, call (800) 347-3289, Ext. 1, or visit www.laresdental.com.