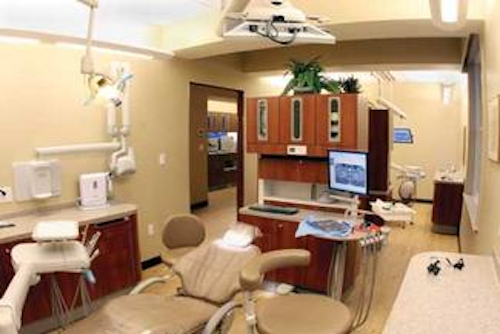 Dr. Nicholas Papapetros only needed to look to the building next door to find the perfect location to relocate his established practice.
by Dr. Joe Blaes, Editor, Photos by Creative Images Photography
For more on this topic, go to www.dentaleconomics.com and search using the following key words: Dentistry by Design, Nicholas Papapetros, offfice design, www.smileandover.com.
Dr. Blaes: Most new dental offices start somewhere in a dentist's mind. It might be just a vague thought like, "Wouldn't it be great to have a new office?" Once planted, the seed begins to grow and usually ends up being a quest. What started you on your quest?
Dr. Papapetros: My story begins 16 years ago. I was finishing a general practice residency program at the Lennox Hill Hospital in New York City. I was looking for jobs in the New York and Boston areas. I found a job in Andover, Mass., that I thought would last for a year or two until I could find a permanent job. Actually, it has lasted all these years.
I worked into a partnership and then purchased the practice from my partner upon his retirement. My old practice had been a dental office for more than 35 years and had undergone little change or improvement. So, through the years, I had the office painted and wallpapered, installed new carpets, furniture, and added some new equipment.
As dentistry changed, so did I. Through continuing education courses, such as those offered by the L.D. Pankey Institute, Las Vegas Institute, Dawson Center and others, I began changing my practice philosophy. I learned that I did not have to just "drill and fill," and instead I could diagnose and treat many oral problems and conditions.
Several years ago, I began searching for a new facility. I tried to buy land or homes to be converted. I even became involved in a bidding war with a bank (which I lost) for a closed Friendly's building. All viable options seemed exhausted until a building right next door was destroyed by fire. After the owner rebuilt it as a two-story brick facility, he asked me on several occasions if I was interested in renting. But I said no each time. I had explored remodeling, but I could not afford to close my old office for three months due to construction.
But then things started happening in my old office. The plumbing began to leak, the trim would not hold paint and chipped regularly, the air conditioner was weak, and the 1970s office design had lost much of its function for modern dental practice. The lack of space and the difficulty in adding technology led me to decide I had to find a new space.
So I contacted the owner of the building next door and visited the facility's second floor. I went there on a sunny day, and except for a steel post in the center, I saw an open space that was flooded with natural light from the surrounding windows. At that moment, I knew I would make this space into my new office.
Dentistry by Design
Nicholas T. Papapetros, DMD
19 Barnard Street • Andover, MA 01810
Phone: (978) 475-5333
Cosmetic and General Dentistry
e-mail: nickpapa@aol.com
Web site: www.smileandover.com
Dr. Blaes: Once you decided on the new space, what impact did your practice philosophy have on the design of the dental office?
Dr. Papapetros: My philosophy is to provide excellent dentistry using the most advanced techniques, materials, and equipment in a caring and comfortable environment. My previous office did not afford me the capabilities I wanted and needed to do this. In designing my new space, I was able to incorporate the latest dental delivery systems and technology to create a comfortable and soothing atmosphere in order to provide my patients excellent care.
Dr. Blaes: We know the importance of people movement in a dental office. Describe your patient and staff flow patterns.
Dr. Papapetros: In designing the new office, we took advantage of being the sole tenant on the second floor. This afforded us the opportunity to use the elevator as the entrance. When a patient arrives, they step from the elevator directly into our office space. The reception room offers a comfortable, well-lit area that includes a soothing fountain. Although there is hardly ever a wait, the reception room is beautiful and makes a representative first impression.
Patient check-in is open and inviting while being separated from the check-out area. As a patient enters the clinical area, the colors and materials continue the office's sense of luxury. Patients are amazed as they pass by our A-dec Steri-Center, which is highlighted behind a wall of glass.
Staff members have a dedicated entrance into the clinical area, as well as their own bathroom. In designing the front desk area, we maximized space to enhance the look and function. The space is no longer cluttered with paper charts; it is sleek and clean, adding to the look of luxury. Clinical rooms are large and ergonomically correct. This allows the hygienist and patient to enter the room and interact in a more comfortable environment. The Steri-Center is centrally located for easy access to employees.
Dr. Blaes: Color, light, and patterns affect us in good ways as well as bad. Tell us how you brought your philosophy to life in the new office by effectively using these tools.
Dr. Papapetros: The office's esthetics were given serious consideration. The designer, Mary Grisé, was instrumental in choosing the right colors and materials to maximize the comforting and luxurious effect I wanted to achieve. The décor of the space contributes to the office"s overall relaxed environment, and benefits patients and staff.
In designing the office, I tried to be as "green" as possible. The lighting consultant reduced the amount of wattage used by 50 percent. I also try to use recycled or recyclable materials in as many applications as possible.
Dr. Blaes: What makes your office design unique and innovative? Is it functional?
Dr. Papapetros: In the new office, I included a separate area for check-out with two positions. This minimizes the time required to check out a patient. Should a patient need any financial counseling, a private consultation room is located just opposite the check-out area.
We oriented the treatment rooms, reception area, and front desk to take advantage of the natural light. Clinical rooms were designed for maximum efficiency — everything is within easy reach. The flow throughout the office makes the available space functional.
Dr. Blaes: How have you achieved optimum function with your equipment? Was all of the equipment you purchased new?
Dr. Papapetros: I did not purchase all new equipment. I reused three chairs and the suction from the old office. Besides these items, everything else is new. With digital X-rays, paperless charts, and computers in every room, we have achieved optimum function. Hygienists book appointments while patients are in the chair. This shortens or eliminates patient time at check-out, thus adding to our overall efficiency while giving patients a unique experience.
Dr. Blaes: What role did your team play in planning the new office?
Dr. Papapetros: My assistant and I visited many different companies and showrooms. We tested various pieces of equipment and finally decided on A-dec. The staff, as a whole, reviewed proposed floor plans with each team member offering valuable suggestions in his or her area of expertise (e.g., front desk, hygienists, assistants).
Dr. Blaes: Most new offices cost a significant amount of money. How will you get a return on your investment?
Dr. Papapetros: I plan to practice for many years. Having a nice, comfortable environment in which to practice will go a long way in making future years more productive, profitable, and enjoyable for me and the team. The new office, with the latest in technology, certainly appeals to my patient base. I expect that base to expand as word about the pratice spreads.
Dr. Blaes: What major influences affected the design of your new office?
Dr. Papapetros: I planned this move for at least two years. During this time, I kept an eye out for general looks, feel, materials, and ideas from all types of businesses — not just dental practices. I cut out pictures from many dental magazines, including Dental Economics®. I asked friends, family, and colleagues for their opinion on everything from paint and paper to wood floors and carpet. I received many good ideas from my sources, and am extremely pleased with the final product.
The office is now a pleasant, happy place to be. Everyone has his or her space and seems genuinely happy to be at work. As a result, teamwork is increasing productivity as well as the bottom line.
Dr. Blaes: What advice would you give other dentists who might be considering the same type of move that you made?
Dr. Papapetros: I would recommend to a colleague who is considering such a move to start early. Get your core consulting team on board as soon as possible (e.g., contractor, equipment specialist/dental supply company, financing company). In my case, I also used a lighting consultant and an interior decorator. Prepare a budget, keeping in mind that most projects run over budget by at least 10 percent. Make sure someone (you or a vested representative) is carefully overlooking every aspect of the project on a regular basis, daily if possible.