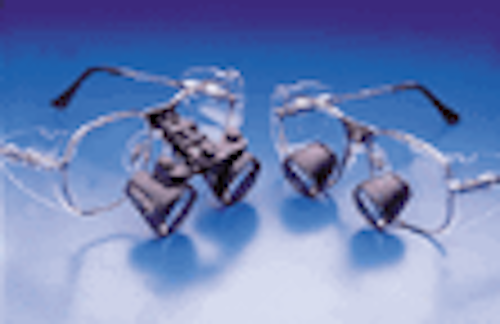 Joseph Blaes, DDS
Pearl #1 - TTL Tele-scopes by Orascoptic Research, Inc. I have been using magnification for years now and would not think of picking up a handpiece without scopes. I believe that magnification is now the standard of care in dentistry. I have been using Designs for Vision magnifiers for years and putting up with poor customer service because I liked the glasses. Recently, I was introduced to the Orascoptic line of magnifiers. The Orascoptic TTL is a new line of 2.5x fixed-position, "through the lens" telescopes. This company, led by the founder and researcher, Dr. Charles Caplan, has developed telescopes that will enhance comfort, performance and safety. These new glasses are very comfortable to wear and provide high resolution optics with a wide depth and width-of-field. The nosepiece is particularly well done and provides a good base for the telescopes. I am convinced that magnifiers help me complete treatment faster, better and easier. These Orascoptic telescopes give me comfort and excellent visual clarity. Combined with the Zeon Illuminator, you have a team that cannot be beat. Orascoptic is introducing a new line of scopes for the rest of the dental team that will allow the assistants to actually see what they are doing. The hygienists also will benefit from this new line. Orascoptic provides excellent customer service and follow-up to assure that you are completely satisfied with the product. It is nice to know that someone out there cares. Call Orascoptic at (800) 369-3698 to order, or stop by and see them at the Chicago Midwinter and get measured right at the booth.
Pearl #2 - The Great White Gold Series Burs by SS White. Wow! What a cutting devil this bur is! About six years ago, SS White came out with its restoration-removal burs, which were great. Apparently, a lot of us started using them for other procedures and began wanting some other shapes and designs. This company listens! The result is an expanded Gold Series set of burs. These burs make it easy and quick to cut a hole in a crown for endo access. I had a problem with the original burs breaking at the neck when I tried to use them to remove crowns. Now, SS White has strengthened the neck and done something to make them cut faster, because you can cut slots for crown removal really fast now. This is important if you are using some of the new cements that crown-removers no longer work on. So, if you are looking for a bur that will make your procedures faster, get the new Gold Series burs from SS White today. Your satisfaction is 100 percent guaranteed, so how can you lose? Order from your dealer or call SS White at (800) 535-2877 for samples.
Pearl #3 - Mach Sigma Handpiece From NSK America. Finally, a precision, high-speed handpiece at an affordable price from a company that is among the major handpiece producers in the world. It features an ultra-easy-push auto chuck, three-port spray system that really keeps the tooth clean and a low-noise design that does not leave your ears ringing. We have been using the handpiece for a couple of months and find it to be great. The turbine that NSK uses in this handpiece is the same one used in its top-of-the-line model, which makes this an exceptional value for the price. We have autoclaved the handpiece many times, and its corrosion-resistant coating has held up well. The NSK Mach Sigma is lightweight and comfortable during procedures. It has a small-head design that makes it easy to get to those hard-to-reach areas and then to see once you get there. For more information on this exceptionally valued handpiece, call (888) NSK-1NSK, see them at the Chicago Midwinter or order from your dealer.
Pearl #4 - Microbrush by Microbrush Corporation. In answer to your requests, my favorite applicator now comes in "Regular" and "Fine" sizes. The fine size is smaller in diameter, allowing you to get to those tiny areas that were difficult with the regular size. With this addition, there is absolutely no reason to still be using bristle brushes. Do you realize how much material you waste with bristle brushes? Microbrushes will allow you to actually wipe off excess material on or near gingival tissues without fear of causing bleeding. They are great for seating veneers and crowns. If you like the feeling of a long handle, the Microbrushes come as inserts for handles, and the handles can be autoclaved. So throw out those awful bristle brushes and order some Microbrushes from your dealer! They come in a new packaging system with four colors. I find more uses for them every day.
Dr. Blaes has a general practice in the St. Louis area. He is known for his expertise in dental materials and techniques and his innovative systems designs. He writes and lectures on "How To Increase Productivity and Profitability." He may be reached at (314) 434-6808.
Pearl 1
Pearl 2
Pearl 3
Pearl 4