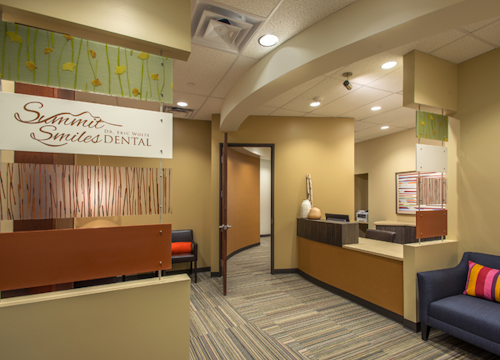 Joy Gendusa
Dr. Wolfe saw his new-patient numbers jump 320% in two years, and then fall 22% in the subsequent two years. Here's how he shook off that slump and bounced back—with the best yet to come.
We've all made mistakes, and sometimes those mistakes can be costly to our bottom lines. But as numerous internet memes will tell you, it isn't failure that matters—it's how you pick yourself up and proceed that counts.
Let me introduce you to a client of mine, Eric Wolfe, DMD. I had the privilege of interviewing him recently, and what caught my attention most as we spoke was his unflinching ability to roll with the punches, even if those punches hit his bottom line. (This ability might be a result of his service in the Navy, for which I thank you, Dr. Wolfe.)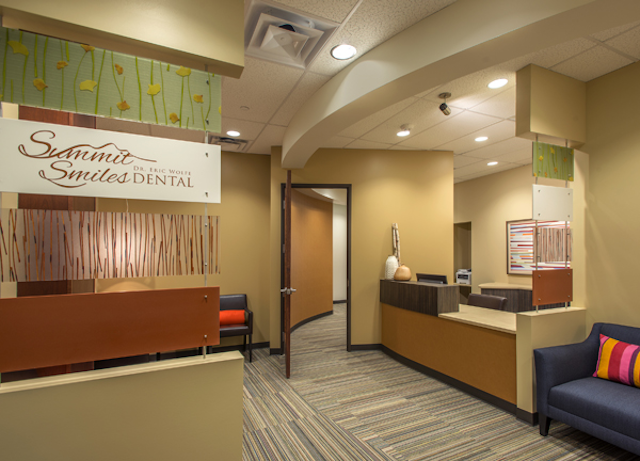 The entry to Dr. Eric Wolfe's office, Summit Smiles Dental in Aurora, Colorado
Summit Smiles Dental, Dr. Wolfe's practice, is located in the Denver suburb of Aurora, Colorado. He started his practice from scratch in October 2013 with a focus on excellent patient care and full-service general dentistry. So, how does a dentist serving in the Navy who never saw himself becoming a practice owner wind up starting his own scratch practice 1,300 miles away from the Navy headquarters just a few years later?
Dr. Wolfe: "I helped open a small practice as an associate, and after about two years there, where I was actually the only dentist, I realized I wanted to be on my own and be my own boss."
He turned to Denver's go-to dental consultants and brokers, CTC Associates, to get an idea of his options. With their help, Dr. Wolfe mulled over acquiring an established practice or forging ahead with a startup, and he says the decision process was not easy at all.
Ultimately, it came down to one thing.
Dr. Wolfe: "After I had helped establish another scratch practice [for someone else], I knew I could do it. But it would be my practice. It would be my vision. I could do things the way I intended to do them, down to the way I wanted to care for patients, build a team, and treat my staff."
The team at CTC Associates helped Dr. Wolfe choose a space in a well-known shopping center ensconced in one of Aurora's fast-growing communities. While Dr. Wolfe knew that he needed to market his practice to bring in new patients, his first campaign (for his grand opening) was a bit of a misfire.
Dr. Wolfe was averaging about 10 new patients a month from October to December 2013, his first few months in practice, about half of where he knew he needed to be.
Dr. Wolfe: "I wanted to get through those first three or four months, and then after that I knew I had to do something."
Thankfully, CTC was quick to diagnose and help correct this marketing misstep. Marie Chatterly, who worked directly with Dr. Wolfe and who specializes in startup practices at CTC Associates, said, "Dr. Wolfe originally went with a mailing group I had never used before, but it was supposed to be an expert in dental marketing. The postcard with this company targeted a very large area but limited the mailer to households over a certain income. This is a good strategy, but not in all markets. Eric's office is located in a very high-growth area, with thousands of new move-ins. The mean income is middle to high. So, for this location, it is better to target the entire area for maximum results. As soon as the target market was changed to a smaller radius and every household, the phones started ringing."
Marie pointed Dr. Wolfe to my company, PostcardMania, and we took care of him from there, starting in early 2014. Here are the details on the first campaign he ran that year:
• Targeted the closest 18,000 residents to his practice
• Mailed 3,000 postcards every two weeks
• Campaign lasted six months, until August
Dr. Wolfe: "I saw pretty much immediate results. We started getting 20 to 30-plus new patients a month when we started using PostcardMania."
In fact, Dr. Wolfe averaged 31 new patients a month during that first six-month campaign. That's a 210% increase!
That was all the proof he needed. Dr. Wolfe's next campaign increased in quantity and duration, and so too did his new patients.Here's what he did:
• Expanded his target market to the 31,000 closest residents
• Increased mailing frequency to 2,600 /week
• Mailed postcards every week from October 2014 to June 2016; that's 21 months
• Averaged 42 new patients a month in 2015 (his highest-ever year for new patients)
• Averaged 41 new patients in a month for the first six months in 2016
Dr. Wolfe's 21-month campaign averaged 42 new patients per month overall, an additional 35% increase over his first campaign and a 320% increase over where he started in late 2013.
When I first pulled Dr. Wolfe's campaign details from our database, I was struck by his commitment to consistency. I had to know: Where had he acquired such an advanced marketing acumen?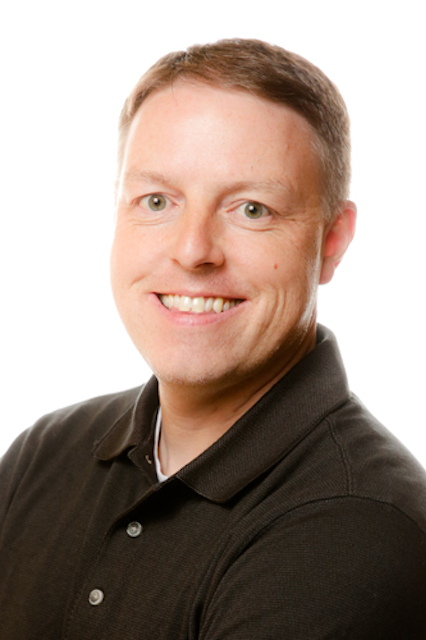 Eric Wolfe, DMD
Dr. Wolfe: "That goes back to working at the other startup practice. We did direct mail there. It wasn't through PostcardMania, and their approach was different. They mailed in large bulks, maybe 20,000 postcards once every two or three months. I don't know for sure because I didn't handle it. When those mailers went out, we would see a spike in calls, but then calls would go down. I knew I wanted to be more consistent."
Dr. Wolfe's consistent postcard campaign ushered in his highest-ever new-patient count in 2015, topping in at 507 new patients for the year. In addition, his staff doubled in size from 2013 to 2016 and his operatories expanded from three to five.
But then, Dr. Wolfe changed gears. His mailings with us stopped. When I bring this up, he offers an audible sigh tinged slightly with regret.
Dr. Wolfe: "I just wanted to try a different approach. In late 2016, and I don't know why, I just said, 'You know what, I'm going to try something different.' I wanted to try something more internet-based. I still did mailers, but it was with a different company."
The other change—and you may have seen my mention of this in last month's issue of Dental Economics—was to remove a family photo from Dr. Wolfe's postcards and place a stock photo. He also scaled back his mailing frequency to 5,000 postcards per month. How did the changes fare?
Dr. Wolfe: "I mean, we did OK. But the response was noticeably different."
After Dr. Wolfe switched mailing companies in 2016, his new patients declined. He went from averaging 41 new patients a month through June to averaging 35 new patients thereafter. The next year, new patients dipped further, down to averaging 33 per month in 2017.
In total, Dr. Wolfe's new-patient numbers declined year-over-year in 2016 and 2017, by 10.059% and 13.377% respectively. That's a big change from the 320% rocket ship increase he rode from 2013 to 2015. You can see this period highlighted on Dr. Wolfe's new-patient graph (figure 1).
Dr. Wolfe: "I wasn't really happy with the way things were going. I just said, 'Well, let me get through it.'"
Before we talk about how Dr. Wolfe got back on track, I have to commend him for his consistency. Sure, he left my company, but he was still marketing and consistently getting his message out there, so good on him. He also committed to giving his new campaign a full year to prove itself, and that's admirable.
I always recommend committing to a year-long campaign before ditching it, especially with direct mail. People usually think I'm just trying to sell postcards, but you have to have the discipline to give your campaign time to work. Your results won't be immediate, so you have to give a campaign enough time to build momentum before you assess whether or not it was successful. While 12 months is ideal, six months is passible, and three months is too short. Just one mailing? Honestly, don't bother! Especially if you're a dentist. It's a waste of money.
After that six- or 12-month period, analyze your results and make adjustments. That's exactly what Dr. Wolfe did, so my hat is off to him.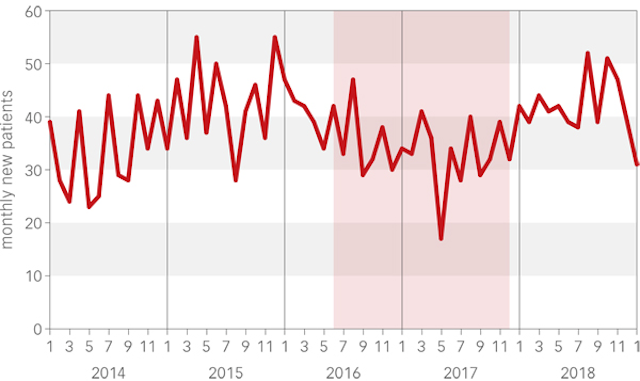 Figure 1: Dr. Wolfe's new-patient numbers declined in 2017.
Dr. Wolfe: "We wanted to continue to grow, so a little over a year later, in the fall of 2017, I called PostcardMania again and we took new family pictures. That was the basis of what had worked before, so I said, 'Let's juice the marketing. Let's do it!'"
Juice it we did. Dr. Wolfe got his mailings back on track in January 2018. He expanded his reach again to the nearest 40,000 residents and mailed 5,000 postcards every other week.
He even shortcut his digital marketing by bundling coordinated Google display ads into a direct mail campaign using Postcard Mania's Everywhere Small Business product. This let him expand his reach and increase impressions without any extra work on his part, since we did it all automatically when we set up his direct mail campaign.
In just one year (2018), Dr. Wolfe regained his losses and returned to averaging 42 new patients a month. That's a 27.848% increase over 2017.
This year stands to be even better for Dr. Wolfe's numbers as he continues consistent mailings (3,000 postcards every other week) and expands the digital arm of his coordinated online campaign to include Facebook and Instagram. (We're still handling that for him, in addition to the Google ads.) His marketing will only continue to gain more momentum with these extra elements tied into biweekly postcard drops.
When I mention hiring associates and divvying up the work, Dr. Wolfe chuckles and keeps it modest.
Dr. Wolfe: "Yeah, that's the next step, isn't it?"
It won't be far off if you keep this up, Dr. Wolfe!
Author's note: To watch Dr. Wolfe discuss his marketing journey in person, head over to postcardmania.com/dr-wolfe to watch a two-minute video case study.
Joy Gendusa is the founder and CEO of PostcardMania. Using just postcards, a phone, and a computer, Joy built PostcardMania from a one-person startup into an industry leader serving more than 82,401 clients, plus more than 6,106 dentists. Need help promoting your practice? Call one of PostcardMania's dental marketing consultants at (844) 269-1836, e-mail Joy at joy.gendusa@postcardmania.com, or visit postcardmania.com/dentaldesigns.