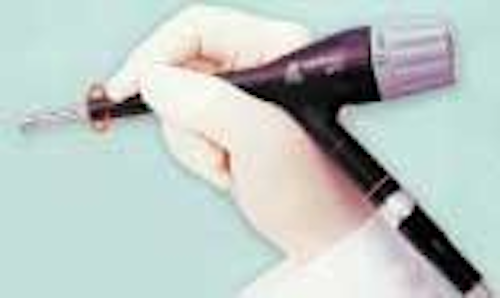 By Joseph Blaes, DDS
Pearl 1 - RONDOFlex by KaVo. Air abrasion units normally are bulky, stand-alone systems that have to be wheeled around throughout the office. They are often a nuisance, and I think this is one of the reasons that air abrasion has not caught on like I first believed it would. The unit needs a separate power supply (someplace to plug it in), a separate foot pedal (just what you need to clutter up the floor), and, often, an internal compressor (which is noisy). All of this makes air abrasion units very inconvenient for the dental office. These units often are quite expensive too.
KaVo to the rescue! The company has introduced an air abrasion unit that is simplicity itself! The RONDOflex is a totally portable air abrasion unit that simply snaps onto the KaVo MULTI flex®coupler. This is the same coupler that you snap your high-speed handpiece onto. Since you can connect the RONDOflex to your existing system, you will not need a separate foot controller. This makes it very convenient to carry the RONDOflex from room to room.
The unit comes with a wide variety of tips, including .018-diameter 90° and 120° tips and .025-diameter 90° and 120° tips. It has a 360° swivel at the tip, making it easy to get to those hard-to-reach places.
Two powder sizes are available for use with this unit. The air pressure is regulated on the dental delivery system. The RONDO flex does not have a powder-flow adjustment, but I have found that I don't need one.
It actually uses less powder than my other system, and it cuts very efficiently. It has been proven that less powder does not mean less cutting power, because the more particles there are, the more they are hitting each other and producing dust. It is better to have a constant powder stream hitting the same spot; the handpiece then cuts faster. Ideally, it is better to hold the RONDOflex steady in one place for several seconds and then move it very slowly. I have found the cutting efficiency to be greatly enhanced by using this technique.
The RONDOflex is the ideal adjunct to the DIAGNOdent®for today's minimally invasive dentistry. The good news is that the unit is priced under $2,000. If you have been looking for a great, easy-to-use air abrasion unit, this is the one!
Order from your dealer or visit www.kavousa.com for more information.
Pearl 2 - Fuji Lining™ LC Paste Pak by GC America. Most of us know either from personal experience or from what we've read that the best liner available is still glass ionomer liner. The problem has always been measuring powders and liquids and then mixing them together to get a consistent mix. Afterwards, you must wait while the material sets.
Well, forget all you ever knew about the way glass ionomers mix, handle, and set! GC has changed everything with Fuji Lining™ LC Paste Pak. It is the first light-cured, glass ionomer lining material available in a paste-paste formula.
The ideal way to stop sensitivity has just become easier. Use Fuji Lining™ LC as a liner or a base under composite resin or amalgam restorations. Forget about those expensive amalgam bonding materials; you don't need them anymore. This material has a high compressive strength, minimal polymerization shrinkage, and extremely low solubility. Fuji Lining™ LC Paste Pak minimizes sensitivity and provides long-term fluoride release. It bonds well to tooth structure and composite, and makes an ideal dentin substitute. It flexes and absorbs stresses caused by polymerization shrinkage, thermal expansion, and contraction of composite materials.
The new Paste Pak Dispenser saves time and reduces waste. The handling characteristics are excellent, the material does not slump when used as a liner, and it spreads easily to level floor or walls of the cavity.
It delivers consistent mixes every time, no matter how large or small. Simply adjust the dispenser's metering slide and dispense the exact amount of Fuji Lining™ LC material that you need.
Order from your dealer.
Pearl 3 - OptiBond®Solo Plus™ Self-Etch Primer by Kerr Dental. To etch or not to etch is no longer the question. Self-etching adhesives can present an enticing alternative to total etch, especially if postoperative sensitivity is a problem. Some dentists want to stay with total etch because it is a proven system.
Regardless of which technology you decide upon, Kerr has an adhesive solution for you - OptiBond®Solo Plus™, now in either a total-etch or a self-etch system. The bottom line is this: OptiBond®Solo Plus™ Self-Etch Primer is designed for use with Kerr's OptiBond®Solo Plus™ adhesive. When combined in this way, the self-etch primer is effective in bonding both direct and indirect restorations.
A great advantage of this system is the proven chemistry and bond strengths of OptiBond®adhesive. This self-etch primer will effectively eliminate postoperative sensitivity, and the phosphoric acid step is no longer required. This makes for a faster, better, and easier bonding technique.
OptiBond®Solo Plus™ Self-Etch Primer is available in bottles and in the very unique Unidose®delivery. This delivery system delivers the self-etch primer and the adhesive in one convenient package with the very freshest chemistry possible. This one is a no-brainer - it's everything you've been waiting for!
Order from your dealer or visit www.kerrdental.com for more information.
Pearl 4 - ComfortSpa™ by National Dental, Inc. Many practices use a hot-towel service to give their patients that wow! experience. My dental team has struggled for years with everything from heating washable face cloths in Crock-Pots and expensive ovens to microwaving low-quality, prepackaged paper towelettes.
Musty towels and inconsistent staff compliance (due to inconvenience and limited shelf space) have made hot-towel service a hit-and-miss proposition in my office. Please don't misunderstand me; my patients love to have hot towels, but our service was always inconsistent.
Now comes the ComfortSpa™ Auto matic Hot Towel Maker with advanced technology to make hot-towel service quick, easy, and economical. The ComfortSpa™ could not be quicker or simpler to use, and the cost per towel is up to 25 percent less than the most popular premoistened towelettes.
More luxurious than paper products, ComfortSpa™ towels are made of environmentally friendly, 100 percent natural woven cloth fibers. Because they are stored dry until needed, there is nothing to worry about in terms of shelf life or bacteria growth.
Designed with busy dental office schedules in mind, the ComfortSpa™ measures, steams or chills, moistens, cuts, rolls, and dispenses a fresh scented or unscented, soothing towel roll in less than three seconds at the touch of a button.
For maximum wow!, offer your patients a comforting, hot towel as soon as they are seated in your dental chair.
It's a great way to say "Welcome to our practice." With this little extra, your patients will be more relaxed and content as you initiate treatment.
Perspiration, prophy-jet and high-speed splatter, aluminum oxide particles, impression materials, saliva, and more are easily cleaned up with a soothing hot towel. Your patients will leave the treatment area refreshed!
The ComfortSpa™ greatly enhances the overall patient experience in a simple, cost-effective manner.
The result will be happier patients, improved patient relations, increased patient appreciation for dental team members, happier dental teams, and patients who just can't help telling their family and friends about your first-class dental practice.
Order from your dealer, or call National Dental, Inc. at (800) 392-1171 for more information.
Dr. Blaes has a general practice in the St. Louis area. He is known for his expertise in dental materials and techniques and his innovative systems designs. He writes and lectures on "How To Increase Productivity and Profitability." Dr. Blaes is a member of the American Academy of Dental Practice Administration. He may be reached at joeb@pennwell.com.