Pearls For Your Practice
Pearl #1 - Tetric Ceram by Ivoclar Vivadent (Figure 1). I came across this new material at the California Dental Association Meeting in Anaheim and have been using it since then. This is a new composite material that has outstanding handling characteristics. It allows you to do many of the things that you always have wanted to do with a composite but were unable to do. Tetric Ceram demonstrates both stability of shape and ease of modeling. This means that you now can build a cusp or a marginal r
Sep 1st, 1997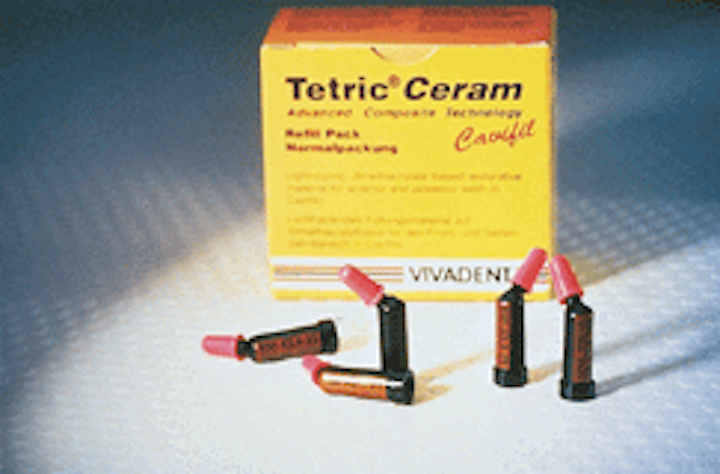 Joseph A. Blaes, DDS - Editor
Pearl #1 - Tetric Ceram by Ivoclar Vivadent (Figure 1). I came across this new material at the California Dental Association Meeting in Anaheim and have been using it since then. This is a new composite material that has outstanding handling characteristics. It allows you to do many of the things that you always have wanted to do with a composite but were unable to do. Tetric Ceram demonstrates both stability of shape and ease of modeling. This means that you now can build a cusp or a marginal ridge or carve in some occlusal anatomy and expect the material to hold the form you have produced. You will have enough time to do this because the new catalyst system in Tetric Ceram prevents premature polymerization by operatory lights and ambient light. The material does not stick to your favorite composite instrument. The material has a continuous fluoride release similar to the compomers, and you will find that it is easy to finish to a very smooth surface and luster. Tetric Ceram has an outstanding radiopacity, which allows you to distinguish accurately between the restorative material and caries, and now you can see the smallest amounts of interproximal excess. The material is packaged in color-coded syringes and cartridges. Tetric Ceram definitely improves the everyday use of composites and makes it faster, better and easier. Call Ivoclar for additional information at (800) 533-6825 and order from your dealer.
Pearl #2 - Temp Tabs by All Dental Prodx (Figure 2). This is a product that I have referred to many times in the past. In fact, this is probably one of the biggest time-savers in my practice. Temp Tabs is the new name for the dental button. This product now is being distributed by a limited number of dental dealers, so it will be easier for you to access. The Temp Tab is a round piece of thermoplastic that becomes soft at about 160 degrees. I use it as a matrix for my crown, bridge and veneer temporaries. This matrix is faster, better, easier to use and cheaper than anything you use now. You consistently will be able to make temporaries, using the new bisacryl materials, which are far superior to anything you are doing now. I have been using this product for over four years now, and I would not be without it. This is the perfect matrix - a hard plastic with excellent detail and just the right amount of flexibility for easy seating and removal. You will produce beautiful, well-fitting temporaries in a fraction of the time. Order from your dealer or call All Dental Prodx at (253) 265-8624 for more information.
Pearl #3 - Thermo Trays by All Dental Prodx. The problem with most disposable, closed-bite trays is the spring-back distortion and the flexing that results in costly remakes and time-consuming occlusal adjustments. Thermo Trays are made with a thermoplastic bite wafer on one side of the tray to record the opposing bite and strengthen the tray. As the preinserted bite wafer hardens, it locks into the tray walls for stability and totally eliminates distortion. That alone should be enough to get you to try it, but there is more. Since the thermoplastic material is on one side, you use 35 to 50 percent less impression material. The tray is easier and faster to fill since you only need to fill one side. This tray actually saves money. Use the Thermo Tray wherever you would use a triple bite tray. It comes in right and left posterior trays and in an anterior tray as well. Try them; you`ll like `em!! Order from your dealer or call All Dental Prodx at (253) 265-8624.
Pearl #4 - Developing Case Presentation Skills for Elective and Discretionary Services by The Coaching Resource Center. This audiotape program is a no-pressure approach to gaining more acceptance of elective and discretionary dental services. It uses a seven-week format to teach the necessary key principles for case presentation of long-term, elective and discretionary dentistry. This program adapts a classic selling model to dentistry. The course does not teach a hard-sales technique where you manipulate the patient. Rather, it teaches sales in dentistry from an ethical, patient-centered point of view. From how to establish trust and credibility to overcoming objections, this proven course distills the art of wants-based selling into a straightforward, systematic approach that can be adapted easily into the dental practice. This program was developed by an old friend, Tim Twigg, who has over 20 years of experience in dentistry. Call him today at (800) 345-3169 for additional information on this audiotape program or to place your order.
Dr. Blaes has a general practice in the St. Louis area. He is known for his expertise in dental materials and techniques and his innovative systems designs. He writes and lectures on "How To Increase Productivity and Profitability." He may be reached at (314) 434-6808.
Figure 1
Figure 2