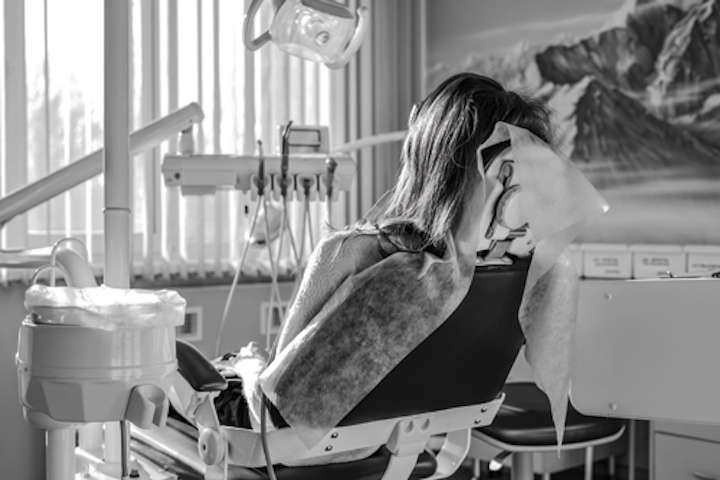 Vicki McManus Peterson, RDH
In the first two articles in this series, we discussed how to target two demographic groups—retirees and millennials. It's time to turn our attention to a group that is found in every age, income level, and ethnic background. Members of this group desperately need dental care, but there's a huge barrier to treatment: fear.
Each year, 77% of Americans say that they intend to visit the dentist during the coming year, but only 37% keep at least one appointment.1 Financial concerns are the most common reason people miss appointments, followed closely by fear of dental procedures.1
But we could argue that fear is the number one reason people miss their dental appointments because a large percentage of people who skip for financial reasons are motivated by fear. For example, patients who haven't visited a dentist in years often have an exaggerated idea of the extent of their problems and cost of the treatment, especially if they're used to paying out-of-pocket for medical specialists such as cardiologists or orthopedic surgeons.
The number of people who are afraid of the dentist is staggering. Overall, 23% of Americans from all backgrounds fear the dentist.2 In fact, 28% of US dental students fear the dentist, and they know more about diagnosis, treatment, and cost of care than the average patient.2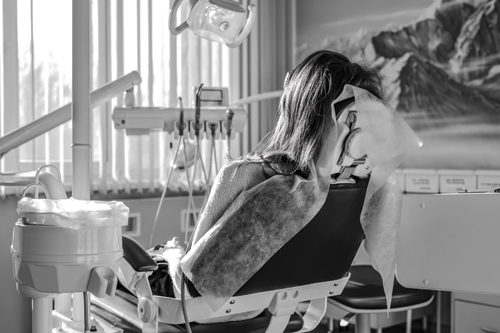 The faces of fear
Debbie hated the dentist as a child. She grew up on well water, and every appointment seemed to hold more cavities, more fillings, more pain, and more shame. It didn't matter how much she brushed or flossed. Nothing she did mattered. Now, as an adult, she avoids the dentist because she dreads the inevitable lectures and procedures.
Mark liked his childhood dentist, but as a young adult in a new city he was in a car accident. The dentist with his insurance company botched his root canal. His childhood dentist retired, and now he's afraid to give another new dentist a chance.
Rebecca's teeth have grown more sensitive as she's aged. She's sure that the pain is a sign of something serious. She won't go to the dentist because she doesn't want to hear about dentures.
There are as many dental phobias as there are people who fear the dentist. Often these cycles of fear and avoidance begin with an objectively bad experience with a dentist. However, fear can crowd out reason over time. People who fear the dentist are a large, underserved population. Very few dentists are actively seeking out these people or marketing to them. However, if you can tap into this tricky market, you'll have a loyal fan base that will help your practice grow.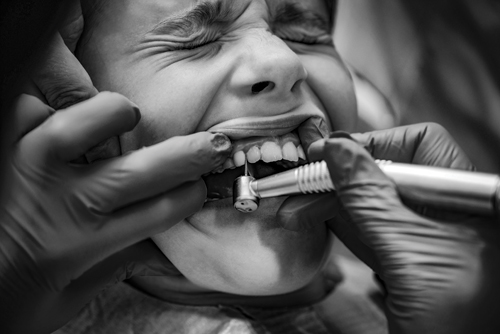 What patients who fear the dentist can do for your practice
It takes very careful messaging to help potential patients overcome their dental fears. But once they're in your practice and you've helped them overcome these fears and taken great care of them, you'll find that these formerly fearful patients will respond to routine care with gratitude; provide huge ROI on your marketing dollars; refer family, friends, and even strangers; provide heartfelt reviews and testimonials; increase production in your practice; and help you recover the enthusiasm that comes from changing lives.
How to find the people who fear you
It may sound a bit counterintuitive to seek out patients who fear you. After all, why not focus your efforts on people who want to see you? The thing to remember is that fearful patients don't really fear you; they fear an imaginary, generic dentist. Your goal is to reach out to them, help them get to know and like you and your office, and restore them to health.
Dental phobias span demographic divides, so the forms of marketing that work for retirees and millennials also apply here. You'll use direct mailers and advertisements, social media, and community involvement. However, there's one low-cost, highly-effective advertising method you must use if you want to reach fearful patients: You and your team must carry business cards and actually hand them out.
You meet people who are afraid of the dentist every time you leave the house. You probably know them as soon as you meet them. They're the ones who become fidgety when you tell them what you do for a living. They're the stylist who shamefacedly admits she hasn't been to the dentist since high school, or the man at church who mentions that he should make an appointment with you. And then keeps mentioning it, every time you see him.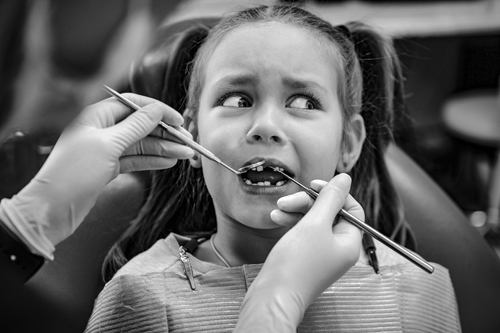 You may have these people in your own family. Your team members likely also know people who fear the dentist. To get these people into your office, you need to make a personal connection. Let them see that you're not sadistic, that you care about them, and that you want to make their lives better. You can do this in any advertising medium, but you'll have chances to do it in person, too. Don't let these moments pass. Give these people your card, and personally invite them to your office. Have your team do the same.
Marketing messages for dentalphobes
While person-to-person is the most effective way to reach this group, social media, direct mail, and even television and radio can help you build connections also. The key is to help people know you, like you, and ultimately trust you. Remember, lack of information isn't the root cause of this fear. Dental students know more than the general population, yet some still have fears. Your communication through this marketing campaign must stress empathy and human connection.
Effective messages include, "We're a part of your community"; "We can help you"; "We have new technology that enhances comfort and reduces noises"; "We can make 'bad teeth' good again"; "We are compassionate and gentle"; "We offer sedation dentistry"; "We don't judge"; "We can help you find an affordable payment plan"; and "Our team has experience dealing with people like you."
To convey your message, use images and testimonials. Find past patients to talk about how fearful they were and how you set them at ease. Use videos on social media and your website. Video connects with the brain and shows the viewer that you are not really a stranger. Introduce yourself on video and give a guided tour of your office. Talk about your family and hobbies. If you humanize yourself, you're no longer a generic, scary dentist.
Marketing to people who fear dentistry increases your patient base and makes your practice more productive, but perhaps most importantly, it allows you to do good while doing good.
References
1. Oral health and well-being in the United States. American Dental Association Health Policy Institute. https://www.ada.org/~/media/ADA/Science%20and%20Research/HPI/OralHealthWell-Being-StateFacts/US-Oral-Health-Well-Being.pdf?la=en. Accessed June 29, 2018.
2. Foley KE. So many people are afraid of going to the dentist psychologists don't know how to quantify it. Quartz Media website. https://qz.com/926892/so-many-people-are-afraid-of-going-to-the-dentist-psychologists-dont-know-how-to-quantify-it/. Published March 8, 2017. Accessed June 29, 2018.
Editor's note: This article is part three in a series about how to reach different groups of patients. Part one appeared in June Dental Economics and part two appeared in July. Both can be found at dentaleconomics.com. Search: "Vicki McManus Peterson."
Vicki McManus Peterson, RDH, is the cofounder of Productive Dentist Academy, a public speaker, and owner of a dental practice in Wisconsin. She is the collaborative author of FUNdamentals of Outstanding Dental Teams, and recently published her latest book, Frustration: The Breakfast of Champions: Turn Powerful Emotions into Career Success.Contact her at vicki.mcmanus@productivedentist.com or call her at (800) 757-6077.