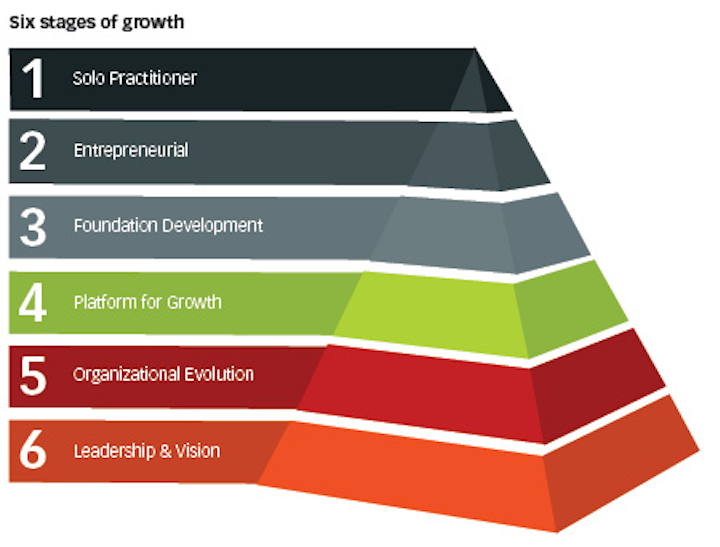 In my initial article, I noted that private-equity backed multilocation group practices, or dental service organizations (DSOs), are becoming more influential and controlling a larger portion of the dental market. In my 20-plus years of experience growing DSOs, I've identified all successful, developing offices' progress through Six Stages of Growth. Therefore, as you transition from solo practitioner (Stage 1), to entrepreneurial (Stage 2), to foundation development (Stage 3), which involves ownership of four to nine offices, following these progressive steps will facilitate your ongoing growth.
Editor's note: This article is part four of a seven-part series. Part five will appear in February. Find previous articles on DentalEconomics.com. Search "Cardillo."
Last month's article highlighted Stage 2 (two to three offices). This is where your business moves from you directly managing and producing in one office, to you becoming a leader by establishing your infrastructure, delegating responsibilities to others, and mentoring and training your clinical and nonclinical team members while growing your practices.
This month's article focuses on Stage 3 (four to nine offices). This is your "aha!" moment, when you realize that things will run just fine when you aren't there. You'll decide what functions to centralize or decentralize, while outsourcing tasks to ensure you have the best people completing the jobs. Additionally, as you continue to leverage resources and scale your business, you'll need to follow either an acquisition or de novo model while determining whether your locations will be branded or nonbranded.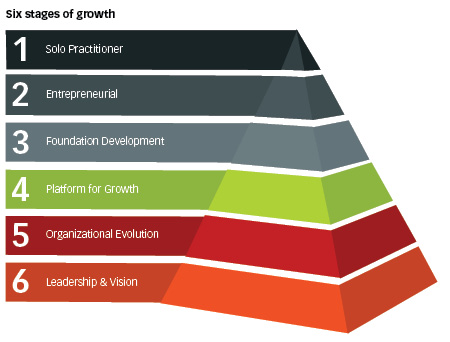 Centralized versus decentralized
An importantdecision is whether to centralize certain functions in your organization or continue to operate them in a decentralized fashion. All administrative functions, which include anything performed on an ongoing basis, can either be centralized and managed through a central office location or decentralized and managed within individual practices. You need to ask yourself, "What is the best choice for each function that aligns with my core values?" There is no right or wrong answer. What is important is that you understand the pros and cons so you can make the appropriate decision.
As an example, some areas become centralized almost automatically, such as human resources, accounting, and marketing. After identifying these areas, you discover other areas that can be both centralized and decentralized, such as payment posting. For example, third-party payments are directed to one centralized location to post checks, while your over-the-counter payments are handled per practice location.
In addition, different types of dental software might dictate how much you may or may not be able to centralize. At this stage, you should strongly consider using an enterprise software that allows everyone to access data without delay and assists with centralization. It's important to know that centralization is time consuming at first. However, if you want to grow your practices, it's critical to make this long-term investment. Look beyond short-term profitability and make decisions based on your long-term goals.
Outsourcing
Outsourcing is the hiring of a third party to perform services that are traditionally performed in-house by employees. Similar to systematizing functions through centralization or decentralization, outsourcing allows you to use a higher caliber person for the job at a fraction of the cost. At this stage, you need access to professional people, but your budget won't allow you to pay full-time employees in these roles. The corporate office budget should run between 6% and 10%, depending on how centralized you are and your rate of growth. In fact, if you're experiencing rapid growth, you could see this number at 15% or greater. That budget should dictate how much you should spend and where.
You could outsource the following areas: chief financial officer (CFO), human resources, bookkeeping and accounting, call center, provider credentialing, fee schedule negotiations, HIPAA and OSHA compliance, insurance verification, claims status, payment posting, information technology, marketing, patient reactivation, and training.
Outsourcing is a valuable extension to these functions, either centralized or decentralized, within your organization. It allows you to free up internal resources that can be redirected toward growth opportunities (e.g., the purchase of additional practices).
Spotlight: Centralized data
Do your offices use different dental practice management software programs? Or, perhaps the offices use the same platform, but it's designed for solo offices? While the staff members at each location may be comfortable with their individual systems, you're not fully leveraging your practice management software if you don't have access to all of you data, or if you don't have a way to compile it all quickly for a full company overview.
Do you usually go through the labor-intensive process of logging into separate offices' databases to view data, and then manually collect and compile the information you need? This is a cumbersome, Band-Aid approach that's hard to sustain in a growing practice.
In Stage 4, it's time to consider switching to an enterprise-level practice management software, such as Dentrix Enterprise, that will centralize your critical data in one database. This way it can be viewed at each location so you can run your business more effectively. Practice management software that's built for group practices becomes a standard, single platform that unites your offices and your data.
There never seems to be a convenient time to migrate everyone to a new system and train them, but this issue needs to be resolved now before you add more locations and people to your team. When you look back, you'll be glad you made the move.
Spotlight sponsored by Henry Schein's Dentrix Enterprise

Acquisition model versus de novo
Along with decision making around centralization, decentralization, and outsourcing, you must select your growth strategy. Your ongoing growth can occur by either acquiring existing dental practices (i.e., the acquisition model), establishing de novo locations (i.e., building from scratch), or a hybrid (combined) model. At this point you have either followed an acquisition strategy, built up de novo practices, or completed both. Before you move forward, reflect on these questions:
Throughout Stages 1 and 2, which locations have given you the best return on investment?



Which ones have been smoother transitions for you?



These questions will help you weigh the advantages and disadvantages of each model as you consider your answers.
With a de novo strategy, a key advantage discussed in Stage 1, culture, can be extended throughout your practices by hiring and training beforehand so the team is prepared when you turn on the lights. But keep in mind it is often more challenging with de novo practices to secure financing because of lack of established cash flow.
A key advantage of following an acquisition model is having established cash flow, which results in greater access to capital. However, unlike de novo practices, the culture of the practice is already established and may conflict with your mission, purpose, and values. Additionally, the layout of each practice will differ and may not be suited to your preferences, which requires additional capital. Take this under consideration since this is all in addition to your acquisition cost.
There are clear advantages and disadvantages to both models. You can commit to one or the other, but you might have to change your decision and use a hybrid approach in order to sustain growth plans. For example, you might be interested in an area that may not have any practices to acquire. Rather than waiting until the office you want becomes available, you can shift to a de novo model. Likewise, you might acquire a practice and relocate it into a de novo if you're interested in a particular location. However, in this case you need to consider the price of the practice as well as the cost of the build-out, which will give you the total purchase price.
Branded versus nonbranded
At this point, you might have branded and nonbranded practices or be committed to one or the other. You need to ask yourself, "Who do I want to be?" Your answer should depend on your understanding of the features of both, and the direction you want to take that aligns with your mission.
A branded model provides uniformity across all spectrums of your marketing strategy and maximizes your marketing dollars. For example, you can use one website to drive
the same message across your four to nine offices, and all individual office collateral is ordered in bulk to reduce costs. This model is often considered easier because you avoid having many different names and materials to juggle.
Keep in mind that reputation may become a problem if there are, for example, bad reviews on your website or you are audited or sued and this is publicized. That risk also becomes bigger with more offices. As a result, office culture might become tarnished and recruitment might become a challenge. Additionally, there could be a disconnect between the practices and community with a branded model due to any stigma associated with large corporate dental groups.
Using a nonbranded approach, you can create whatever name you want for a de novo or you can keep an existing name for an acquisition. What's important is that, unlike a branded business, you reduce the risk of widespread negative publicity because it impacts one practice only. Keep in mind that managing multiple brands requires much more effort than managing one. It could also preclude you from using marketing channels. For example, if you're interested in running one television ad in a local market and you have four to nine offices with different names, this is cost prohibitive.
Conclusion
With the establishment of four to nine practices, you have the knowledge to further define your growth model. Specifically, your business acumen helps to determine whether you centralize or decentralize certain functions, what you need to outsource while you grow following an acquisition or de novostrategy, and whether you follow a branded or nonbranded model. Once you accomplish Stage 3 and decide to take more steps toward entrepreneurial growth, my subsequent articles will continue to guide you through this process.
---

Vincent Cardillo, MBA, has more than 20 years of experience owning, leading, and partnering with DSOs, the latest of which was No. 14 on the 2014 Inc. 500 List. He is the founder of Dental Management Innovations LLC (DMI).
DMI positions clients for growth by strengthening their operational systems and infrastructure. Mr. Cardillo also provides his expertise to private equity firms and institutional investors. His book on the six stages of growth will be published later this year. Contact him at vin@dmidental.com.