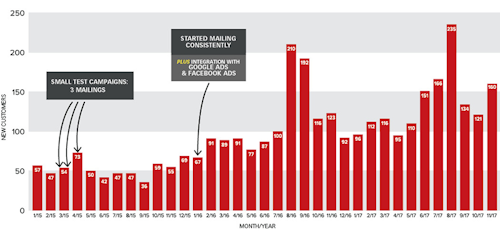 Joy Gendusa
A couple of my staff members recently had the chance to visit one of our dental clients at his practice in Aurora, Illinois. The client, Jason Monroe, DDS, of Village Green Dental, used postcards integrated with Google ads (more on that later) to save his practice from drowning in debt. Today, his practice is growing rapidly and topped $4 million in accepted treatments in 2017.
While visiting, my staff noticed a few smart marketing tactics that I want to share with you.
Here are the four difference-makers we found in Dr. Monroe's office.
Well-trained staff members who convert 122% more patients than before
Not only were Dr. Monroe's staff members visibly delighted to work at his practice, but Dr. Monroe had implemented a personally designed training program for them to perform better (and earn more) at their jobs. The focus was on converting more prospects to new patients. Everyone from administrative staff to hygienists receives on-the-job training that makes it easy to turn a J-O-B into a rewarding, lifelong career. That's a win for staff.
The training increased their new patient conversion rate from 18% to 40%1—more than doubling the number of new patients in the door. That's a win for Dr. Monroe and his staff.
As part of his strategy, Dr. Monroe changed the practice's income structure for his hygienists. Now all hygienists start out on an hourly pay structure, and after they've passed Village Green Dental's training on core values and high ethical standards and established Dr. Monroe's trust, their pay structure undergoes a conversion from hourly to commission. Why? Because putting hygienists on a commission-based income (after they've demonstrated their integrity and skill) incentivizes closer patient attention and thorough diagnoses. This means they are motivated (and remunerated) to provide better care to patients. Happy, competent staff members who have some control of their income equates to more income for the practice.
To keep his team in line and not overtreat patients, Dr. Monroe draws a very clear line and says, "You should never perform a procedure you wouldn't on yourself. There is no gray area between right and wrong."
A consistent and integrated marketing plan that generates 147% more new patients per month
Dr. Monroe's journey from owning a struggling practice to one with soaring revenue can be confusing, so let's lay out his timeline in bullet points:
Early 2015: Dr. Monroe does a small test mailing and sees calls coming in but not many new patients.



Mid-2015: Dr. Monroe begins training his staff to convert more callers to new patients (as described above).



January 2016: Dr. Monroe starts mailing postcards every single month and coordinates mailings with Google online ads, which PostcardMania assists in placing.



2017: New patients are up 147% over 2015.



Here's how Dr. Monroe's new patient numbers grew over the past three years:
2015 average monthly new patients: 53



2016 average monthly new patients: 111



2017 average monthly new patients: 131



Figure 1 shows how Dr. Monroe's consistent marketing—now including both Google and Facebook ads, which we assist with coordinating—directly correlates with his growing new patient numbers. Today, Village Green Dental is slated for $4 million in revenue for accepted treatment plans.
Figure 1: Village Green Dental new patients, January 2015–October 2017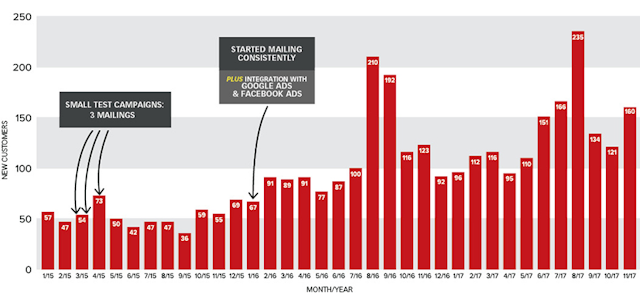 Once Dr. Monroe nailed down his marketing strategy—one that he tracks closely and expands as his practice grows—he then focused on creating a dental experience his patients would look forward to and enjoy.
A standout experience for patients that's fun and memorable
With the threat of commoditization on the dental horizon, I can't underscore enough how vital it is that your practice and service stand out among the competition. Here are a few ways Dr. Monroe did this.
Dr. Monroe's office was chock-full of fun games and takeaways branded with Village Green Dental's logo. In addition to your standard pens and paper pads, there was lip balm (super useful in Chicago's winters) and even trendy cell phone PopSockets. (Worth a google if you're curious; the kids love them.)
Dr. Monroe made sure his promotional products were useful, wanted (so people would keep them and not throw them away), and abundant for the taking at his front desk.
Village Green Dental also boasts a selfie photo booth. There are props, signs, and lighting in the hallway encouraging patients to snap away, post on Facebook, and tag the office. Here's one patient who did just that (figure 2).
For playing along and helping promote Village Green Dental on Facebook, patients receive a $5 Starbucks gift card. (Not a bad price for that level of social proof and a legitimate social media endorsement.) Monthly raffle prizes (we're talking TVs, not scented candles) are another incentive Dr. Monroe uses to reactivate patients, increase referrals, and improve the entire office experience.
Once you have a staff that's trained to deliver amazing service, a marketing plan to get people there, and a great dental product from start to finish, you'll want to make sure you have this next item.
A thorough follow-up plan to increase new reviews and referrals
Another idea from Dr. Monroe's office space is promoting that referrals are wanted, like his use of a sign in Figure 3.
Most people don't bother to leave reviews unless they've had a negative experience at a business, but promoting that you do accept online reviews (like with a sign) will inspire everyone to consider writing you one.
Figure 2: Snapshots from the Village Green Dental selfie booth. This selfie booth allows patients to share photos instantly on social media. Patients are encouraged to tag the practice.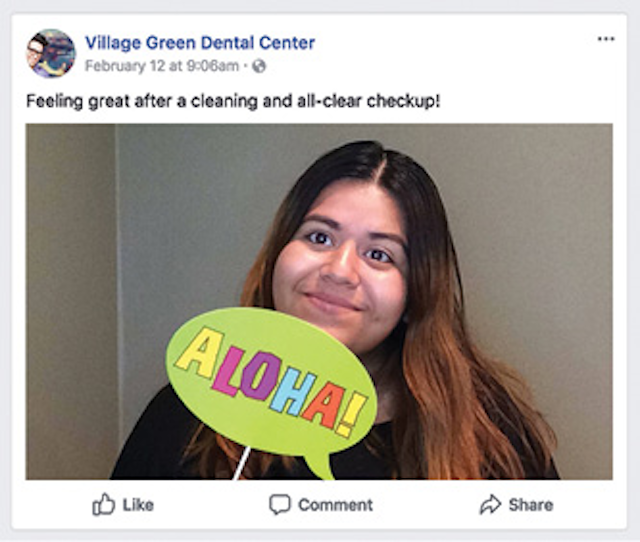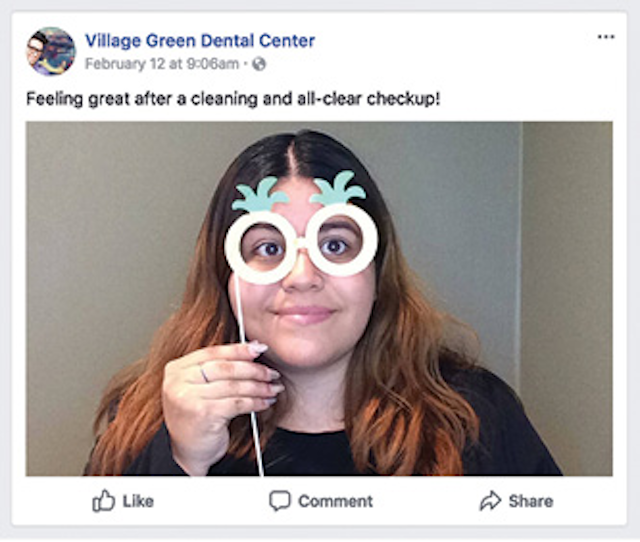 Google reviews can help rank your practice higher in Google searches—even local Google Maps searches—making you easier to find and call. Plus, 84% of consumers trust Google reviews just as much as word-of-mouth recommendations,2 and when prospective new patients see Google's golden stars by your practice's name, they are 68% more likely to click on and call you.3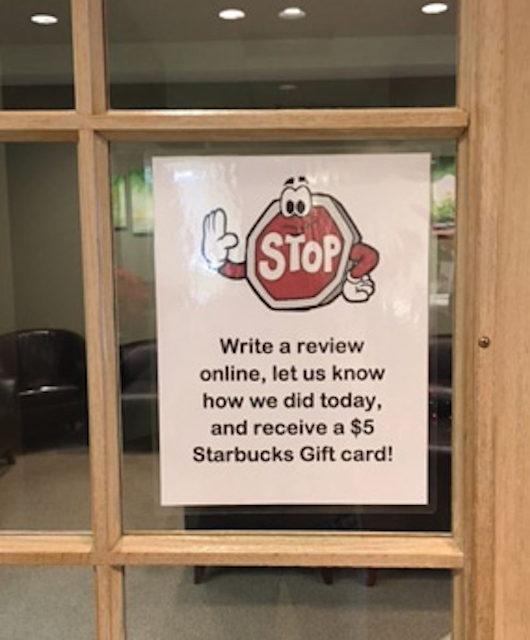 Figure 3: Patient referral sign
A word to the wise: it's technically against Google's terms of service to solicit reviews from customers, so make sure you're not overpromoting your desire for reviews.
One way to gently remind patients to review you online can include adding a comment to your email signature, such as: "Did you enjoy your experience with us? Consider leaving us a review!" Plus, email used as a follow-up method makes it easy for your staff to remind your patients of appointments and any referrals they might want to send your way.
The key takeaway
Strengthen each area of your practice that your patients interact with—from your valued staff, to your marketing, to the patient experience, to what happens after they leave your facility. Look at these four tips as an entire marketing machine, with each component needing attention and planning to grow your practice.
Author's note: Dr. Monroe tells more of his story at postcardmania.com/dr-monroe. To see dental postcard designs that are proven to have worked for other practices, visit postcardmania.com/dentaldesigns.
References
1. Gendusa J. 4 marketing principles that led to 46% more patients in one year. Dental Economics website. http://www.dentaleconomics.com/articles/print/volume-106/issue-8/practice/4-marketing-principles-that-led-to-46-more-patients-in-one-year.html. Published August 25, 2016. Accessed January 12, 2018.
2. Calkins PJ. How to add Google Reviews to your website (and why you need them). CWS website. https://blog.cws.net/how-to-add-google-reviews-to-your-website-and-why-you-need-them. Published September 20, 2017. Accessed January 12, 2018.
3. Local Consumer Review Survey. Bright Local website. https://www.brightlocal.com/learn/local-consumer-review-survey/. Published 2017. Accessed January 12, 2018.
---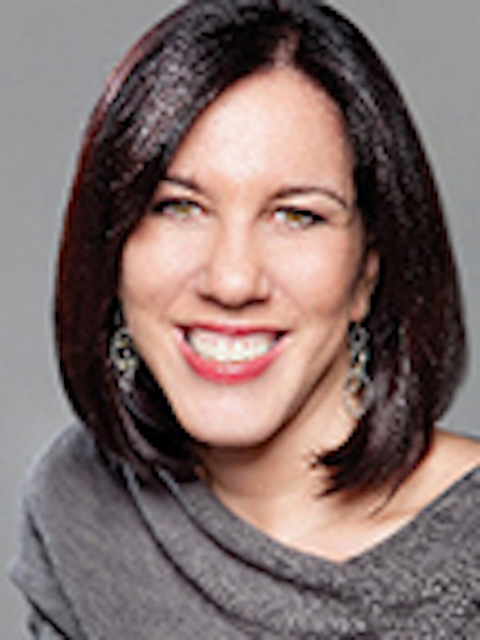 Joy Gendusa is the founder and CEO of PostcardMania. Using just postcards, a phone, and a computer, Joy built PostcardMania from a one-person start-up into an industry leader. PostcardMania serves 76,438 clients, including 5,537 dentists. Need help promoting your practice? Call one of PostcardMania's dental marketing consultants at (844) 269-1836, email Joy at joy.gendusa@postcardmania.com, or visit postcardmania.com/dentaldesigns.