What's your next move?
Dr. Chris Salierno wants to see you at this year's Principles of Practice Management conference. Here's why you should come.
Feb 14th, 2018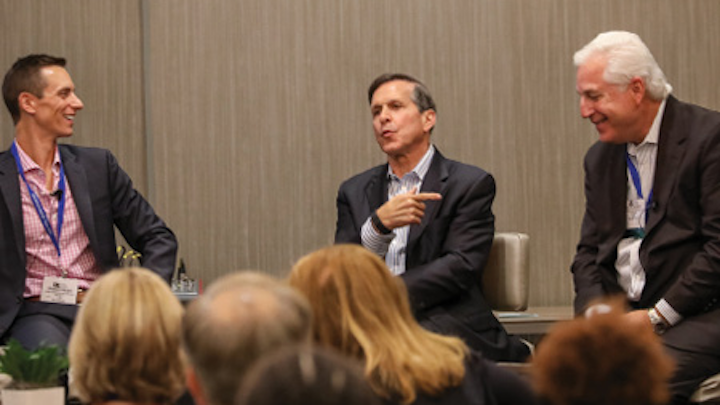 Maybe you're looking to buy charts from a nearby office. Or perhaps you're still an associate and you're wondering when you'll be ready to take the plunge into ownership. Or maybe you're tired of watching your gross revenue hover around the same number for the past few years. Every dentist has a next move in mind.
Whatever your play is, your biggest enemy is waiting. Doing nothing is expensive. That local practice you've had your eye on gets snatched up by someone else. Your active patients slowly erode. We measure our clinical success in millimeters, so it's no surprise that we can delay and overanalyze our big career decisions. We forget our lofty aspirations as we run back into the operatory to see our next patient. Another year goes by.
Let's put a stop to the procrastination. DE's Principles of Practice Management Conference is your business accelerator. We'll supply you with the skills and inspiration you'll need to execute your strategic plan. Whether you're looking to build a single practice or a half dozen, you should be surrounded by your fellow dentist entrepreneurs and mentors.
What's your next move? Real and sustainable growth rarely happens by accident. Let's make it happen together.
---
Register today!
DE's Principles of Practice Management Conference
July 12–13, 2018
Indianapolis, Indiana
Omni Severin Hotel
Early bird and office discounts available through May 31
Visit principlesofpracticemgmt.com
for details and registration.
---
DE's Principles of Practice Management Conference

Featured Speakers and Workshops

span>

Brady Frank, DDS
Top DDSO Strategies: Expansion, Multidoctor, Multilocation, Coownership, Success Blueprint
Learn about dentist-owned private group models, or DDSOs. Discover and clarify the strategic plan for the growth of your practice.

Chris Salierno, DDS
The Four Types of Dental Systems
Understand essential systems and use key performance indicators to evaluate success.

Tim Twigg
HR Success = Good Communication
Learn how to change employee behavior and management principles that help employees think like owners.

Joshua Austin, DDS, MAGD
#ReputationMatters: Thrive in Today's Crowd Sourced Market
Discover the psychology of internet reviews.

Allen Schiff, CPA, CFE
Forming a Group Dental Practice: Develop your A Team
Here are the answers to critical questions about forming a group practice.

Mike Meru, DDS, MS
Ethical Challenges You Face Every Day in the Dental Office
This isn't your typical, boring discussion on ethics: Look at real situations and real cases that will challenge your values.
What to expect at this year's Principles of Practice Management Conference
July 12–13, 2018
Indianapolis, Indiana
Register at principlesofpracticemanagement.com

Photos here are from the 2017 conference.
Lunch and learn sessions feature audience-driven panel discussion with conference speakers.
Chris Salierno, DDS, chief editor of Dental Economics, emcees the event, leads discussions with attendees, and speaks on mastering practice systems.
Networking breaks allow attendees to meet like-minded colleagues and engage with speakers and exhibitors.
A diverse lineup of conference speakers provide actionable advice to improve your practice. This year, speakers will lead workshop-style sessions to take you through challenges in the following areas: systems, practice metrics, scheduling, HR, communication, marketing, social media, reputation management, accounting, fraud, malpractice, and risk management.
Attendees participate in workshops where they gain practical approaches to overcoming practice challenges, as well as learning about potential practice growth opportunities.
A select number of exhibitors offer products and services to help boost practice growth and increase management effectiveness. Exhibitors also present best practices to attendees.