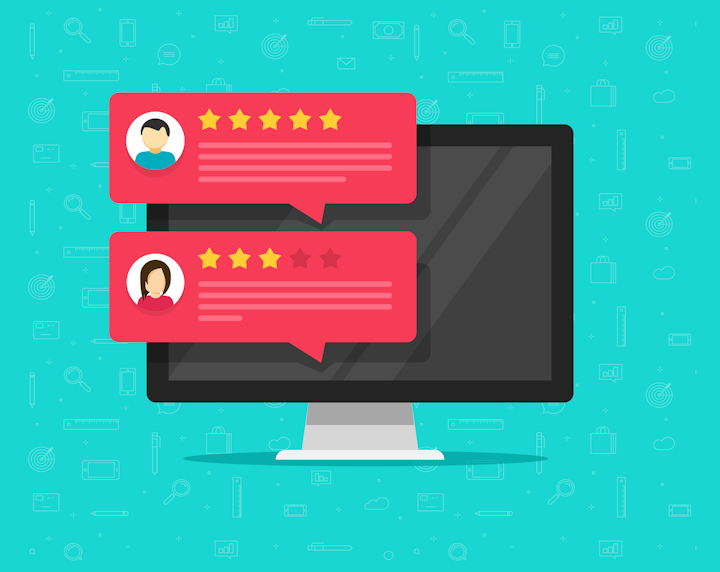 © Vladislav Lukyanov | Dreamstime.com
Consumerism in health care is here to stay, and that's not a bad thing. The rise in information availability and the immediate sharing of customer experiences impacts all businesses, including health care. Patients have more information and choices than ever. They choose their provider, level of care, whether to return to the practice, and whether to refer friends, family, and the online community. 
More often, online ratings and comments are driving these patient decisions. According to the NRC Market Insights study, 83.3% of people surveyed trust online reviews more than personal recommendations, and 34.7% of patients surveyed say their doctor's online reputation is very important. Additionally, the study found that 59.9% said they select a doctor based on positive reviews and 60.8% avoid doctors based on negative reviews.1 
Good clinical outcomes are an assumption by many patients. That may be why most online reviews talk to the experience rather than to the treatment. Doctors are committed to providing the best clinical care possible. Dental teams should be committed to providing five-star customer service and building long-term, trust-based relationships, not only to facilitate case acceptance but also to ensure positive online reviews. It's a cyclical process. 
Online reviews help build trust even before a patient engages with the practice. If patients trust the team and dentist, they will appreciate the way they're treated and will be more likely to accept treatment recommendations. If they receive great care and have a positive experience, they're more likely to share that experience with others, personally and online. Five-star customer service also helps build the patient base. It doesn't guarantee 100% case acceptance, but when you follow the right systems and use scripts to guide these conversations, your likelihood for building and maintaining a successful practice increases.
Overcoming cost objections to treatment acceptance
Case acceptance for recommended dentistry is more challenging for practices today. In my experience, dental insurance is a major factor. An increasing number of patients have an "insurance mindset," believing their benefits will cover most, if not all, of their dental needs. But that is rarely the case, especially when it comes to a high level of care. 
One way that dentists can address this challenge is by improving case presentation skills to ensure patients are part of the conversation and feel they are in control of the decision-making. The process for presenting treatment for high-level cases and elective procedures is much different than for single-tooth treatment. For example, if you say, "Mrs. Jones, you have a cavity on your left lower molar. We need to take care of that," 99% of patients will agree to treatment. It's usually covered by insurance. If there is an out-of-pocket cost, it's usually small. 
That case presentation model doesn't work for complex procedures, where patients are responsible for a far greater out-of-pocket payment. For large cases, dentists need to make their presentations more informative and interactive to enable patients to make decisions that are in the best interest of their oral and overall health. You can't just state the clinical facts or describe the situation and expect patients to accept recommendations. There's got to be a strong emphasis on service and benefits. 
Scripting for success
Since 1985, I have taught dentists that it is essential to script their case presentations. It is a process and a system. Doctors should think of a script as a road map, a journey with the patient, with case acceptance as the final destination. All key talking points should seek to tie the recommended dentistry to patient motivation and benefit. The key to scripting is practice. By becoming familiar with the scripts and making them their own, dentists and team members inevitably grow more at ease with case presentation. We recommend that our clients role-play scripts during staff meetings. Practicing with the team and getting their feedback will refine the process. 
Patients can choose not to decide at all. If a patient is not ready to give you a yes, your team should be ready to follow up and continue the conversation. That follow-up will depend on the situation. If the patient says, "I'd like to talk it over with my spouse," then the next step could be setting up a second consult or calling the patient at home to speak with the patient and spouse. If the patient says, "Not right now," or "Let me think about it," that could mean revisiting the treatment conversation at the patient's next hygiene appointment.
Increasing case acceptance
To make it easier for patients to choose the type of treatment, it's important to remove barriers. It's about making dentistry comfortable, convenient, and accessible. This is all part of the patient experience. One common roadblock is the cost. A patient may want a dental implant or a smile makeover, but if the person can't see a way to pay for that treatment, he or she will postpone the decision. When patients are aware early in the discussion, it's easier for them to say yes. that financing is available. The higher the cost of treatment, the more likely patients will need a financing solution. As an example, the CareCredit credit card can increase the purchasing power of patients, remove the barriers, and enable patients to get the care they want and need. This also represents another element of good customer service.
When we embrace consumerism in health care and look for the opportunities to provide a level of service that delights patients, and we try to educate, inform, and enable them to get quality care, everyone wins. Patients will be healthy, and they'll be happy to share their experience with prospective patients. But make a note to yourself: Don't expect patients to post great reviews. Ask for them. There is a magic moment during the experience when the patient compliments your practice, says thank you, or expresses happiness or satisfaction. When the magic moment happens, say, "Thank you. We're glad you're happy with your care. That's important to us. May we ask a favor? Will you share your experience with others on Google, Facebook, Yelp, and Healthgrades? It really helps prospective patients know more about what they can expect if they choose us as their dental home. We love having patients like you!"  
REFERENCE
1. Ibbotson A. Patients trust online reviews as much as doctor recommendations—and other shocking facts about transparency in healthcare. NRC health website. https://nrchealth.com/patients-trust-online-reviews/. Published November 26, 2018.
Considered the foremost authority on dental practice management and practice success, ROGER P. LEVIN, DDS, has dedicated himself to improving the lives and practices of dentists. Dr. Levin is a third-generation general dentist and the founder and CEO of Levin Group Inc., a dental management consulting firm that has worked with over 30,000 dentists. Dr. Levin has a personal mission of creating practice success for every dentist and is committed to the continual improvement of the profession. He can be contacted at customerservice@levingroup.com. 
DISCLAIMER: This content is subject to change without notice and offered for informational use only. You are urged to consult with your individual business, financial, legal, tax and/or other advisors with respect to any information presented. Synchrony and any of its affiliates, including CareCredit, (collectively, "Synchrony") makes no representations or warranties regarding this content and accepts no liability for any loss or harm arising from the use of the information provided. All statements and opinions in the article are the sole opinions of the author. Your receipt of this material constitutes your acceptance of these terms and conditions. Roger Levin, DDS, collaborates with CareCredit to develop educational materials for the dental industry.