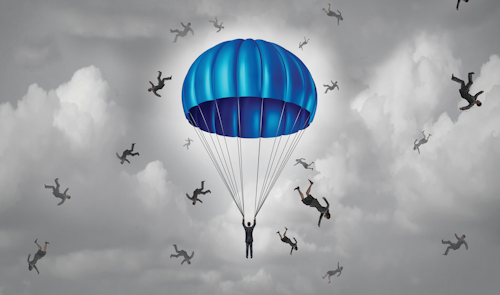 © Skypixel - Dreamstime.com
How and where you practice is the product of your vision. You need to figure out what you want and how you will get there, whether it's leaving or entering practice. It's OK to determine that you will not become a practice owner and that you will work for someone else, which means less responsibility and no stress of practice ownership. Just keep a parachute on your back should you decide to leave.
Entity selection
The more employees there are, or if there is more than one doctor in the practice, the greater the need to practice through an entity that is not a sole proprietor. This means an S corporation or a limited liability company (LLC). It is very common for CPAs to recommend forming the practice entity as an LLC, with the dentist working as a sole proprietor until it becomes economically appropriate to be taxed as an S corporation. Let your attorney know of the S election so that either a corporate record book can be prepared, or appropriate provisions that allow S corporation distributions to be included in the LLC operating agreement.
For real estate, use a separate LLC outside of the practice entity. Note that S corporations and C corporations are required to prepare minutes each year in accordance with state laws. Your lawyer should have a system for maintaining minutes on a yearly basis.
Hiring and firing staff
The biggest problem with employment termination is that there is often little or no documentation. Document employee behavior, whether positive or negative, in writing for the employee files. Consider the employee's personnel file as a defense for any potential claims.
As to reference policies, the "name, rank, and serial number" approach in any negative referrals can result in litigation. Understand that a glowing referral for a former quality employee and silence on an employee with poor work quality can lead to litigation.
The facility lease
Always understand your space requirements. Too little space is better than too much. Being busy in a small facility may lead to an eventual relocation. Not being busy in a large facility has negative economic consequences. Entering into co-ownership or partnership usually requires a new location or an expansion. If the partnership does not proceed, you have too much space.
Understand term and renewal options. You want the ability to assign your lease when you sell your practice. The lease should specifically allow for the future assignment, hopefully without a personal guarantee by you.
Practice real estate
It's always good to have the option for the new owner to purchase the real estate if it's owned by the existing practice owner. In addition, if the existing owner or existing owner's LLC chooses to sell the real estate, the buyer will want the right of first refusal to purchase under the same terms and conditions as any third-party offer, or pursuant to the terms of the option agreement. Sometimes the existing owner does not want the real estate after retirement. However, if the new owner relocates the practice, it may be difficult to locate a new tenant or real estate buyer if the single best use is as a dental practice.
Estate planning considerations, retirement, and advisory team
Estate planning is often overlooked—not only for the dentist but also for the family, parents, and in-laws. Should dentists save outside of their retirement plans? Most people are not disciplined enough to do so.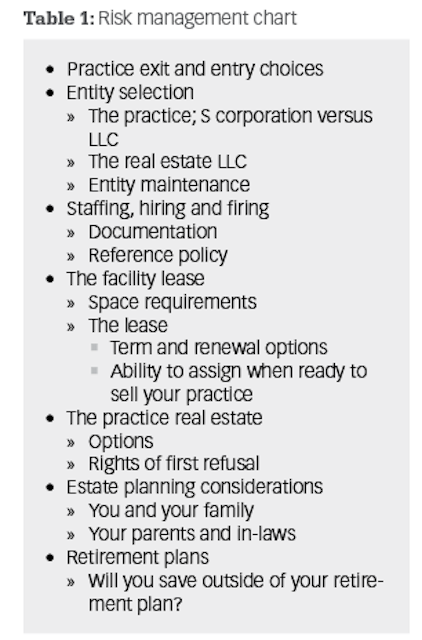 Biggest challenges for young dentists
One big challenge is locating the right opportunity while carrying school debt. Often, the only practice opportunity may be a corporate practice. As income rises, living expenses increase and school debt still exists. At this point, it may be difficult to own or establish a practice due to these expenses.
What's the solution? Recognize this challenge and save at least 10% or more of your income in some form. 
Other challenges include very high practice values in destination locations, high values due to supply and demand of quality practices and substantial competition by corporate practices, basing value on future potential, joining a practice that has insufficient demand, signing an employment agreement without legal counsel, onerous restrictive covenants, not addressing future ownership with the practice owner before joining, and compromising your practice vision.
Biggest challenges for middle-aged dentists
Messing up a good practice by a poor decision­—e.g., taking in a partner with insufficient patients—is a mistake often made by middle-aged dentists. Most dentists and dental specialists who believe they need a partner actually do not. They often don't realize this until the partner is in place and the economics don't work, or when the business and tax structure is inappropriate, often after a costly relocation.
What's the solution? Consult with competent advisors who are experienced in dental partnerships. If you do enter into co-ownership or partnership, make sure a buy-sell agreement is in place with a mandatory buyout for retirement, and an agreement for either owner to disengage if necessary.
Some other challenges are inadequate retirement funding, reduced fees, lack of patients, and inappropriate location or relocation.
Challenges for older dentists
The biggest challenge for older dentists is usually retirement affordability. If you can afford to retire, congratulations! You're working because you've chosen to. However, that's often not the case due to a lack of savings. Practice sale proceeds are often insufficient for a dentist and his or her spouse to live on for the rest of their lives.
If you have five years or more to practice and have a sufficient profit, you can fund a defined benefit or cash balance plan up to $225,000 per year in 2019. If your practice is not sellable, work two years longer than planned, save, and then walk away.
Other challenges for older dentists are losing a lease, maintaining health insurance, and figuring out what to do with their time when they retire.
Risks will always be present for dentists of any age, although the risks are different depending on the dentist's age. View the risk management chart in Table 1. An effective way to manage and minimize the risks in dentistry is through an ongoing strategic planning process, which allows you to plan how to avoid risks by understanding what they are. Equally important, strategic planning assists in maximizing patient care and long-term profitability with minimal stress.  
WILLIAM P. PRESCOTT, Esq., EMBA, of Wickens Herzer Panza in Avon, Ohio, is a practice transition and tax attorney, and a former dental equipment and supply general manager and representative, whose most recent book, Joining and Leaving the Dental Practice is available through the ADA Center for Professional Success. ADA members can download the e-book for free at success.ada.org/en/practice-management/ joining-and-leaving-the-dental-practice. For this and Prescott's other publications, visit prescottdentallaw.com. He can be contacted at (440) 695-8067 or wprescott@wickenslaw.com.
Note: Risk considerations should be accessed through an annual planning audit with your CPA and attorney on an annual basis or when needed. Advisors with dental experience are vital. Always understand how they are paid. If the experienced lawyer is not licensed to practice in your state, local counsel should be on the advisory team.