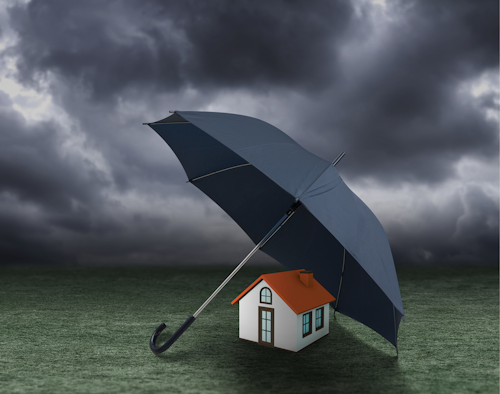 Paul A. Medeiros, DMD
I remember the day the insurance agent came to my house to review my insurance needs. I had just graduated from Tufts Dental School and married the light of my life the previous year. I was ripe for the picking. Greener than green. The agent had gotten my name from a patient who was in the process of building a starter home for my wife and me.
We listened intently as he discussed everything from homeowner's insurance, life insurance, disability insurance, malpractice insurance, auto insurance, insurance upon insurance. I don't know. All I kept thinking about was that maybe we should have stayed in that cute little apartment where the renters' insurance was about $20 per month.
As the agent continued to talk, the conversation turned to where I was practicing. I was working two days a week in Massachusetts and three days a week in New Hampshire. I was also traveling up to Lake Winnipesaukee one day a week, and the agent said that he had summer home on Governors Island in Gilford, New Hampshire. Screeeech! I slammed on the brakes in my mind. I knew where his summer home was. Only the elite of the elite live there. How could an insurance salesman in his 40s afford it? I'm not sure if I heard a single word he said from that point on except that he would work on some quotes and get back to us.
Not a good impression of insurance agents
This first impression of insurance agents was twofold. First, they certainly know their vast array of insurance products. Second, they must be making a killing to be able to afford summer homes in the lakes region of New Hampshire. I had such a disingenuous feeling from him that I almost decided not to buy any insurance besides what was legally required of me. I got this sense that when the agent shook my hand, his other hand was reaching for my wallet. My guard was up, and I was having none of it.
I did ultimately choose to seek out other agents to help me maneuver the costly insurance path, but only the mandated ones. My mortgage company dictated that we needed homeowner's insurance to cover the cost of our house. My dental license and the dental insurance companies I participated with dictated that I have malpractice insurance, and the same with auto.
I told myself that was it; I was buying nothing more and nothing less. Those insurance agents were not going to get anymore of my hard-earned associate's pay. I couldn't afford the whole-life insurance that the agents had discussed. Disability insurance was definitely out of the question. I was young and unbreakable, right? I was also a recent grad making $75,000 a year. I could only afford so much. I felt like the agents were simply selling me on fear—fear of things that would probably never happen, and fear of helping them make their mortgage payments on their summer homes. I knew their game and I was not buying it.
An interesting second opinion
Fast forward a few years. I was working full time at a practice in southern New Hampshire and loving it. I had always wanted to own my own practice, and as things would turn out, the owner of the practice offered it to me when he retired. I was making a better income, but I would obviously have to take on more debt if I were to buy the practice. So, I consulted with one of my older brothers. He was a corporate lawyer at the time, and he was my sounding board and advisor whom I wholeheartedly trusted. We talked about my goals and plans to turn this practice into my dream multispecialty practice. I realized that in order to do this I needed someone I trusted. The decision that saved my life was asking my brother if he would run my practice, and he agreed.
I remember the day when my brother, who was now my new business manager, sat down with me to discuss some of the inner workings of the practice. We discussed restrictive covenants and associateship contracts. We talked cash flow, and finally, insurance needs. To this day, I remember when he asked me what I had for life insurance, wills, trusts, and disability insurance.
"Don't go there" I told him. He asked what I was talking about. I relayed the story of how the young and wealthy insurance agent had almost duped me into buying large policies that I couldn't afford. My brother quickly retorted, "You can't afford not to have those policies." He talked about my young family, new house, new practice, and any future they would have if something happened to me. I wondered if my brother was somehow receiving referral compensation from the insurance agents. What was he thinking? I was too young to think about whole life or disability policies, and too young to think an injury would keep me from working. I was on top of the world. I didn't need it and didn't want it.
When I got home that evening, I chatted with my wife, but I didn't tell her what my brother had said because I didn't want to worry her. She had plenty to worry about taking care of our first child and being pregnant. But I could not stop thinking about what my brother had said to me. "You can't afford not to have life and disability insurance."
As I helped my wife get our baby girl into her pajamas, I thought less about the cost of the policies and more about what it might cost if I didn't have the policies. What if I did get into a bad car wreck? What if I broke my neck skiing? I was looking down at our daughter's precious little face as we tucked her into bed and realized I could not leave my family in a situation where they would not be taken care of. My brother had no ulterior motive for recommending that I become properly insured. He was just looking out for me.
Then it happened
Fast forward to the birth of our fourth child. My wife was still hospitalized with our new baby girl, who was delivered eight weeks prematurely and being tended to around the clock. I remember the look on her face when I walked into her room. She was so pleased to see me that I almost didn't have the heart to tell her that just three hours earlier, while I was prepping four teeth for porcelain jacket crowns, my right hand and fingers had gone completely numb for more than an hour. They were not tingly where I could still feel them. My entire right hand had gone dead numb.
Imagine the look on my assistant's face when she saw me trying to finish the four preps by using my left hand to hold my right while I tried fervently to finish the prep without dropping the handpiece into the patient's mouth. I intermittently stopped and tried to discreetly shake out my hand to "wake" it back up. I told my assistant I would need her to do the provisionals, which was met with a look of fear. I didn't know if the fear was from not knowing what was going on with me, or from terror that she had only done a single-tooth posterior temp.
I finally told my wife why I was visiting her. My doctor feared that I might be having a stroke or related cardiac issue. A complete blood workup was done, and EKGs were performed. I was then quickly brought to the neurology department to have several EMGs done. If you don't know what an EMG is, it's a sadistic test where they electrocute you repeatedly.
Here's the good news. The cardiologist said there were no apparent cardiac issues. The bad news for me and any dental professional was that I had median and ulnar nerve neuropathy. The solution was to have two surgeries—carpal tunnel release on my right wrist followed by ulnar nerve transposition with medial epicondylectomy on my right elbow.
My wife's surprise visit from the supportive husband took on a whole different meaning and mood in that hospital room. I downplayed it and explained to my wife that I would have the surgery in two weeks, with a six-week recovery. Then bam, I'd be right back to work. My associates would cover for me, and I could spend some quality time at home while I was rehabilitating. She seemed relieved, and the talk turned to her and our new baby girl.
I would never practice dentistry again.
PAUL A. MEDEIROS, DMD, is a retired dentist. He received his dental degree from Tufts University School of Dental Medicine in 1992. He serves as the director of clinical operations for New England Management Services, which manages 10 dental offices in Massachusetts and New Hampshire. He is part of the Doctors Disability Specialists Team with Living Legacy Financial Group, dedicated to helping dental professionals with insurance planning. He is a motivational speaker and writer who is working on his first book.