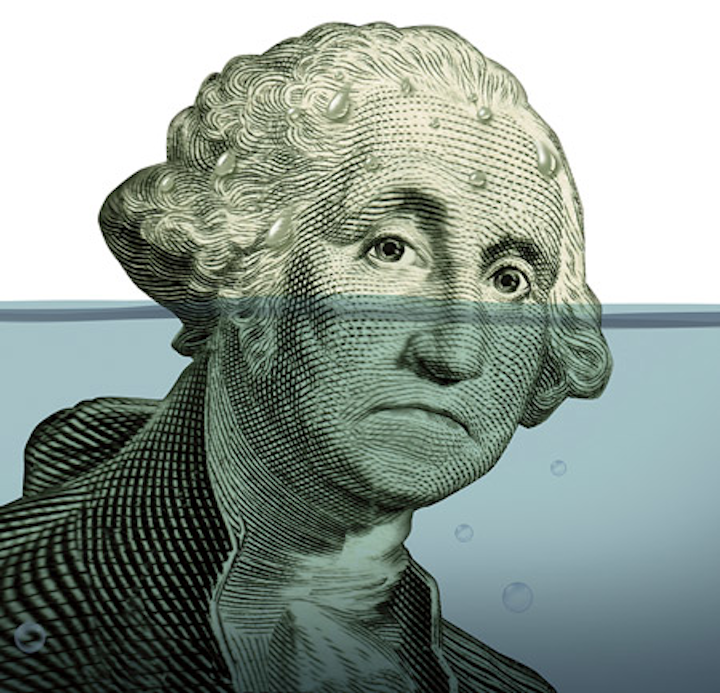 Ryan Ritchie, DDS
ADA New Dentist Committee member
Are you drowning in student loan debt and frustrated or uncertain about how you'll start paying it off? If so, you're not alone, as the majority of dental school graduates experience this as well.
According to the Consumer Financial Protection Bureau, there is more than $1 trillion in outstanding student loan debt in the U.S.1 The American Dental Education Association estimates that the average graduating dental student debt load was over $241,000 in 2013 (as reported by the 2013 graduating class), and many students say their debt loads are much higher.2 Although tuition fees and room and board fees are unwelcome, they're a reality for many of us who want to fulfill our ambitions of joining the dental profession.
As if the debt load itself isn't enough, there's a lot of confusion regarding student loan debt programs, loan repayment options, the amount of time it takes to pay off loans, and more. Just remember, you are not the only one out there with student debt. Some of the best resources are available free from those who were sitting close to you on your lab bench. Let's clear up some myths.
Myth No. 1
Take the student loans you are offered. You will be able to pay them off.
Certainly, taking out loans to pay for school is an investment in your future, so it's good debt. But that doesn't mean that you should accept the maximum amount every time. Borrowing more now has consequences. For example, neither federal nor private student loans can be discharged at bankruptcy.
Also, you don't want to graduate with so much debt that it influences your ability to fulfill your practice desires. I've spoken to a number of colleagues who have told me their loan debt made them fear purchasing or building dental practices. A few of my colleagues have even told me that, because of student loan debt, they delayed major life events-such as buying a car, buying a home, getting married, having children, or saving for their children's college education(s), or saving for retirement.
I followed the recommendations made by my financial advisor at the University of Minnesota School of Dentistry and learned that I could repay my loans in five years, if needed. When it became time to purchase a practice, however, I knew that alternate repayment plans could reduce the monthly student loan payment by stretching it out over 20 to 30 years. To lessen my burden and gain more flexibility with my budget, I took advantage of these repayment terms. It never prevented any lender from offering me 100% financing when I took out a loan for purchasing my practice.
Here are a few tips for minimizing your debt burden:
• Know what you are getting into before you start dental school and budget accordingly.
• Meet with your financial advisor at your dental school.
• Use the American Dental Association financial resources for students and recent graduates at ADA.org/student.
Myth No. 2
Student loan debt will negatively affect your credit score.
You can still have a good credit score when you have student debt. Just as with any other debt, lenders will need to know how much you already owe on your loans before you are approved for a mortgage or another type of loan, and they may use the student loan monthly obligation to better calculate your net earnings. Making your payments on time each month will help build your good credit and prove that you're capable of managing your debt. And if you can't make the payments, work with your lender(s) to come up with a solution.
Myth No. 3
I'm not going to be able to get a loan for my practice because my student debt is too high.
This is the myth I heard most around my graduation from dental school. But I have never heard of a dentist getting denied by a lender in general or because of the fact that s/he had too much student debt.
In my experience, it seemed as though lenders actively wanted to help me get the financing I needed to succeed. Prior to giving me financing, all the lenders wanted and needed to see was a good business plan and a healthy financial profile, which included my credit score.
When I decided to purchase a practice, I chose Wells Fargo Practice Finance because I was able to negotiate a better rate and term. I enjoyed working with the person assigned to my case, and the finance team, in general, was wonderful to work with on my business plan. They possessed experience in health-care practice lending, and they seemed to understand the special requirements faced by dentists who are transitioning to practice ownership. Some of the benefits they offered, which are listed below, were important to me.
• Customized loan amounts provide up to 100% financing, plus additional working capital.
• Interest-only payments are available while you adjust to ownership.
• Competitive terms keep payments low and affordable.
• Fixed-rate terms can meet your specific needs.
• Principal reduction and early pay-off options offer flexibility and control.
• A demographic site analysis layer can help you select the ideal location for your practice to attract the patient base you want.
• A rate-lock program can protect you against potential interest rate changes through the project build-out phase.
Myth No. 4
You need help repaying your student loans.
This is the myth that frustrates me the most. I do not think it is necessary for you to pay an advisor or company to help you with your student loan debt. Under no circumstances should you fall for this myth.
When it comes to student loan debt, everything is standardized. Aside from helping you get the paperwork you could simply get yourself, a student loan consolidation company won't do much for you.
Not to mention, consolidation doesn't guarantee savings. If you can afford to make the payments on your separate loans, consolidation might not help you. One alternative option is to ask about automatic payments, which can save you the hassle of remembering payments and possibly qualify you for an interest rate reduction. I was able to save 0.5% by signing up for automatic debit. Then, after I made 12 payments on time, my interest rate was reduced by 1%.
If you do decide to consolidate, be sure that you understand specifically what the company will and will not do for you before you pay anything. Many companies sell you on "the attempt to negotiate on your behalf." Don't pay for "attempts." You can make those yourself.
For more information about loan repayment options, finding a loan servicer, or deferring payment, check with the U.S. Department of Education at studentaid.ed.gov/repay-loans.
Myth No. 5
I'm the only one who is worried about getting out of debt.
You are definitely not the only one who is worried about getting out of debt. Many recent graduates are anxious about their debt and paying it off.
As I looked at my financial situation right out of dental school-which included a home mortgage, student debt, and practice debt-I focused on my "needs" and put an emergency fund first. I paid minimum payments on all of my financial necessities-such as loans, credit cards, food, transportation, and shelter-until I had two to three months of my budget saved for an emergency fund.
Once I had my emergency fund, I began to put whatever was left over of my monthly budget toward the principal of the loan with the highest interest rate. I am paying down the loans that are affecting my credit worthiness first, which will help me if I need more financing in the future. Each time I pay off a "note," the amount that I was paying toward that debt gets added to the next minimum payment toward the principal on the next loan with the highest interest rate. By using this philosophy and maximizing my 401(k)/retirement funds, I could be debt-free within 10 years of having graduated dental school.
Although I have offered you my philosophy on how to become financially free, I urge you to connect to your new dentist network and to use the American Dental Association resources. You can better understand your loans, dispel the myths, and create your own financial pathway to success.
References
1. Chopra R. Student debt swells, federal loans now top a trillion. Consumer Financial Protection Bureau. Jul. 17, 2013. http://www.consumerfinance.gov/newsroom/student-debt-swells-federal-loans-now-top-a-trillion/.
2. ADEA survey of dental school seniors, 2013 graduating class: Tables report. American Dental Education Association. http://www.adea.org/surveys-and-reports/dental-school-seniors-2013-tables.aspx.
---
Ryan Ritchie, DDS, graduated from the University of Minnesota School of Dentistry in 2007. He is in private practice as a general dentist in Hutchinson, Minnesota. Ryan is also active in organized dentistry and sits on the American Dental Association's New Dentist Committee.