How do you reverse a downward revenue trend? You may be surprised
When revenue dips and debt is mounting, the first thing many dentists do is cut their marketing budgets.
Jun 15th, 2016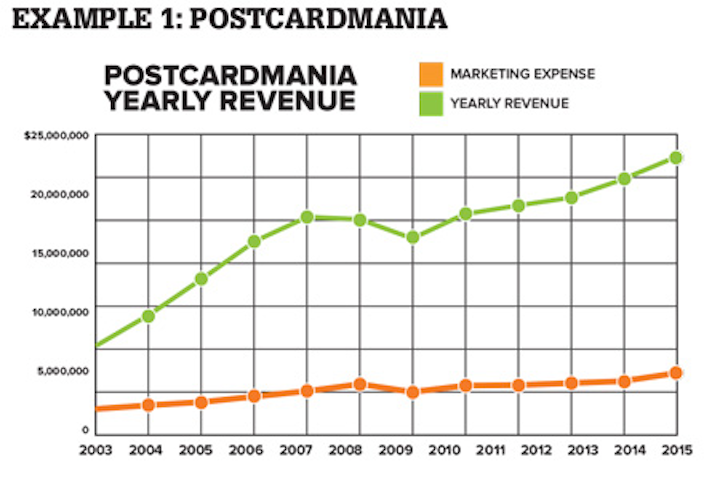 Joy Gendusa
When revenue dips and debt is mounting, the first thing many dentists do is cut their marketing budgets.
Bad idea.
You don't learn much about running a business in dental school, so this knee-jerk reaction might feel right. But it isn't. It can do irreparable harm to any practice. Not only have I experienced this in my own business, but I've worked with thousands of dentists who can speak to this fact: When you cut your marketing, you also cut your income.
That's not just something marketing companies say to sell you their services-it's 100% true.
Let me demonstrate with two real-life examples.

Remember the housing bust in 2008? The market crashed and took a lot of my clients with it. Fewer mortgage and real estate professionals were sending out postcards, and it was the first time PostcardMania's revenue ever went down. I needed to cut expenses, and I refused to cut jobs. Totally against my better judgment, I listened to others and cut my marketing budget a little bit. I'll never, ever do that again.
Look at figure 1 and you'll see why. I cut my marketing budget by 3% in 2009 and my revenue went down by 13%. I should have known better.
In 2010, I increased my marketing budget by 6% and my revenue jumped back up by 16%.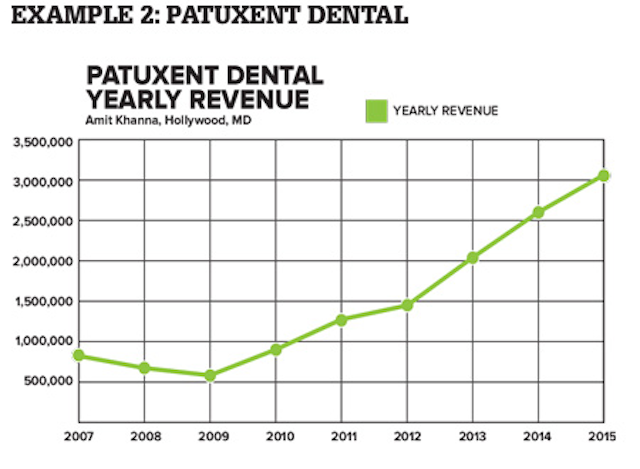 You might remember reading about my client Amit Khanna, DMD, in the December 2015 issue of Dental Economics. He bought Patuxent Dental in Hollywood, Maryland, in 2006, but he didn't start marketing the practice until 2009. His main source for new patients at the time was, of course, referrals. But are referrals enough to grow your practice?
Look at figure 2. Over his first three years in business, Dr. Khanna's revenue trended down 14%-until he started marketing.
Once he saw how even minimal marketing (6,000 postcards per month) boosted his 2010 income, he increased his outflow to 12,000 postcards per month in 2011. The result? A 55% increase in revenue.
Here's how he achieved that other big revenue jump (48%) in 2013: he integrated his marketing. This means reaching more people through more channels more dynamically-without any extra work. The key is a fully integrated and automated marketing program called DirectMail2.0 New Patient Edition.
DirectMail2.0 New Patient Edition takes direct mail to the next level by adding online ads to your direct mail piece, along with mail tracking and call tracking. So, just as your postcard hits mailboxes, prospective patients in your service area start seeing your ad online. This provides the consistency and repetition that is vital in marketing.
Here's what it boils down to and what it takes some dentists years to learn:
Marketing outflow = new patient inflow
Everybody needs a dentist, but not at every single moment. That's why consistent marketing is so important. If you only send out one marketing blast, prospective patients might see your ad and think about calling you the next time they're due for a checkup. But when that time comes, they've long since forgotten about you. On the other hand, if you market regularly, your prospects have seen your ad multiple times and you are top of mind when it's time for them to make that appointment. Consistent, repetitive marketing creates momentum and a steady inflow of new patients and revenue.
Check out these statistics from a recent study:1
• Companies that grew 1% to 15% annually spent an average of 16.5% of their revenue on marketing.
• Companies that grew 16% to 30% annually spent an average of 22% of their revenue on marketing
• Companies that grew 31% to more than 100% annually spent an average of 50.2% of their revenue on marketing.
I'm not suggesting you spend 50% of your revenue on marketing-these are huge companies with enormous budgets (the study followed businesses like Twitter, Oracle, and Microsoft). But I do want you to see the correlation between marketing budget and business growth:
Increase your marketing budget; increase your revenue. Decrease your marketing budget; decrease your revenue.
So how much, exactly, should you spend on marketing? There's no one-size-fits-all solution, but here are some starting points.
If you're a new startup practice, your marketing budget should be 25% to 35% of your gross annual revenue. Startups need more marketing capital to get things rolling. Money might be a concern and your loan might look huge and looming, but think of your marketing as an investment-because that's what it is! You're investing in your practice. The more competition you have, the higher you need to set your budget. Otherwise, you'll never get off the ground. Once you're an established practice with a solid patient base, you'll fall into the next category.
If you're an established, growing practice, your marketing budget should be 12% to 18% of your gross annual revenue. At this point, you can let up on the gas a bit. But now that you've got momentum, the last thing you want to do is slam on the brakes. Again, your budget will depend on how much competition you have. If your competition is light (which it probably isn't), you can lean toward 12%. Even if you're keeping plenty busy, keep in mind that most practices lose 15% to 20% of their base every year.2 Therefore, you want to make sure you've got a steady stream of new leads coming in.
If your practice is stagnant or declining, your marketing budget should be 3% to 10% more than you're currently spending. Several things might need changing, but your marketing is definitely one of them. Whatever percentage you're spending on marketing, increase it by 3% to 10% for six months. Deciding where in the 3% to 10% range depends on the severity of your situation. After a few months, you should start to see the trend reversing.
If, after six months, you're prospering again, consider lowering your marketing budget only if it's at an unsustainable level. Keep it up and you'll continue to grow! If, after six months, your revenues are still declining or have just barely stabilized, increase the percentage again until you turn things around.
Make sure you're marketing to your current patients, not just prospects! You want to bring in new patients, of course, but don't neglect your current ones. Your current patient base already trusts and likes you (two giant hurdles in dental marketing). They just need a nudge to remind them to come back. Thus, you need two separate postcard campaigns. The first is for prospective patients, and it should include one to three valuable new-patient offers. The second is for current patients, and it should include a simple reminder or a special offer for return visits.
I also recommend reaching out to your patient base via social media and e-mail. Your patients are busy with work and family, just like you, and they need to hear from you multiple times before they will act.
As a Dental Economics reader, you are entitled to 5,000 free dental postcards, printed by PostcardMania, as well as free samples of postcards that are working right now for other dental practices. Redeem online or call (844) 269-1836 today—free marketing advice for your practice is also included!
References
1. Brady S. What percent of revenue do publicly traded companies spend on marketing and sales? Vital Design website. https://vtldesign.com/inbound-marketing/content-marketing-strategy/percent-of-revenue-spent-on-marketing-sales/. Accessed April 29, 2016.
2. They didn't teach this in dental school. 1800Dentist.com website. http://www.1800dentist.com/they-didnt-teach-this-in-dental-school/. Published February 2005. Accessed April 29, 2016.
---
Joy Gendusa is the founder and CEO of PostcardMania. Using just postcards, a phone, and a computer, Joy built PostcardMania from a one-person start-up into an industry leader serving more than 71,000 clients, including more than 4,700 dentists! Need help promoting your practice? Call one of PostcardMania's dental marketing consultants at (844) 269-1836, e-mail Joy at joy.gendusa@postcardmania.com, or visit postcardmania.com/dentaldesigns.