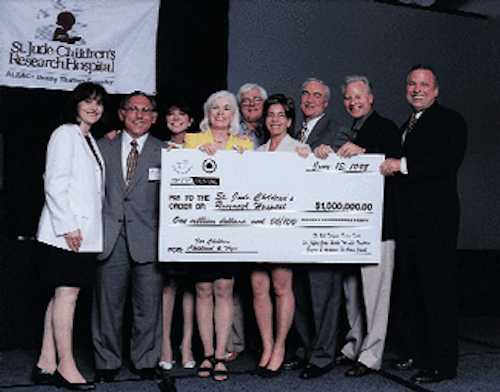 A fund-raiser turns into a win-win situation for the profession, the dentists who participated in the project, and the hospital and its patients.
Talk about a win-win situation. In the spring of 1998, some 500 dentists introduced 8,500 new patients to the benefits of cosmetic dentistry, while raising $1.5 million dollars for a children`s charity! In the process, those involved were photographed and written up in hundreds of local newspapers, as well as appearing on and/or having their practices and their charity efforts reported on local radio and television stations.
The dentists involved in this fund-raising project were all members of the Crown Council, a group dedicated to continually raising the standard of dental care and improving health and wellness in their communities. The recipient of the funds was the cancer-research facility at St. Jude Children`s Hospital in Memphis, Tenn. Since its opening, treatments developed at St. Jude have brought survival rates for childhood cancers from less than 20 percent to better than 60 percent overall.
Equally amazing as the benefits that accrued to all who participated in this "Smiles for Life" event was the fact that it was put together in three months` time and completed in another three months. The idea for a tooth-whitening fund-raiser originated with Crown Council members Doctors Jeff Gray and Ken Williams, who have a successful partnership practice in La Mesa, Calif., a suburb of San Diego.
Dr. Gray had worked with a radio station disc jockey on a bleaching fund-raiser in his local area. He and his partner were discussing it one night and began thinking about what could be done on a nationwide basis for charity if all of the members of the Crown Council took part in a similar fund-raiser. Dr. Williams came up with the name "Smiles for Life." A month later, the idea was adopted at a Crown Council meeting.
Discus Dental, manufacturers of Nite White, donated its product, and the dentists and their staffs agreed to donate their time and skill. Patients would make a minimum contribution of $150 to St. Jude Children`s Hospital for the whitening service.
That`s where Dr. Ronald Plotka of Swampscott, Mass., came in. Dr. Plotka had met one of his first mentors - the late entertainer Danny Thomas - when he was a boy in Atlantic City. He told Thomas that when he became financially successful, he wanted to give back some of his success to the children`s hospital that the entertainer was building when they first met. Dr. Plotka, who is a member of the St. Jude board, went to the hospital with the idea of the national fund-raising campaign. Although initially skeptical of how successful such an unusual fund-raiser would be, St. Jude gave the dental group permission to launch the campaign.
"The reason the hospital was so reluctant to support our idea at first was because they had been burned by other such offers," explained Dr. Williams. "Other groups had organized fund-raisers and then, by the time all the administrative costs were deducted, very few dollars would make their way back to St. Jude. They really couldn`t believe that the dentists, staffs, labs, and suppliers involved were going to donate everything so that every dollar collected would go to the hospital."
Dr. Williams also emphasized that their success could not have been possible without the hard work and organizational abilities of Crown Council Executive Director Greg Anderson. "He handled all of the coordination and promotional details, including setting up an 800 number that patients could call to find the name of a participating practice in their local area.
The "Smiles for Life" program generated much publicity everywhere it was conducted. In fact, the hospital`s publicity department told the Crown Council that the fund-raiser led to more free publicity for its participants than any other project with which it had been involved.
Some of the practices taking part in the fund-raiser had all-time-high practice months (gross revenues and/or new patients) during the event. The participating dentists also gained valuable insight into the appeal of cosmetic dentistry.
Dr. Kevin Devine of Columbia, Ill., expected that most of those interested in the tooth whitening service would be women. To his surprise, he discovered that many of his male patients in the 45-60 age group responded to the promotion.
Another Crown Council dentist taking part in the fund-raiser noted, "You always get what you give. All of us felt especially good about helping children`s cancer research. Being successful in the fund-raiser would have been more than enough to receive. But to see how this labor of love for charity also had a positive effect on both the profession and our individual practices made it all the sweeter."
For more information about the Crown Council, call (800) 276-9658.
All smiles over their successful "Smiles for Life" fund-raiser are, from left, Terre Thomas, Dr. Ron Plotka, Marlo Thomas, Dr. Marianne Kehoe, Phil Donahue, Amy Haber, Bill Keller, Dr. Ken Williams, and Dr. Bob Emigh. Doctors Plotka, Kehoe, Anderson, and Emigh were among the top fund-raisers in the campaign. Haber is with Discus Dental, which donated its Nite White bleaching product, and Keller is with Keller Laboratories, one of the lab participants that contributed bleaching trays. Sisters Terre and Marlo, daughters of the late Danny Thomas, and Marlo`s husband, former talk- show host Phil Donahue, were on hand to accept the $1 million check on behalf of St. Jude. However, when all the dollars were in, the final total hit the $1.5 million mark!