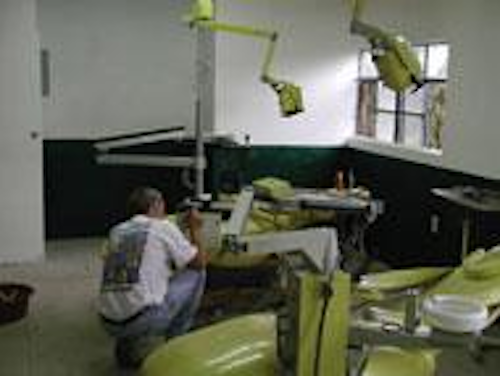 Dr. Keith Phillips
Last year, an elderly Mayan man entered the Salud y Paz clinic operated by Dr. Phil Plunk and his wife, JoAn Dwyer, a Licensed Social Worker. Cane in hand, the man hobbled into the examination room where JoAn performed an eye exam and fitted him with his first pair of eyeglasses. After expressing his gratitude, the old man hobbled out and another of the long line of waiting patients was ushered in. About 30 minutes later, the gentleman returned to the clinic and asked to see JoAn once again. Through an interpreter (many of their patients speak only the native Mayan Indian dialect), the old man handed JoAn his cane and said, "I don't need my cane anymore — I can see the bumps in the road now. Please give it to someone who can use it."
With occurrences such as these, it is easy to understand how Phil and JoAn have grown so attached to their mission in Guatemala. The project started for the couple in 1985. Early one Sunday morning while preparing for church, Phil became engrossed in a television show about a mission group that was establishing feeding stations in rural areas of Guatemala. The story shared how desperate the needs were in Guatemala at the time — the country had been ravaged by years of civil war and unrest — and especially hard-hit were the native Mayan Indians. At the conclusion of the show, Dr. Plunk recalls, "I just knew that was something I needed to do!"
For the next several years, Phil and JoAn traveled to Guatemala one or two times a year. The hardest part always, was closing the clinic on the last day — with hundreds of people still standing in line hoping to be treated. With frustration building because of their inability to treat the ever-increasing numbers of patients, the Plunk family made a huge commitment to this cause. A little more than two years ago, Phil sold his dental practice and JoAn left her position as executive director of the New Beginning Center in Garland, Texas. The couple put all of their belongings into storage, loaded up a donated 1988 Chevrolet Suburban, and headed for a new life in Guatemala. For the most part, Phil and JoAn have found their family and friends to be supportive of their efforts — even if a few of their children "think they are a bit crazy." Dr. Plunk's brother, Ken, who owns a computer company in Amarillo, Texas, serves as president of the board of directors, and handles all of the numerous arrangements to keep the clinic supplied with equipment and medical/dental supplies.
On a philosophical level, Dr. Plunk expresses the task of his mission as providing medical and dental care to the indigenous Mayan population of Guatemala. When Phil explains the purpose of the mission, his passion for this cause is beautifully expressed: "Simply put, we are here to serve as a physical expression of a spiritual desire to help others." Phil and JoAn serve a population of which 71 percent live in extreme poverty — meaning they live on less than one dollar a day. "The Mayan people have lived in a country embroiled in civil war for the past 36 years and have seen over 2,000 of their people killed or simply disappear as a result of ongoing genocide directed at indigenous people," says Dr. Plunk. "These people have been told they have no value, no hope. Our purpose is to sit with them, hug them, and say it is a lie — to give them some hope for the future."
Project Salud y Paz has a Web site at www.saludypaz.org that explains the many needs of this wonderful ministry. Dr. Plunk and JoAn invite you to get involved by volunteering — come to Guatemala and treat patients first hand or simply make a donation of money, supplies, or equipment, and share in spreading a message of hope to a forgotten segment of the world's population.
Dr. Keith Phillips maintains a private practice in Winston-Salem, N.C. He is president and founder of The Giving Hand Foundation, a nonprofit organization committed to the start-up and development of free medical and dental clinics. Dr. Phillips also serves as a teaching associate at the L.D. Pankey Institute, and is a former faculty member of the University of North Carolina School of Dentistry.