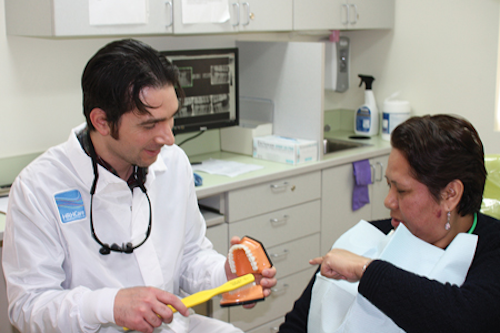 Gregory Maddalena, DDS
I love to hear stories from dentists when they return from doing dental outreach with underserved patients; they are so excited and proud of the work they have done. Speaking to colleagues or reading journal articles about these dentists' experiences is refreshing, and it makes me happy to know that colleagues are using their training to make a difference in the lives of underserved people.
For the past three years, I have worked in a federally qualified health center (FQHC), and there I have found that the same type of feeling can be a part of the everyday practice of dentistry.

MORE READING |Giving back and changing lives: The impact of dental outreach

After residency, I began a six-year journey following my wife around the Northeast during her medical training. Moving around by necessity, while inconvenient, gave me a unique opportunity to work in and see many different kinds of practices from high-end fee-for-service to public insurance-driven offices. I never pictured myself working in public health full time. My first position out of residency was in a private office restoring complex implant and fixed prosthodontic cases, something not even close to public health. Every so often, at this kind of practice, one type of patient interaction would bother me. If an uninsured patient came into the office with significant disease, after hearing fees for proposed services, he or she decided against undergoing treatment. That patient would leave the office with teeth I knew were going to get infected. Usually, I would never see the person again, but I knew that there would be a problem. I felt helpless to do anything for these people who were truly in need.
FQHC patients whom I treat now include migrant workers, Medicaid patients, health insurance marketplace patients, and the uninsured. The migrant workers who are mainly from Mexico and Jamaica are part of the local community. Migrant patients receive transportation to and from visits, and their care is significantly discounted. Many patients have not had routine dental care for much of their lives, and are usually very appreciative of treatment and counseling.

As private practitioners, we can't give dentistry away; I know that. Doctors who accept publicly subsidized plans can do incredibly well financially, but there is a tremendous pressure for high procedure volume. Some feel that they have to sacrifice quality to achieve a high procedure volume to make money. I feel like I have struck a balance in an FQHC. I don't have that pressure. I can concentrate on quality work, because I work for an organization that values what is best for the patient and doesn't push cramming many procedures into one visit.
Need is high in the United States for well-trained, conscientious dentists to treat people who don't normally get care. Patients tell me how hard it is to find doctors who either accept their insurance or charge fees that they can afford. There are many reasons that dentists say they shy away from treating underserved people in their own communities. Many of these reasons are offset for an FQHC dentist, so that you can work day to day and only think about helping make your patients better.
Now, I can't lie to you and say that the initial enthusiasm of helping the underserved during outreach stays at the same high level forever. Just like any position, there are challenges. For example, salaries generally start lower than they do in private offices. This can be offset with loan reimbursement and salary increases over time at the same organization. Also, high patient volume can be exhausting. I'm fortunate in that the organization I work for does not push procedure volume. I choose to practice day to day at a high visit volume, because I want to provide the much-needed care. While a busy schedule may seem like a bad thing, it can be a great way to build speed in dentistry. The need to work faster while maintaining quality can benefit you in the future by testing your limits. Even if you do not plan on maintaining this type of volume in the future, the experience can be beneficial. If anyone wants you to see high volume and sacrifice quality, you may want to find another position.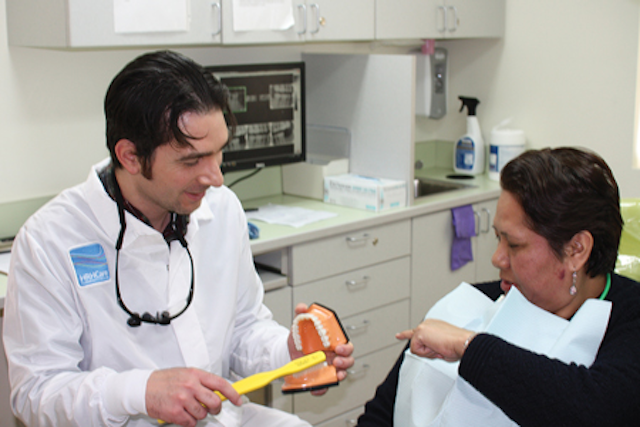 Another challenge is that budgets are tightly controlled in an FQHC. Routine supplies such as burs and handpieces are possibly more easily replaced than in a private setting. Larger equipment purchases and hiring extra staff are possible if justified financially, but they often take more time to acquire. While not an issue in my current position, the scope of procedures may be limited at some organizations, so when looking for a position, find one with a breadth you are comfortable with. If you find treating underserved patients rewarding, the underlying feeling that you are doing right for people who really need your help makes shortcomings feel worth swallowing.
Potential benefits of working for an FQHC include loan-repayment packages, life insurance, disability insurance, retirement plans, license and DEA reimbursement, health benefits, malpractice benefits, minimal staff management responsibility, CE reimbursement, paid vacations, paid holidays, paid sick time, very little take-home responsibility, and very little in terms of after-hours calls. If loan repayment is a priority, ask employers what their rating is with the National Health Service Corp. (NHSC). If their need level rating is not high, it is possible you will not be chosen for loan repayment. In addition to the NHSC, there may also be state and local loan-repayment options to consider.
Please don't avoid public health for one misconception that I have heard-that low-income populations don't care about their health. While this may be true of anyone in any socioeconomic class, the real barrier to health in underserved patients is a lack of preventive education and resources. Maybe the little village someone grew up in didn't have a dentist. Such cases illustrate one of the unique challenges in providing care to the underserved: educating and influencing habits. It's a good feeling to help patients become healthier through education. A simple change can make a major difference.
You can learn something from every job as long as there are no ethical concerns. Public health in an FQHC doesn't have to be your forever job. You can try it, see if you like it, and stay with it if it is your passion. It can provide you with the rewarding gratification of helping others and the great experience of working with a different population while building your speed and skill set. It's an area of dentistry that has its own unique challenges and rewards and should not be overlooked as a career path for a lack of information or experience. It is a rewarding path that can create a feeling of achievement not always available in a typical private practice.
---
Gregory Maddalena, DDS, graduated from Stony Brook University Dental School in 2005. He completed two years of general practice residency at Stony Brook and served as chief resident the second year. Currently, Dr. Maddalena is working for Hudson River Healthcare at its New Paltz Migrant Health Center. His wife is a family physician practicing in Hudson, New York. They have two children, May and Violet. Contact him by e-mail at gregmaddalena@yahoo.com.