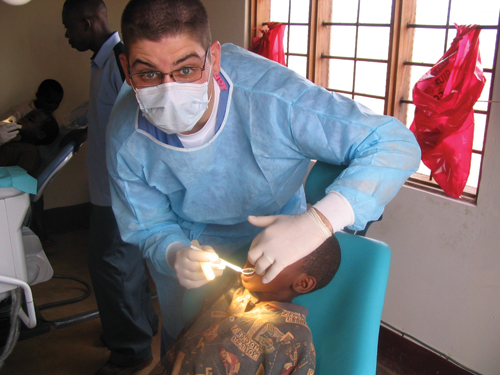 Clinton Timmerman, DDS, MBA, FAGD, FICOI
Since the 20th century, there has been a groundswell of organizations that provide international humanitarian assistance. Doctors Without Borders, Live Aid, and UNICEF are some of the most prominent examples. Dental outreach to underserved areas has also become common.
I have had the opportunity to visit places such as Tanzania and the Dominican Republic to administer treatment to those who do not have access to proper oral health care and those who do not have a basic understanding of oral hygiene. All my trips have been gratifying and have reminded me of why I went into dentistry in the first place. I quickly learned that many of my patients in the United States do not view the dentist as a caregiver or as someone who can improve their health—but as someone who likes to inflict pain and charge exorbitant amounts of money, who cannot empathize with the patient experience. On my trips, however, my patient encounters have been positive, as many citizens are happy to receive help, just as I am pleased to give it.
Many procedures in remote areas involve tooth extractions or simple restorations. Periodontal procedures, such as a prophylaxis or scaling and root planing, are performed but will not have long-term efficacy if the patient is unable to maintain a periodontal maintenance program. Fixed or removable prosthodontics, endodontics, orthodontics, and many other aspects of dentistry have simply not been feasible in the past. If a clinic does not have the ability to utilize a handpiece, then the atraumatic restorative technique is used; the practitioner will eliminate as much caries as possible with hand instruments and restore a tooth with resin-modified glass ionomers or amalgam. However, modern technology in the dental field may broaden the types of procedures that can be offered in underserved areas.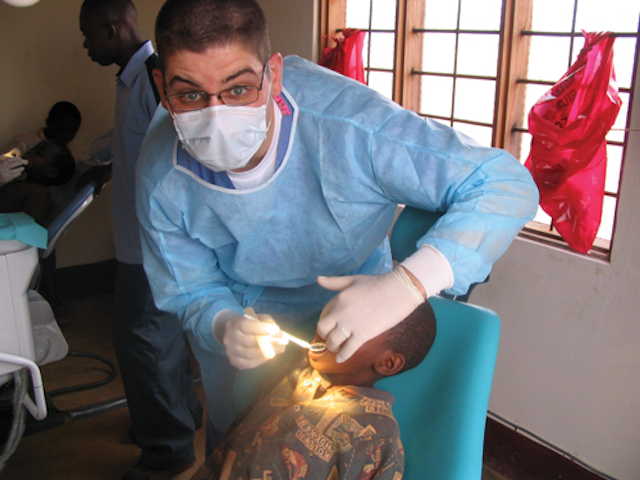 Dr. Timmerman screening patients in Songea, Tanzania
The last time I was in western Tanzania, I noticed that, while many residents lived in brick houses with dirt floors, several had smartphones and tapped into the internet to use different applications. It was amazing to see someone who did not have running water update his or her Facebook status. The emergence of applications such as PayPal and Venmo has allowed people to exchange money electronically, which reduces the risk of local citizens and visiting foreigners being mugged or having their money stolen. This usage of electronic services can apply to dentistry, as well.
CAD/CAM technology and 3-D printing are making gains in nations such as the United States. Many dentists mill their own crowns in-office, while others scan their preparations for outside labs to fabricate models and produce restorations. Even when a dentist takes a conventional polyvinyl siloxane impression, many times a lab will still scan that impression and generate the crown using CAD/CAM. Removable prosthodontics has been catching on in the digital world as dentures can be fabricated using 3-D printing. Digital dentistry, especially when lab work can be completed on-site, will greatly enhance the services that can be offered in areas lacking in resources.
Since many dental clinics in underserved areas have electricity and internet, it is feasible that digital dentistry could help patients obtain treatment such as crowns, bridges, and dentures. Radiographs and other basic diagnostic services can be accomplished with tools such as a laptop and a portable x-ray unit. Eliminating or reducing disease will always be a priority, but now restoring a patient's oral function can be an option. Learning digital dentistry and extending that knowledge to others, including dental practitioners in underserved countries, will become increasingly important.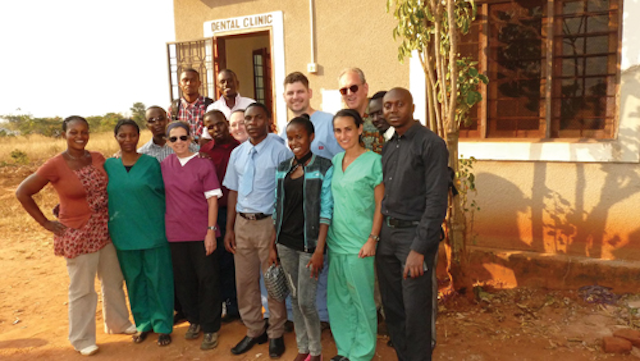 The Miracle Corners team, including local dentists and dental therapists, at the MCW facility in Songea, Tanzania
One nonprofit organization I have become involved with, Miracle Corners of the World (MCW), has placed a focus on working with local dentists and dental therapists in Tanzania. My first outreach trip to Tanzania focused on treating as many patients as possible during a two-week span, but my second trip focused on working with dental auxiliaries who will be able to provide continuing care throughout the entire year. Now MCW works with the two dental therapy schools in Mbeya and Tanga and the dental school in Dar es Salaam, coordinating with professors and local dentists that MCW employs. They have made great strides in promoting oral health and disease prevention and are open to any ideas that can improve dentistry in the area.
The opportunities for dentists and dental auxiliaries to lend their expertise and resources are many. I would recommend looking into organizations such as MCW to find out how to become involved. Traveling to provide dental care of any kind is wonderful, but there is a special chance to enhance dental services through digital technology. The more dentists who learn these skills and teach foreign colleagues, the better. If traveling is not an option, consider donating used equipment. Many lower-income areas cannot afford new equipment and are dependent on donations. Donations to nonprofits are tax-deductible, creating a win-win situation. Of course, donating cash is always an option, and cash is also tax-deductible.
For more information on MCW, check out mcwglobal.org. Other worthwhile nonprofits include Free to Smile, which focuses on treating cleft lips and palates (freetosmile.org), and Global Dental Relief (globaldentalrelief.org). There are also domestic programs; contact your local dental society for more information. It is important to be involved. Every dental practitioner—whether a dentist, hygienist, or assistant—possesses a special skill from which many in the world can benefit.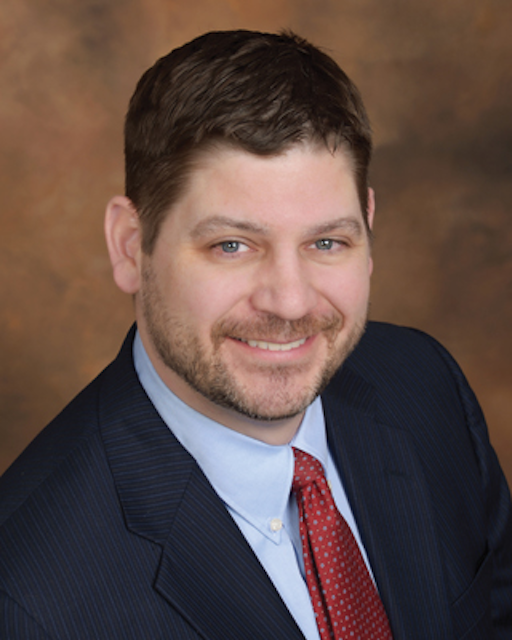 Clinton Timmerman, DDS, MBA, FAGD, FICOI, is the owner of Cascade Medical & Dental in Pueblo West, Colorado. He completed his predoctoral education at New York University College of Dentistry in 2007, earned his MBA from Washington State University in 2017, and completed an implantology externship through Dental XP and Stony Brook School of Dental Medicine in 2016. He enjoys traveling, podcasts, history, anything outdoors, and Seattle sports.