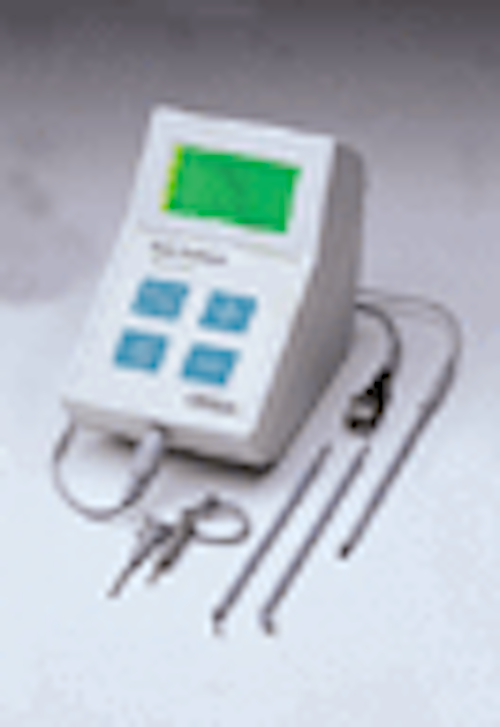 Two functions in one instrument
Joseph Blaes, DDS
Pearl 1 - Endo Analyzer 8005 by Analytic. I get excited when a dental manufacturer combines two functions in one instrument. The Endo Analyzer does exactly that. It combines state-of-the-art pulp testing and apex location in a single compact unit. I was listening to Dr. Cliff Ruddle present an endo seminar last week, and he stated that apex locators are 95 percent accurate. To me, that means that everyone who is doing endo should have one of these. This tool features a backlit screen with large numerical, as well as graphical, read-outs to give you precise information quickly and easily. The vitality scanning function is pain-free and automatically controlled for consistent testing. For additional information on the Endo Analyzer or to place your order, call Analytic at (800) 346-ENDO or visit their Web site at www.Analytic-Endodontics.com.
Pearl 2 - XCP Film Holder by Dentsply Rinn. I have been using the XCP instrument for at least 25 years. My mentor, Dr. Roy Wolff, was a pedodontist who put me on to the technique when it first came out, and I have been using it ever since. You just don`t miss using the XCP! No cone-cutting. No wrong angulations to cause distortion. It makes the paralleling technique a snap. Great X-rays, fast and simple, every time. After all these years, some great improvements in the system have been made. The transformation involves color-coding the film holder for easy assembly of the component parts. Assembly was always a problem, particularly while you were learning the system. Now there will be no more fumbling around trying to find the right combination to take that posterior film. All you have to do is match the colors. How come it took so long to figure that out?! The anterior film holder uses a blue bite block, blue pins on the arm, and a blue dot on the aiming ring. The posterior holder uses yellow coordinates. The bitewing film holder uses red coordinates. Dentsply Rinn has made the entire system fully autoclavable - a great step forward in infection control. They have also shortened the aiming arm to fit all intraoral X-ray units. Who says things don`t get better with age? This is a no-brainer! Call your dealer and order an XCP film holder system for great images every time.
Pearl 3 - Imprint II Quick Step HB/LB Impression Material by 3M. If you are looking for a quick-set impression material with all the great accuracy of a long-set material, then try this new material from 3M. Quick Step has been specially formulated to give you quick results while using a triple tray. You save time and material with this type of impression technique. This is meant for those quick procedures like single crowns or a couple of inlays. You have 40 seconds of intraoral working time and a two-and-a-half-minute setting time. All this with excellent tear strength and terrific detail production. I have some more good news: the Quick Step cartridges will fit the regular 3M dispenser, type HP. I have had problems in the past with the consistency of fast-set impression materials. This is one you can count on to have excellent results every time you use it. After using both heavy-bodied and light-bodied on a number of impressions, I prefer the light-bodied wash material. Call 3M at (800) 634-2249 or visit www.3M.com/dental.
Pearl 4 - Dr. Joseph Massad Denture Kit by Brasseler. My good friend, Dr. Joe Massad, has put together a wonderful kit that provides all the acrylic and soft-liner cutters that you need for making adjustments to dentures. If you have taken Joe`s course or have his fantastic video, "Predictable Complete Dentures," you need this kit to easily do the adjustments that he recommends. The kit comes with instructions for each bur and polisher permanently etched in the top of the bur holder. You will not forget what each one is for, and the reorder numbers are also permanently etched. By following the principles outlined in Dr. Massad`s courses and his video (available through Dental Economics), you can develop a technique that will enable you to deliver dentures that fit with a consistency that you never thought possible. For additional information or to order your kit, call Brasseler USA at (800) 841-4522.
Pearl 5 - Flexible Clearance Tabs by Belle de St. Claire. Many times, it is very difficult to check the amount of occlusal clearance when prepping posterior teeth for crowns or inlays. These Flexible Clearance Tabs make checking that clearance very easy and consistent. The "Flex Tabs" come packaged in three thicknesses - 1.0 mm, 1.5 mm, and 2.0 mm - with 25 disposable tabs in a dispenser box. Just place in the mouth over the prep, have the patient bite, and pull on the tab. If it pulls through, you know the clearance is OK. No more guessing - use this quick and easy way! For additional information or to place your order for "Flex Tabs," contact your dealer.
Dr. Blaes has a general practice in the St. Louis area. He is known for his expertise in dental materials and techniques and his innovative systems designs. He writes and lectures on "How To Increase Productivity and Profitability." He may be reached at (573) 686-2388. To purchase these products as well as other recent Pearls, please visit www.dexpo.com.
Pearl 1
Pearl 2
Pearl 3
Pearl 4
Pearl 5