Closing a gap in oral health-care management
Historically, the new oral health-care products were characterized by simplicity and consisted primarily of innovations for toothbrushes and toothpastes.
Oct 21st, 2013
By Samuel B. Low, DDS, MS, MEd
Historically, the new oral health-care products were characterized by simplicity and consisted primarily of innovations for toothbrushes and toothpastes. At the same time, managing the two primary diseases, caries and periodontal disease, emphasized antimicrobial strategies. Recent decades gave rise to specialty brushes, e.g., soft vs. hard, and toothpastes became directed toward specific conditions -- fluoridated, sensitive, or whitening. Most oral care products are widely available in convenient retail outlets where consumers can shop for products that meet an obvious need.
An emerging trend is for oral care companies to produce research-based, high-performance products for specific indications or niche markets. However, the niche consumers, our patients, do not know about the availability of the products, how to use them, or in many cases, that they even have a condition these products can address. A disconnect now occurs between the consumer demand for ultra-high-performance oral care products and the manufacturers' distribution strategies. The dental professional can fill this gap to provide the product to meet the patient's need while creating an opportunity for everyone to benefit: manufacturers, patients, and the dental practitioner as well (Fig. 1).
There exists a yearly growth rate of 5.2% across the global market for traditional oral-care products such as toothpaste, mouth rinses, and other innovations. Currently, in the United States alone, consumers spend about $1.8 billion on toothpaste and $775 million on toothbrushes. A recent article suggests, "Oral care regimens that provide complete oral health care are among strategies that attract new customers and keep existing ones … Consumers are beginning to follow increasingly complex oral care regimens as they seek to ensure better dental health, trading up to specialized products … Efficacy, cosmetic benefits, and further consumer segmentation are among the key strategies for future growth."
Specialized oral health care
As the consumer continues to focus on esthetics and health, there is increasing consumer demand for advanced oral care products beyond a "brush and paste" that help improve appearance and maximize dental health. These products are in line with services such as professional whitening, orthodontics, veneers, implants, and periodontal procedures.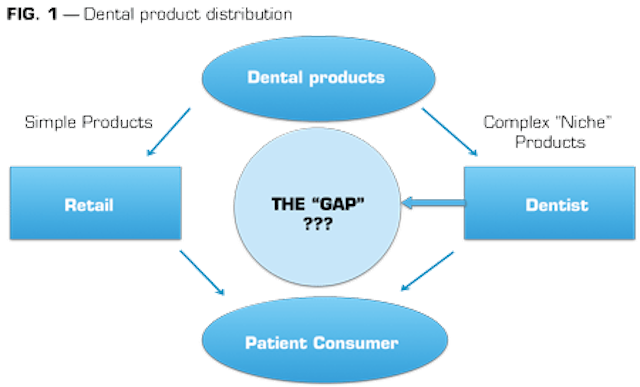 Further, as patients' oral health needs become more complex, so do their demands for oral care products. Manufacturers are developing specialized product lines to meet the needs. And although some low-cost brands offer a few benefits, the most effective products are based on extensive research and are intrinsically more expensive than mass-market products. However, the low-end retail marketing channels are simply not adequate for explaining the product benefits and educating consumers. Dental professionals are in the perfect position to fill the gap. With their technical expertise, dentists and hygienists can review and interpret the science behind the specialty products in order to make confident recommendations to their patients. They also have the existing relationship to educate patients regarding the products' advantages and proper usage.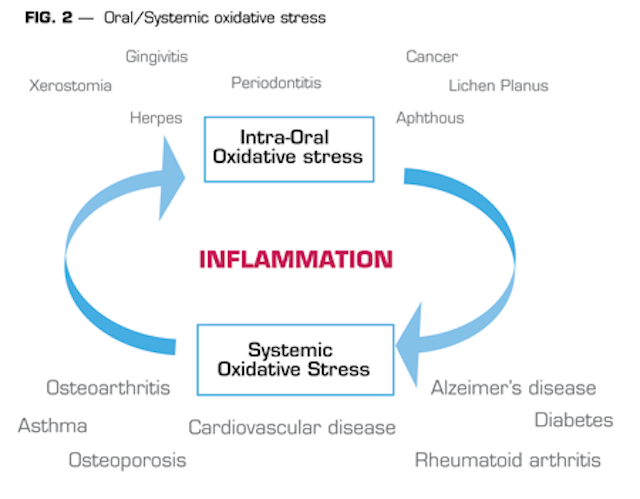 A parallel in dermatology
The field of dermatology was in a similar situation in the 1990s. Companies such as Neutrogena were able to sell relatively inexpensive products through traditional mass-market channels. But a technological revolution produced high-potency skin care products -- such as antioxidant-based "cosmeceuticals" -- that were simply inappropriate for the local drug stores and department stores to sell. Instead, dermatologists and professional estheticians, who were able to evaluate the science and research, stepped in to connect consumers with specialized products. These professionals became a critical link in the distribution chain. In many cases, they were able to participate in the profitability as well.
A generational niche
One niche market evolving is the baby-boomer generation. Thirty-five percent of the adult population is age 65 or older, totaling 76 million people. While this group will outspend other generations by $400 billion, they also will be subject to significant complex health concerns. This is a generation that will be dominated by chronic inflammatory diseases. Nearly 33% have cardiac disease and 20% have diabetes. An estimated 15% of the overall population has low bone-mineral density (osteopenia or osteoporosis), most of whom are females older than 50 years. As the senior population grows, dental practitioners will become increasingly involved in identifying symptoms of chronic systemic conditions and integrating dental care within the context of medical treatments. In a survey by the Academy of General Dentistry, 63% of baby boomers with an oral symptom of a more serious health condition were unaware of the symptom's link to the condition. Retrospective studies demonstrate that periodontal disease can be a predictor of systemic conditions such as cardiovascular disease, diabetes, rheumatoid arthritis, and cancer through infection, inflammation, and adaptive immunity.
Products that meet niche market demands
There is current emphasis on chronic inflammatory diseases that are both oral and systemic in nature. The management of oral inflammatory conditions and diseases is shifting from antimicrobial to anti-inflammatory. Free radicals, or reactive oxygen species (ROS), are associated with oxidative stress and inflammation (Fig. 2). And oxidative chronic inflammation is implicated in a growing list of inflammatory-based oral conditions, in addition to systemic diseases such as cardiovascular disease, arthritis, Alzheimer's, and diabetes. Extensive research and anecdotal observations report positive results with potent topical antioxidants for follow-up to dental surgery, periodontitis, xerostomia, geographic tongue, aphthous ulcers, inflammation of crown margins, and even rare cases such as bisphosphonate-associated osteonecrosis of the jaw (BRONJ). One example of an anti-inflammatory product contains the antioxidants phloretin and ferulic acid that neutralize free radicals caused by nicotine, hydrogen peroxide, and alcohol.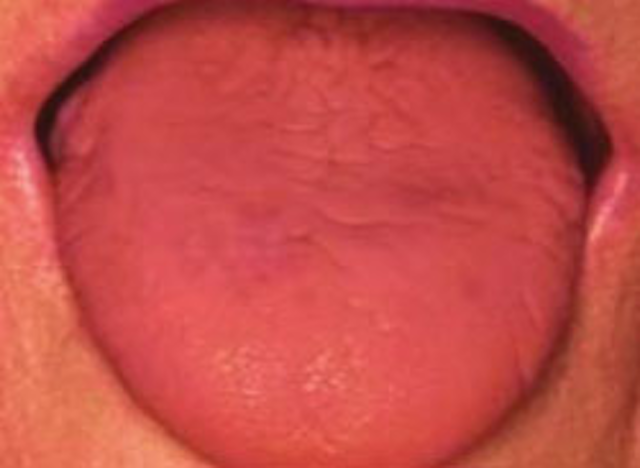 Fig. 3 -- Tongue inflammation with xerostomia
The over-60 population has an increased incidence of oral conditions associated with oxidative stress. One such condition is xerostomia, which affects 27% of adults over age 60. The etiology can be multifactorial and includes medications with more than 400 drugs implicated in the cause. Symptomology includes difficulty in chewing and speaking, halitosis, and an overall negative impact on well-being (Fig. 3). Traditional products have utilized palliative measures, such as moisturizers and salivary substitutes, and antimicrobials such as xylitol to decrease the symptoms associated with dry mouth. The decrease in quantity of saliva results in the decrease in naturally occurring salivary antioxidants and generates oxidative stress. Patient-applied topical antioxidants can now neutralize the free radicals that are responsible for inflammation, thus giving rise to a decrease in symptomology.
Periodontitis incidence is 71% in adults over age 65. The disease is inflammatory in nature, occurs as a response to a stimulus such as bacteria, and results in loss of collagen (Fig. 4). Oxidative tissue damage is involved in the pathogenesis of periodontal disease and is the result of excessive production of reactive oxygen species (ROS) by neutrophils. Recent clinical studies have shown a positive association between periodontitis and blood ROS levels. Nonsurgical periodontal treatment improved clinical parameters and reduced plasma ROS levels. Thus the addition of daily applied topical antioxidants can neutralize free radicals and reduce inflammation associated with periodontal disease.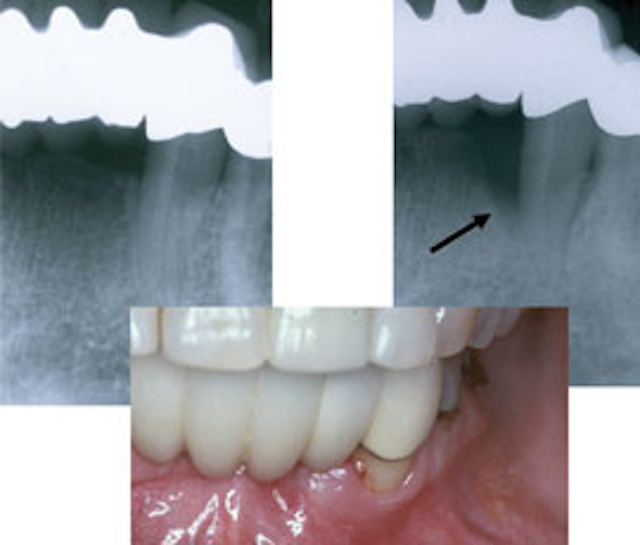 Fig. 4 -- Progressive periodontitis
While the educated dental health professional can appreciate the complexities of the etiology and management of these conditions, the average consumer is overwhelmed by the information and either has no positive intervention or relies on the Internet as a resource. Thirty-five percent of the population in the United States utilizes the Internet for diagnosis and treatment. Unfortunately, excellent educational health websites coexist with an unregulated wealth of misinformation.
The challenge of commerce
The dentist is the most qualified source for evaluating and explaining the science and research behind these innovative products such as antioxidants. The dentist is also the most logical source for recommending and distributing an oral care product that is effective on these conditions. However, dentists have minimal experience with selling or distributing products through their offices. The increased challenge of sales, inventory, shipping, and accounting can be overwhelming. And to some, the concept of "selling" products can produce a perceived ethical dilemma. We may gain insight into professional product distribution by observing dermatologists and veterinarians.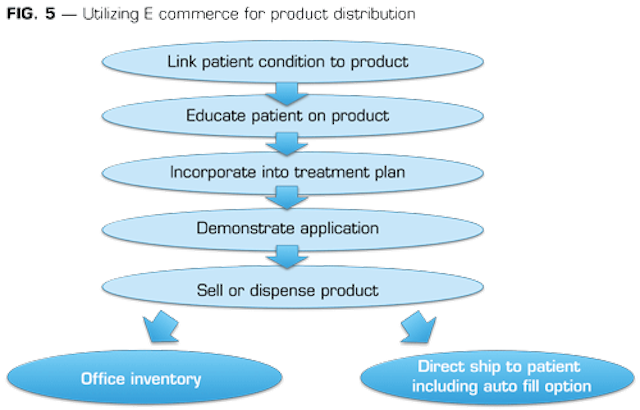 E-commerce, or purchasing products over the Internet, is another exploding technology, as witnessed by the success of eBay, iTunes, Amazon, or any other number of online retailers. But it is the dental professional who educates the patient, designs the treatment plan, and manages the oral health conditions. Recent e-commerce innovations enable any website to become an e-commerce site with a shopping cart. This unique technology allows the manufacturer of advanced oral care products to ship direct to your patient but keeps the profit (difference between wholesale price and retail price) intact for the dental office (Fig. 5). Whether the office stocks inventory and sells products directly to the patient or utilizes a direct ship model through online technology, this new e-commerce technology ensures the dental office receives the same profit from sales. The typical margin for the dental practice is 50% of the manufacturer's suggested retail price. While the profit from one tube of toothpaste will not buy a movie ticket, consider the annual profit if 25% of your patient base purchased (via direct shipment -- no inventory) all of their daily toothpaste and mouth rinse from your office.
Closing the gap
Most dental conditions are complex in nature and require professional expertise in their respective management. Likewise, today's oral health care products related to those conditions can also be complex in nature. As dentists recommend the most effective procedures, they are in a position to recommend the most effective products. Innovative products such as antioxidants can assist the dentist in managing inflammatory conditions, especially of the over-60 population. And it is the dentist who fills the gap between the manufacturer and the patient in ensuring that our patients' oral health needs are met in the most effective manner.
Samuel B. Low, DDS, MS, Med, is professor emeritus at the University of Florida and associate faculty of the Pankey Institute with 30 years of practice in periodontics, lasers, and implants. He is a diplomate of the American Board of Periodontology and past president of the American Academy of Periodontology. Dr. Low is affiliated with the Florida Probe Corporation. He was selected "Dentist of the Year" by the Florida Dental Association, Distinguished Alumnus by the University of Texas Dental School, and received the Dr. Gordon Christensen Lecturer Recognition Award. He is currently the 17th District ADA Trustee. Contact Dr. Low by email at slow@dental.ufl.edu.
More DE Articles
Past DE Issues