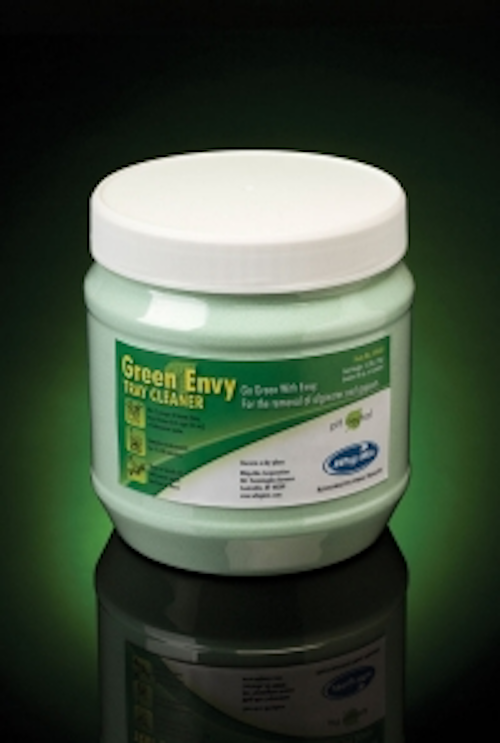 Joe Blaes, DDS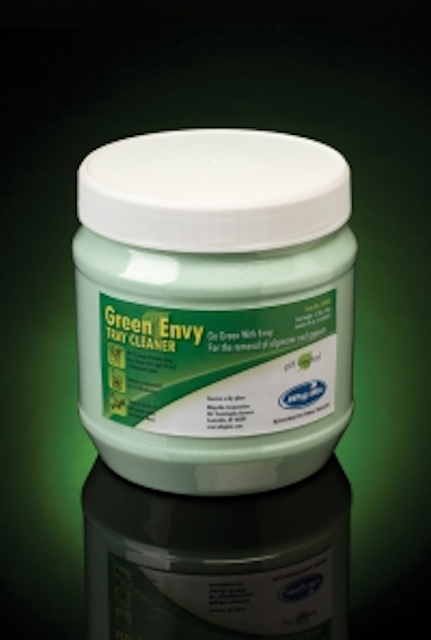 Green Envy™ Tray Cleaner by Whip Mix Corporation

Green Envy™ Tray Cleaner by Whip Mix Corporation – In my practice, I have never found an impression tray cleaner that really worked well. Effective cleaning usually required prolonged immersion of the metal trays in these solutions. My team complained that, over a fairly short period of time, the metal trays lost their shine as they corroded and turned black. They looked dirty, even though they had been well cleaned and sterilized. I found that many cleaning products contain active ingredients, such as sodium carbonate, which may cause burns and irritate the eyes. Furthermore, release of these hazardous chemicals into the water system may be toxic to aquatic plants and animals. Then I saw a press release from Whip Mix about its new Green Envy™ Tray Cleaner. It sounded too good to be true, but I ordered some. When we received the tray cleaner, we took alginate impressions on models with shiny new trays. I told my team to be sloppy and get a lot of alginate on the outside of the tray and to do the same with the stone when they poured the models. We removed the alginate and stone from the trays but left enough to make a good test. The trays came out bright and shiny with no trace of stone or alginate. Green Envy™ Tray Cleaner cleans without harsh chemicals. It is a user-friendly product that dissolves alginate and plaster residues by interaction rather than by attacking them with corrosive chemicals. The residues rinse away, and there is no need to scrape or scour. Since Green Envy is neither acidic nor alkaline, it is gentle to the skin. It can be safely handled and will not cause corrosion to metal instruments. It does not contain toxic compounds that pose a risk to users. This also reduces hazards in municipal waste streams and damage to the ecosystem from persistent chemicals. Green Envy is broken down by microorganisms into simpler, more stable compounds. Since it is biodegradable, it will decompose without causing environmental pollution. This product is easy to use. Simply mix Green Envy with water according to the directions. Then immerse instruments for 15 to 30 minutes and brush or rinse with warm water. The only thing left behind is a fresh, light citrus scent. Now we have a natural way of removing alginate and gypsum residues from impression trays, spatulas, and other instruments. The most effective way I have found to remove alginate and plaster residues is by dissolving them, not by scraping or scouring. Whip Mix Green Envy™ Tray Cleaner is formulated to work on alginate, not on trays. Call Whip Mix at (800) 626-5651 to place an order through a dealer or visit www.whipmix.com for more information.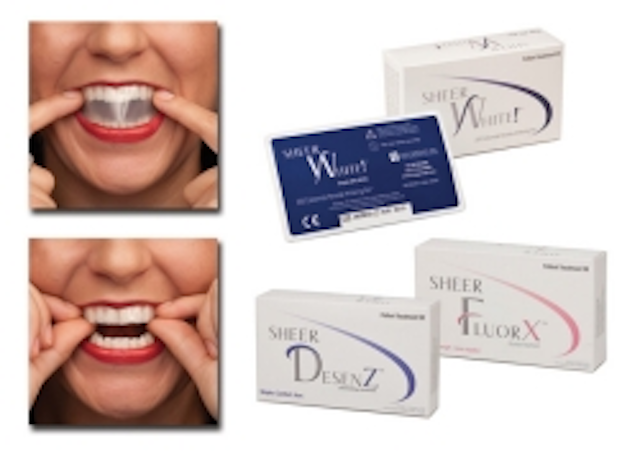 Panasil® initial contact and Panasil® tray impression materials by Kettenbach LP

Panasil® initial contact and Panasil® tray impression materials by Kettenbach LP – Just when you think you have tried everything, along comes another impression material. We know, it is difficult to introduce something new into our routine. When I receive a new material to evaluate, my team and I use models for the first impressions to get the feel of the material and to check out working and setting times. When I first tried Panasil®, I noticed that its heavy tray material was easy to extrude from the cartridge. The Panasil® initial contact wash and tray materials meshed well, indicating a chemical reaction would take place and the material would not delaminate. When we removed the impression, there were no tears or drags. Once we had established a protocol, we were ready to use it in our practice. Panasil® initial contact has a unique initial hydrophilicity that allows the material to immediately overcome any remaining moisture in the sulcus. I think you will be amazed with the exact impression of the prep margin, even when you have a deep sulcus or an especially moist area. It is available in three viscosities – x-light, light, and regular and two settings (normal or fast set) so you can provide a custom combination to suit your specific needs. The Panasil® initial contact materials are combined with Kettenbach LP final impression materials, Panasil® binetics putty, Panasil® monophase medium, Panasil® tray, and the classic Panasil® putty. Panasil® impression materials are addition-curing vinyl polysiloxane (VPS) elastomeric materials with hydrophilic properties, high tear strength, dimensional accuracy, and a high resistance to permanent deformation. Panasil® materials provide superior precision and performance in extreme situations. These impression materials are easy to use and remove from the mouth, have neutral taste, easy-to-read color contract, good flowability, and a flexible setting time. Order directly by calling Kettenbach LP at (877) 532-2123 or by visiting www.kettenbach.com.
The Griptab Veneer and Crown Delivery System by Triodent

The Griptab Veneer and Crown Delivery System by Triodent – I have taught hundreds of dentists in my hands-on veneer course, Veneers Made Easy. Most dentists face some hurdles while learning to incorporate veneers into their practices. Some of the hurdles are case selection, preparation design, understanding how to do the preparation, temporization, and cementation. Triodent introduces a faster, better, and easier way to cement veneers with the Griptab Veneer and Crown Delivery System. I have been using and teaching what I consider an excellent system for delivery of veneer cases. I think patients are much more sensitive today to what is going on around them in the treatment room. They can easily sense when things are not right. Many doctors and team members do not hide stress well, and we know that handling multiple veneers and crowns is tricky. Dropping one can wreck your case, your day, and maybe even your reputation. The Griptab Veneer and Crown Delivery System is a must-have if you do multiple restorations, whether crowns, veneers, inlays, or onlays. Never worry again about dropping a veneer or crown. With the Griptab Veneer and Crown Delivery System, you are always in control, always organized. This system revolutionizes the restoration procedure. It increases efficiency, saves time, and reduces stress. The system gives you unmatched control when placing indirect restorations. It includes the Griptab, which is a secure handle that is attached to the restoration, plus Pin-Tweezers and a tray marked with the tooth numbers. This organizes the process. The Griptab is secured to an indirect restoration with a light-cured adhesive that is 100% silane and water resistant. Pin-Tweezers ensure complete control with their great grip and maneuverability. Each restoration has its own Pin-Tweezers to provide a systematic process for etching, silanation, multiple try-ins, and cementation. The numbered order of placement simplifies and organizes the procedure to ensure error-free delivery. The system presents an image of professionalism to patients. A team member attaches the Griptab before the patient arrives to maximize chairside efficiency. This makes sand-blasting, etching, ultrasonic cleaning, and silanation much easier. The bottom line is that, at my practice, we have discarded the old system, and I now use and teach with this new Griptab system. This system makes cementing a case of eight units easy. To order or find out more, call (800) 811-3949 or visit www.triodent.com.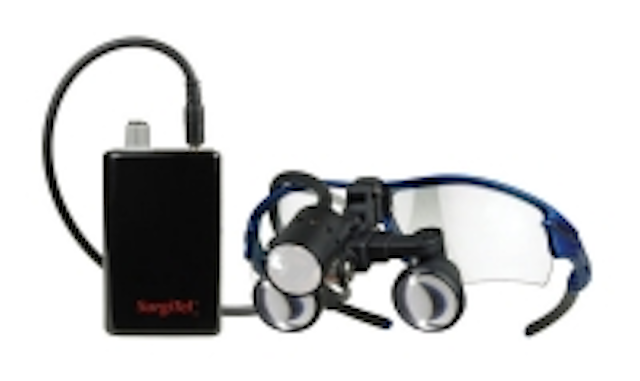 The Odyssey MiNi LED by SurgiTel

The Odyssey MiNi LED by SurgiTel – When choosing an LED light, is brighter always better? The surprising answer is "no." LED light that is too bright has two major problems. It reduces the overall life of the LED by overdriving it, and it reduces the image resolution that your eyes see. Have you ever seen how the pupils of your eyes get bigger with the room lights off and smaller when you turn them back on? Well, the same concept can be applied with using an LED headlight. If the work area is too bright, the size of your pupils will not be optimal (they will be too small) to view critical details. Therefore, brighter is not always better. What's more important is that there be the correct brightness with the right light beam pattern. The Odyssey MiNi LED is a compact, adjustable, high-intensity light system designed to be the most comfortable fitting headlight available. This LED is so light that you will hardly know you are wearing a headlight except that you can see what you are doing so much better because the light is exactly where you are working. No more adjusting the operating light so that you can see better. Using SurgiTel's award-winning ErgoVision HD glass element, the MiNi provides a perfectly defined light beam pattern and excellent color rendering. In addition to its lightweight optics, the LED is powered by a lithium ion MiNi pack battery. The Odyssey MiNi LED system is the right light to help you see and work at your best. If you have never experienced a headlight attached to your magnification glasses before, now is the time to try one. If you already have a headlight, but are still attached to a generator, experience the freedom of the SurgiTel Odyssey MiNi LED with a battery that lets you work all day on one charge. To order, call (800) 959-0153 or visit www.surgitel.com for more information.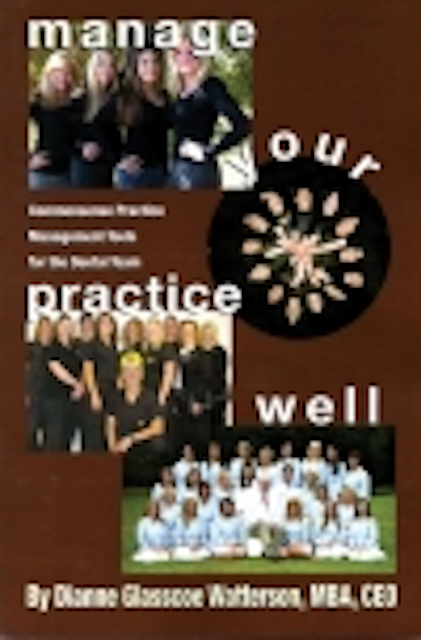 Manage Your Practice Well by Dianne Glasscoe Watterson, MBA

Manage Your Practice Well by Dianne Glasscoe Watterson, MBA – Finally, there's a commonsense practice-management book that gives dentists practical information on managing practices efficiently and profitably! Dianne brings to the table a wealth of insight from the clinical and business aspects of practice. I could not put this book down because the information is fresh and to the point. Dianne covers subjects that are important to all of us, such as common human resources problems, in her chapter on staffing and employee management. Have you ever wondered why staff meetings are a waste of time? She offers great solutions. My worst days were always the days I had to find an employee a new home. Dianne shows how to stop the procrastination and get the job done. I have always thought the most important time spent in my practice was building and maintaining relationships with patients. It took me a long time to learn to delegate this to the team. This book gives great information on the most fragile relationships. Dianne covers financial management of the practice by showing the importance of overhead control, salaries, financial policies, and the often-forgotten office systems. The key to a productive practice is the hygiene department, but this department often operates at a loss. Find out how to correct this. Dianne includes a chapter on mitigating liability. This chapter is worth the price of the book. This book ends with a fascinating chapter on crisis, transition, leadership, and avoiding burnout. The book is easy, delightful to read, and will provide solutions for many of dentistry's hot-button issues. Dentists and dental students will benefit from this book. This will be the best $24.95 you spend this year. Visit www.professionaldentalmgmt.com and click on the Product tab, or call (301) 874-5240 to place an order by phone.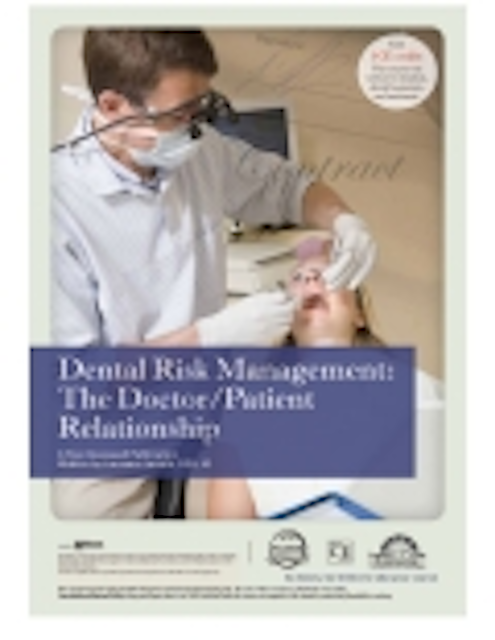 Dental Risk Management: The Doctor/Patient Relationship from IneedCE.com

Dental Risk Management: The Doctor/Patient Relationship from IneedCE.com – I hope many of you do the IneedCE course that is in every issue of Dental Economics®. These courses are extremely well done, and have covered almost every aspect of dentistry. They are catalogued at IneedCE.com, and can be seen by visiting the Web site. This particular issue is a course written by an acknowledged expert in dental lawsuits, Laurance Jerrold, DDS, JD. He makes the case that it is not necessarily malpractice that causes these legal actions, but usually a problem with the doctor/patient relationship. The nature of the doctor/patient relationship essentially forms a simple contract, with contractual duties existing on the parts of the dentist and the patient. Establishing a doctor/patient relationship may take place formally in the office setting or informally, such as by giving verbal advice in a social setting. There are legal ways to terminate a doctor/patient relationship. It is important to follow a number of steps to establish this, and to avoid being found to have abandoned a patient. By understanding the significance and ramifications of the contractual duties, dental risk management can be used to control situations, such as terminating the patient/doctor relationship, and discontinuing active treatment to minimize the risk of being sued by the patient. This course has a great deal of interesting commentary on situations to avoid, and things that practitioners should do to avoid a time-consuming and aggravating lawsuit. At the end of the course, you can take a test and submit it electronically for continuing education credits. Look in your copy of DE or www.IneedCE.com for more information.
To have Dr. Joe Blaes present his lecture, "Pearls For Your Practice®," for your study group or dental society, please call (866) 274-4500.
More DE Articles