by Dr. Bruce Blau
Spots on teeth can range in color from White hypocalcification to brown with various sizes. An easy, conservative treatment is available at a reasonable fee with a few short visits.
Protocol
12/01/11
Clean teeth to be treated with a rubber cup and prophylaxis paste, then apply a rubber dam. Using a gear reduction angle mounted on a slow speed handpiece; PREMA is applied and compressed upon the teeth surfaces. Rotary application (MICROABRASION) is continued for up to 60 seconds for 10-15 minutes. This was done until the BROWN STAIN was completely removed. Treated surfaces were then saturated with a neutral sodium fluoride gel for 4 minutes.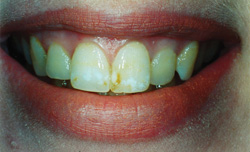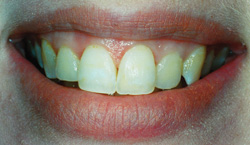 12/05/11
Alginate impression taken of Maxillary teeth for "Bleaching" type tray. Then, pumice, etch with 37% phosphoric acid (30 seconds) and after rinsing off; place MI PASTE for 5 minutes.
Repeat the placement of MI PASTE for another 5 minutes.
Send patient home with "Bleaching" type tray with a tube a MI PASTE. Instruct patient to wear tray with paste FULLY covering treated teeth for ½ hour TWICE a day for 2 weeks, then return for office visit.
12/19/11
Pumice, acid etch and placement of MI PASTE-same as 12/05/11 visit. Patient instructed to wear "Bleaching" type tray at home with MI PASTE for ½ hour-TWICE a day for 2 more weeks.
01/03/12
Applied MI PASTE again, after etch and pumice. Patient wore tray with MI PASTE again until satisfied.
1/10/12
Patient returned to office, extremely happy, photos taken; treatment complete.
BRUCE B. BLAU, D.D.S., F.I.A.D.F.E.
121 EAST 60 STREET
NEW YORK, NEW YORK 10022
212-888-6311
www.BRUCEBBLAUDDS.com
BRUCE B. BLAU, DDS, FIADFE, has practiced cosmetic and general dentistry in Midtown Manhattan for 28 years. Dr. Blau is a Fellow of the International Academy of Dental-Facial Esthetics and has lectured in the metropolitan area on esthetics, sports injury, pregnancy, and infant care. He can be reached at ddsinfo@brucebblaudds.com.
More DE Articles
Past DE Issues