Pearls for your practice
For years, I used Becton, Dickinson (BD) needles in my practice. These needles are the most used in hospitals and doctors' offices.
May 19th, 2014

By Joe Blaes, DDS
ACCUJECT®: Sterile Disposable Dental Needles
from DENTSPLY Pharmaceutical.

For years, I used Becton, Dickinson (BD) needles in my practice. These needles are the most used in hospitals and doctors' offices. Then, when my assistant called one day to reorder, she was told that BD had withdrawn the needles from the market so we could not get them anymore. So I have been searching for a long time for a replacement needle. I am happy to tell you that I have found it. DENTSPLY called and asked me to try its Accuject needle. I have used it for about six months, and it has passed my tests. This needle has a clear, prethreaded hub that allows for it to fit onto the syringe, always on the first try. The Accuject needle locks in, so you do not have to worry about the bevel being out of place. The stability of the needle is maximized by the interior threading. The red dot on the hub indicates the location of the bevel. This ensures smooth and easy insertion into the tissue. I did not feel the needle penetrate the tissue. These benefits will make dental injections much more comfortable for patients. The Accuject needle is available in the popular gauges and lengths that are color-coded for easy identification. My preferences are 27-gauge long, 30-gauge short, and 30-gauge extra short. So do something extra for patients.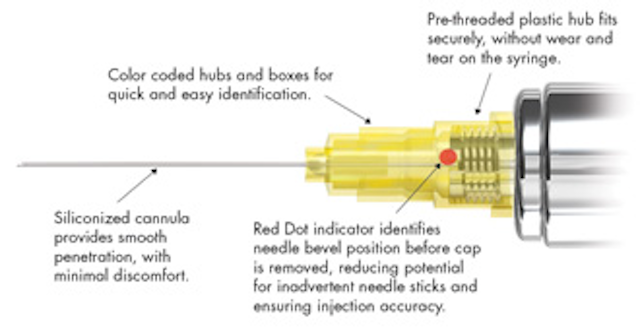 Order Accuject needles from your dealer today. For more information, visit www.dentsplypharma.com.
Appliquator
by Transcodent.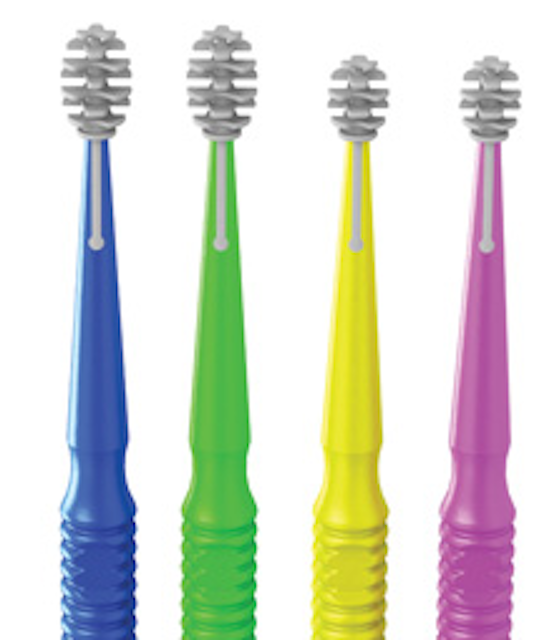 This is a revolutionary new approach for applying dental liquids and gels. The Appliquator is a precision-engineered device, not a fuzzy stick made with fibers and glue. I have used a much higher magnification the past few years simply because it has been available, and I like what I have seen. How about your clinical photos? Do you ever enlarge them to examine the tooth up close? I do this quite often, and many times I will see some fibers on or around the preparation. I could not figure out where they were coming from until one day I realized they came from the applicator I used to apply materials. It was shedding fibers. So I started to use more applicators, figuring that I was using them too many times. But this was not the final answer either. I was still seeing fibers. At the Yankee Dental Meeting, I ran into a dental industry friend, Leif, who had been working in Germany the last few years. Having returned to the states and now with a partner, he introduced the Appliquator to the U.S. market. When I saw Leif, he asked what kind of applicator I used. I told him, and he asked me if I had fibers in tooth preps. I knew exactly what he was talking about. So, Leif sang the praises of the Appliquator. He told me that I could say goodbye to the fuzzy stick where glue dissolves and fibers shed, contaminating restoration sites and bonding agents. German engineers have created the Appliquator with medical-grade materials that pick up, hold, and release a precise dose every time. The soft, pliable head stands up to the harshest of chemicals, and contains capillary canals that efficiently transfer the materials. Since it is flexible, it will fit into irregular tight spots that we often find. The Appliquator comes in four colors, two softnesses, and two sizes for flexible and precise application. They are available from Benco, Henry Schein, and Practicon.
For more information, call (855) 210-2556 or visit leif@transcojectamerica.com.
To have Dr. Joe Blaes present his lecture, "Pearls For Your Practice®," for your study group or dental society, please call (866) 274-4500.
Ultrasonic Piezo Tips
from Essential Dental Systems.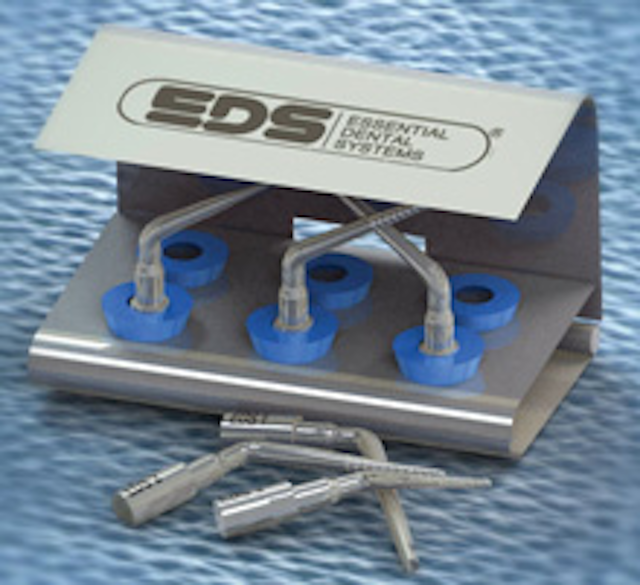 As the company has accomplished with other endodontic techniques, Essential Dental Systems' Ultrasonic Tips advance two key factors for endodontic success -- access cavity refinement and canal orifice location. Developed by leading endodontists, Drs. Allan Deutsch and Barry Musikant, EDS Ultrasonic Tips make ultrasonic procedures more cost-effective, predictable, and quicker. The cutting tips have unique, scientifically-designed MicroHatch cutting patterns that provide the highest fracture resistance, have superior cutting efficiency, have considerably less clogging, and a remarkable field of view. Previously, when performing procedures such as finding canals, I had tried diamond-coated endodontic piezo ultrasonic tips. They worked adequately. But, in comparison, the MicroHatch design seems to cut much more effectively while using a low power setting and providing a lesser incidence of breakage. The MicroHatch pattern does not wear or leave diamond grit. Made in the U.S., the tips offer great working precision. The EDS Ultrasonic Tip Introductory Kit includes: Tip Taxi, post remover (EDS 1), four cutting tips (EDS 2,3,4,5), passive ultrasonic tip (EDS 6), and wrench. Each item is also sold separately. The EDS Ultrasonic Piezo Tips are adaptable to a piezo ultrasonic unit. This is good news. You do not have to invest in another ultrasonic unit. The ultrasonic tips are available in "E" (610-00) or "M" (615-00) thread configurations that will fit all piezo ultrasonic units. EDS will supply the right thread when you order tips. All you have to do is tell the company the name of your unit.
For more information and for a complete line of patented dental products, visit the website at www.edsdental.com. As a product introduction, EDS' website has a limited-time introductory offer of two tips for only $69.
More DE Articles
Past DE Issues