Challenges and potential rewards for mobile dentistry
Seldom are there public health issues that provide the opportunity for the dental profession to expand its patient base, while at the same time helping to ameliorate the problem. Visiting people who are unable to get to the dentist via mobile dentistry is a growing market.
Mar 2nd, 2017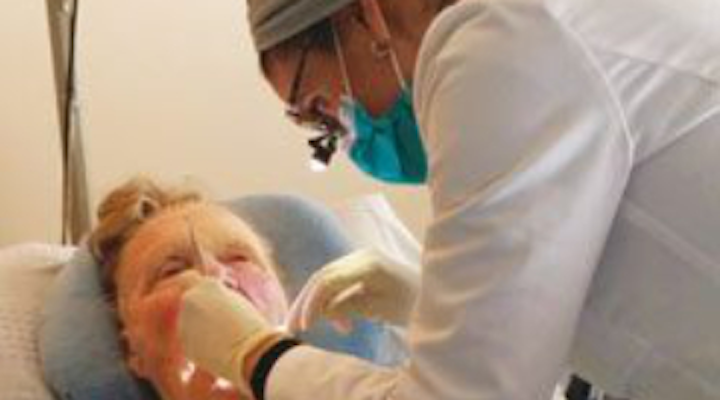 Seldom are there public health issues that provide the opportunity for our profession to expand its patient base, while at the same time helping to ameliorate the problem. The aging of the population in the United States offers this opportunity, but dentists are forced to consider alternate delivery models. In 2050, the population over age 65 is projected to be 83.7 million, almost double that of 2012.1 More people will become nonambulatory, making many unable to travel to a dental office for treatment.
This population growth will result in more people who desire consistent dental care and can afford to pay for it, but who cannot access care because of physical or psychological impediments. We currently have minimal access to these patients because traditional delivery systems are limited to office care. This population may be left to live with untreated pain and chronic infection that can negatively affect its general health. We are challenged to care for these patients and, by doing so, increase our potential patient base.
Current models for treating underserved populations
Dentistry's involvement with public health needs is aimed primarily at young and low income communities, using community clinics or vans outfitted as portable dental offices. Patients travel to a facility and receive care for no charge or at a reduced fee. Services remain inaccessible for the elderly population who can afford them but remain isolated. This article examines another mode-comprehensive mobile dental care. It describes the advantages and disadvantages, and why this model can be financially and professionally rewarding for dentists while providing consistent dental care for the nonambulatory elderly.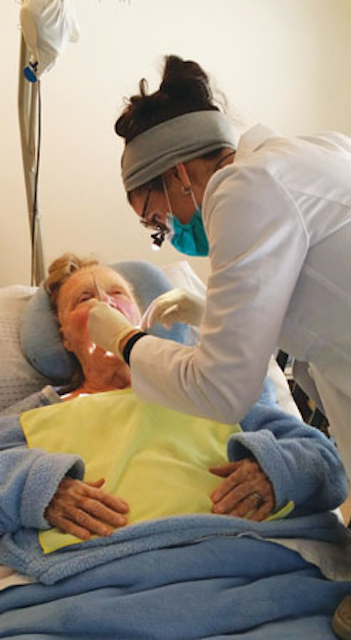 Individualized, comprehensive mobile dentistry
Individualized mobile dental care involves dentists using specially designed portable equipment, traveling to nonambulatory patients, and completing comprehensive services in a residence or care facility. A comprehensive treatment plan is designed that considers all medical and psychological factors. Dental procedures are performed without a patient having to leave his or her residence.
The cases may be complex due to health factors, but dentists can accomplish extensive comprehensive care if barriers are treated realistically. For example, most endodontic procedures are impossible to perform within the standard of care. Teeth requiring complete endodontic therapy are removed or, if they are not causing pain and with the advice of the health team, are temporarily retained. Radiographic, preventive, periodontal, operative, surgical, and prosthetic services are completed in the patient's residence.
Obstacles to mobile dentistry
There are three obstacles to home-based dental care. First is the profession's failure to consider alternative care models along with their financial, professional, and personal advantages. Second are dental schools that do not educate students in the management of private practice, or of the necessity to evaluate their personal financial responsibilities at graduation. Third are patients or caretakers who fail to comprehend the extra costs for dentists. It is our responsibility to help patients understand the monetary value and convenience factors of eliminating the time-consuming task of preparing the patient to leave the residence, the physical and emotional strain on the patient, and time for the caregiver to travel to and wait at the dental office.
Financial factors facing recent graduates
Many graduates are burdened with heavy education debt, and many recent grads face financial decisions without sufficient management skills. Faulty financial decisions can negate the value of a dental education and result in financial failure. Many recent graduates choose to associate in dental offices in which, as of October 2016, they average an income of $500 per day. While working for another dentist, these associates produce no patients for a future practice because contracts usually state that records of patients treated in the practice belong to that practice. A better option for them might be to start a mobile dental practice while working part-time as an associate. Earnings can be more than those of an associate, and the dentist is subliminally "advertising" to potential patients when treating them in their residences. Also, dentists often refer special-needs individuals because of the challenges they present to the dentist, staff, and other patients in an office.
Financial advantages of mobile dentistry
Statistics indicate that professional lifetime earnings increase the sooner dentists have their own practice. The only major purchases required for mobile care are a combined compressor, suction and drill ($4,000 to $6,000), a portable x-ray machine and computer to take and interpret radiographs on site ($10,000 to $15,000), and a portable light source with magnifying lenses ($1,500 to $2,000). Other supplies are purchased as needed.
Compared to the $100,000 to $250,000 cost of equipping and operating a traditional office, the chance of financial failure is minimal. In addition, there is no lease responsibility, minimal overhead, and scheduling flexibility. Portable chairs are not necessary because it is difficult to move a patient from bed to dental chair. The most efficient place to treat a homebound patient is either in bed with pillows acting as a head stabilizer, or in a reclining chair where many are seated when out of bed. A wheelchair is not acceptable due to lack of head stabilization, which leads the patient to slump forward, limiting access.
A dental assistant can help move equipment from car to residence while acting as a phone receptionist, which reduces overhead.
Rewards and problems when adding mobility to a traditional practice
There are significant advantages to adding home care to a traditional practice. Schedules can be filled, and it is a creative way to promote the practice outside of the office. Net income increases with little financial outlay. A major consideration is that travel and added consultation time calls for higher fees than those charged by traditional offices. How can a dentist working "in network" with capped fees set by insurance companies develop appropriate charges for homebound patients? I called both Delta and Cigna insurance companies, and they confirmed that "in network" offices are registered by the address at which a patient is treated. Because a residential patient is treated at another address, the dentist is considered "out of network" for those patients and appropriate fees can be set.
Mobile dentistry and the dental profession
Although mobile dentistry will not fit the goals of all dentists, it may be appealing at any stage of a dental career. Dentists with extensive personal commitments or those wishing to reduce their professional responsibilities might find a residential practice preferable to a traditional one. Dentists considering retirement may wish to continue practicing on a part-time basis, with reduced overhead and a flexible schedule. Completely mobile practices can be financially feasible.
Disadvantages of the mobile model
As with all practices, there are shortcomings. Treating residential patients requires more time and patience than treating those in an office. Travel and consultation times reduce the number of daily patients. Equipment requires movement to and from a car, and sterilization procedures are performed elsewhere. Flexibility is essential as dental treatment plans are secondary to medical requirements. The area in which a procedure is performed may be more difficult to keep clean and sterile. These are obvious problems, but in comparison to a complete lack of care, the shortcomings can be overcome.
Summary
The mobile model currently serves only those patients who can afford the cost. Despite this, the model addresses a public health need while meeting the professional and personal goals of many dentists. As mobile dentistry matures, new equipment and techniques will be produced that will make residential care more practical for all involved.
Individualized, comprehensive mobile dental care is not the only answer to providing dental services for this untreated population. There is the potential to address an increasing public health problem while at the same time offering new possibilities for dental careers, and bringing patients into an increasingly competitive market. Our profession should be flexible enough to recognize changing situations and to offer innovative ways to respond.
Reference
1. Fueled by Aging Baby Boomers, Nation's Older Population to Nearly Double in the Next 20 Years, Census Bureau Reports. United States Census Bureau website. http://www.census.gov/newsroom/press-releases/2014/cb14-84.html. Published May 6, 2014. Accessed February 14, 2017.
---
Calman Kurtzman, DDS, served in the Army Dental Corps before earning his DrPh from UCLA School of Public Health. He served as a lecturer at UCLA Dental School for 25 years. Dr. Kurtzman is the founder of the UCLA Mobile Dental Program. He owned a solo general practice in Santa Monica from 1959 to 2000. Since 2000 he has worked with the Comprehensive Mobile Dental Care in Los Angeles, which provides dental care for homebound patients.