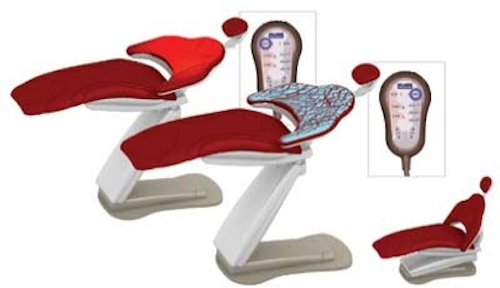 Joseph J. Massad, DDS
For more on this topic, go to and search using the following key words: operator access, patient comfort, efficiency, patient retention, Dr. Joe Massad.
Patient comfort and optimal operator access improve quality and efficiency.
Comfort for patients and total operator access for providing various dental procedures can be top assets in treatment efficiency and patient retention. During the last year, in this column I have addressed how providing the highest quality dental care more efficiently will save vital time for the dental team.
I discussed several dental procedural tips in prosthodontic therapy while addressing several hidden costs that are often overlooked, thereby negating the savings of fixed overheads.
In this last issue of 2010, I address patient comfort while maintaining optimal operator accessibility to the oral cavity. There is no need for the practitioner to stretch his or her torso in various positions to reach difficult areas for restorative procedures.
One item was at the top of my list when I built my new training facility. I wanted to find a dental chair that would place a patient in the position that would best suit all attendees' hand and eye movements without straining one's body so attendees could focus on the primary objective.
Doing this required the most versatile prosthetic chair and headrest that could adjust for virtually any procedure. It was necessary to treat the patient with the best access while either sitting up or in the supine position. The patient also required complete relaxation without fear of feeling unstable in the dental chair during the procedures.
But I never imagined that patients would be given the bonus of a heated back support and the option of a massaging feature. This turned out to be the icing on the cake.
The feedback from patients was unanimous. They felt like they were cuddled up, and along with a light vibration, they felt a serenity. This distracted many of them while I performed their dental procedures. My new training center is equipped with new Elevance dental chairs (Midmark Dental, Versailles, Ohio) in each operatory.
With this chair, I can actually raise the patient in the supine position and stand as needed for certain challenging procedures. In future columns, I will report patient feedback on my efficiency in using these technologically advanced dental chairs.
I think it is extremely important for dentists to spend wisely; however, we need to research not only the cost of dental equipment but analyze how it will affect patient attitudes. We also need to see how it will help provide the optimal position of the patient so we can do prosthetic procedures efficiently and in the least amount of time.
Thank you for permitting me to speak to you this year in Tip of the Month. I promise you that next year I will return to command (never demand) your interest. I hope that my pleasure in dentistry will also be yours ... Joe Massad. Dr. Joseph Massad may be reached by phone at (918) 749-5600 or by e-mail at joe@joemassad.com.
More DE Articles
Past DE Issues