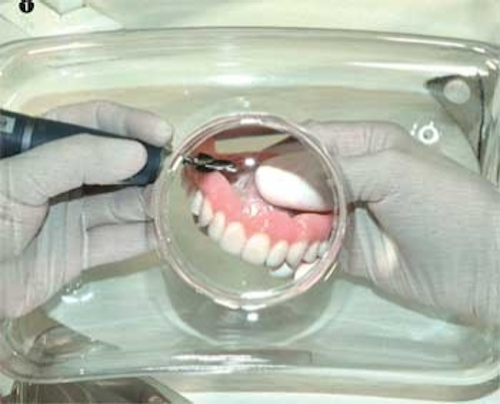 For more on this topic, go to www.dentaleconomics.com and search using the following key words: prosthodontics, prosthesis, enclosed container system, debris, Dr. Joe Massad.
Welcome back! This month's tip involves the use of an enclosed container system to eliminate debris in both the operatory and at the lab bench. While there are several surveys indicating that operatory turnover may be digging into our profits, there has been little said about eliminating debris from appliance adjustments which, over time, can create a very inefficient working environment.
The cost of operatory turnover is a cost that should be recognized and dealt with to improve our bottom line. In removable prosthetics, appliance adjustments are part of the overall treatment plan and the most efficient alterations can be made chairside, which saves time rather than going to and from a lab area.
I have personally found that I can contain most of the spreading debris and dust by using a chairside acrylic grinding box with a built-in magnifying glass (Renfert USA — www.renfert.com — see Fig. 1, above). While in the lab and preparing for grinding for relines, base plate fabrications, etc., I use a more powerful container attached to a suction unit called the Dustex Master Plus and Silent Suction Unit (Renfert USA, see Fig. 2, below).
The advantages of utilizing both containment systems has increased my efficiency and reduced timely cleanup.Today, we must provide the highest quality performed in the least time to be profitable.
I hope this tip will help you as much as it has me, and that it will increase your pleasure in providing prosthetic care to your patients.
See you next month. I hope my pleasure in dentistry will also be yours ... Joe Massad.
Dr. Joseph Massad may be reached by phone at (918) 749-5600 or by e-mail at joe@joemassad.com.
More DE Articles
Past DE Issues