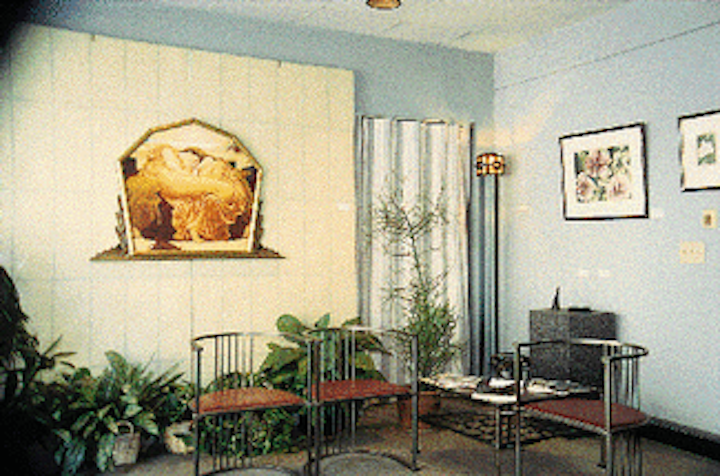 Ron Combs, Associate Editor
During his early high school days, Dr. Steven Andreaus had every intention of making his fortune as an artist. "However, my father, a very sensible newspaper man, suggested that I consider alternate fields of study, noting that most famous artists die before their work becomes valuable," he recalls. As it has turned out, the general dentist is successfully combining art with dentistry in his Raleigh, North Carolina, practice. His office doubles as an art gallery in which both local and international artists display their work.
During a two-year associateship in a well-established practice in a suburb of Raleigh, Dr. Andreaus found that "treating patients as if they were family members often results in the greatest acceptance." Patients, he believes, appreciate an office setting that is elegantly home-like and, in addition, offers something that reduces their anxiety, such as an art gallery.
Dr. Andreaus` search for a place to open his own practice in Raleigh ended in a 1,500 square-foot building, a leisurely five-minute walk from the state capitol. The building is owned by nationally-recognized architect Norma DeCamp Burns, who helped design Dr. Andreaus` office. "It`s in an area under revitalization," he says. "As I stood in the doorway, watching the walls rise, I could see my vision coming into focus. This dental office was also to become a full-fledged art gallery. Today, with several other nearby buildings also serving as art galleries, we have established a very active art district."
All of the office cabinetry, including the portable carts, are designed to aid in the flow of patients as well as gallery viewers. The extensive use of grays and black, with a splash of red, is comforting for patients and provides unobtrusive surroundings for the art being featured. The featured artist is given full utilization of the gallery, which, except for the doctor`s private office, includes every nook and cranny.
Currently, two of the office`s four operatories are being used-one by the doctor and another by the hygienist. The others have been plumbed for dental units to accommodate future practice growth.
"This office is an enjoyable place to be for me, my staff and patients," comments Dr. Andreaus. "The way I feel about my business is that if I can`t have fun, why bother; there are plenty of other things out there. I am fortunate; I am having a ball."
Every effort was made to provide "an enjoyable place" for doctor, staff and patients.
The office is designed to aid in the flow of patients as well as gallery viewers. Only the doctor`s private office is not included in the gallery area.