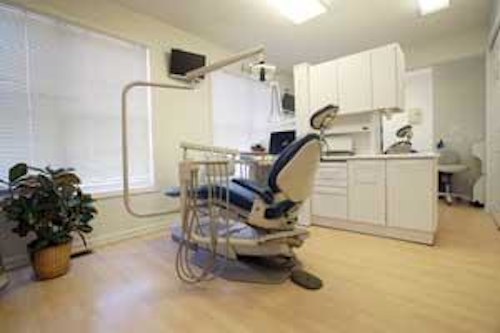 In 15 years of marriage, Dr. Sara Denzinger-Rowe and husband, Mike, have shown that teamwork at work and at home is a proven formula for success.
For more on this topic, go to www.dentaleconomics.com and search using the following key words: Denzinger Family Dentistry, Dr. Sara Denzinger-Rowe, marriage, success, business.
Sometimes a happy home life for a married couple doesn't translate to a successful venture for the couple in the business world. Such is not the case for Dr. Sara L. Denzinger-Rowe and her husband, Mike.
With Dr. Denzinger-Rowe concentrating on the clinical side and Mike Rowe directing his efforts toward business pursuits, the couple has combined to create a thriving dental practice — Denzinger Family Dentistry.
After opening its doors with just two operatories in a 2,000-square-foot working area in 2002, the practice expanded to include six treatment rooms covering some 3,800 square feet by the end of 2008.
At press time, an additional 1,800 square feet of space — to house four more operatories — was being built. Plans called for occupancy by the start of this year.
Once this addition is in place, Denzinger Family Dentistry will have nearly tripled in size while adding five times the number of chairs from the practice's beginning some seven years ago.
That's quite a growth spurt for the practice, which is located in New Albany, Ind. — a town of approximately 80,000. New Albany is located in the southern tip of the Hoosier state, just north of Louisville, Ky.
Mike Rowe, who has a degree in business management and has handled marketing efforts for Monster.com, explains the collaborative business approach for the couple. He and Dr. Denzinger-Rowe have been married for 15 years.
Mike said he handles issues such as human resources and marketing of the practice while setting the tone for financial items and pricing strategies.
This allows Dr. Denzinger-Rowe to be exclusively dedicated to clinical care. Without having to worry about the areas that Mike handles, she can focus her efforts on treating patients.
Dr. Denzinger-Rowe said that the couple are definitely a special team in terms of how the two work so well together, and that the practice is better with their combined input than it would be with just one person's involvement.
She said the couple, who have two sons, end up spending considerable time together at the office and at home.
Dr. Denzinger-Rowe, who grew up in New Albany, was no stranger to dentistry while growing up.
Her father is an orthodontist who is still practicing today with more than 30 years of experience in the field. Before entering the profession, she spent time helping out at her father's practice.
She said the experience of seeing how her father's treatment of patients made such a difference in their lives had an impact on her decision to embark on a career in dentistry.
Dr. Denzinger-Rowe received a bachelor's degree from Indiana University in 1992 and earned a DDS from the Indiana University School of Dentistry in 1996.
Her undergraduate degree included course work in design and art history. The knowledge gained from these disciplines has proven beneficial in terms of space planning and decorating for the office.
While not lavish, the practice's look and design are quite functional and attractive, with the artwork of local artists gracing the walls.
Denzinger Family Dentistry wants to provide top-notch family dentistry in comfortable surroundings at reasonable prices. The practice's philosophy is to treat people like team members themselves would want to be treated.
Much of the success of the practice can be attributed to its efficient utilization of space. Throughout the office, the use of space is very functional.
According to Mike Rowe, the original decision to move to the practice's current location was influenced by the ability of future expansion at the site, which is part of a two-level office condominium complex.
In essence, the site selection help set in motion future expansion plans.
The Rowes started with two treatment rooms in the practice with a third operatory roughed in for addition at a later time. In addition, by converting a break room and making some cosmetic changes to the office, the practice was able to create enough space for six operatories.
The purchase and build out of additional space next door to the current practice location (the space due to open the first of 2009) will bring Denzinger Family Dentistry to 10 treatment rooms.
While the practice was expanding on the main floor with the addition of operatories, it was also expanding to a second level.
Nonpatient activities, such as office space, a break room, storage, and even a portrait studio, are now located upstairs.
As unique as the use of space in the practice, so is the payment approach the Rowes have used with expenses for their office expansion.
Investments in office improvement have been paid, in part, up front with the remaining amounts financed on a short-term note of more than two years.
According to Mike Rowe, this approach has worked well for them. He said it makes them remain disciplined in their spending while allowing for debt to be paid off quickly. This allows the practice to have a great relationship with banks in terms of establishing credit for future financing needs.
The Rowes do try to keep the practice's debt as low as possible. Generally, they try to pay for one addition before embarking on another.
Mike Rowe said that the couple tends to take a "mercenary" view when considering possible investments for practice improvements. If an investment will not pay for itself, they don't make it.
The Rowes also believe strongly in investing in a good team. The ample salary and benefits paid to team members has resulted in high production, high team morale, low team turnover, plus a continuity and efficiency that would be most difficult to replace.
Future plans call for the addition of an associate to Denzinger Family Dentistry during the first quarter of 2009.
In addition, the couple has purchased two acres of land and received local planning commission approval to build on this site should they decide to do so later.
The Rowes emphasize the importance of being selective when choosing a location for a new practice. If possible, they recommend owning that space to allow for possible expansion. If necessary, space can be left unfinished initially and then be completed when circumstances allow.
---
Sara L. Denzinger-Rowe, DDS
Denzinger Family Dentistry
5140 Charlestown Road, Suite 1
New Albany, IN 47150
Phone: (812) 941-1400
FAX: (812) 941-8089
Cosmetic and general dentistry, orthodontics
Web site: www.denzingercare.com
e-mail: info@denzingercare.com