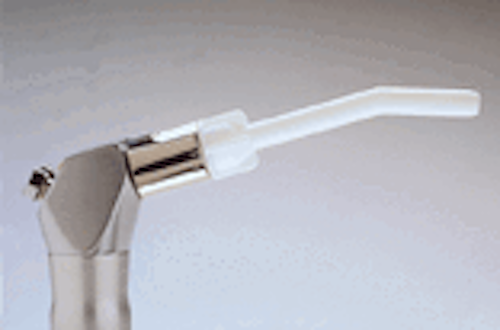 Joseph A. Blaes, DDS - Editor
Pearl #1 - Pro-Tip by Sultan Dental Products (Figure 1). Sultan has taken air/water disposable syringe tips to the next level by solving most of the problems commonly associated with this product. They have eliminated the major problem of getting water when you want air only by creating a dual-chamber design, meaning you don`t have to aim the tip somewhere else to clear the water. And they guarantee it. The tip takes some getting used to because it is larger in diameter than other tips. It comes with a converter that is easy to install, does not leak, and has a 360-degree swivel for full-mouth access. The Pro-Tip comes with a terrific safety-lock system that keeps the disposable tip from accidentally coming off during use. This tip has a positive-locking "bayonet mount" system. Sultan has converters to fit all different types of air/water syringe systems. If you have had problems in the past with disposable tips, I think this one has solved the problems and is worth a try. Call Sultan at (800) 238-6739 and for 10 bucks, you get 50 Pro-Tips and a converter. Now that`s a low-risk deal!
Pearl #2 - Imprint II by 3M (Figure 2). What? Another impression material? Yes, but read on. I think 3M has a winner with this one. I have been using Imprint II since it was introduced at the CDA in Anaheim. In fact, it looked so good at the booth that I carried a supply home with me on the plane so I would not have to wait for delivery. It has been great! This material is one of the new two-phase systems utilizing a wash material and a tray material. As you know, if you follow my "Pearls," I use Kerr Extrude as my benchmark. 3M has made a number of changes in its material and dispensing systems. The tray material has a very high viscosity and is very heavy-bodied, but it has excellent elastic recovery, high tear strength and dimensional stability. In order to save our dental assistants` hands and forearms, 3M has developed a new dispenser that has 40 percent more extrusion power. That means you need much less hand force to operate the dispenser. My dental assistants love it because it is so easy to use! There are two wash materials to choose from - low viscosity or a regular viscosity. So far, I tend to favor the regular viscosity material. The wash material is meant to be dispensed from the "gun," which required a technique change for me. However, I have adapted to using 3M`s tips on the dispenser and found that it saves time and gives me more control in placing the material. Both the low- and regular-viscosity washes do not slump or drip off the preparation, so there is no problem with upper impressions. Imprint II sets in the mouth in four minutes, which saves time and is more comfortable for patients. The cartridges are labeled showing working and oral set times and are color-coded for easy matchup with the color-coded tips. The cartridges have dual ports that keep the two materials separate and virtually eliminate plugging. So, you can recap the cartridge and throw away the tip immediately after use, preventing cross-contamination and promoting infection contr
Pearl #3 - The DentaPedic Pad by DentaPedic Products. Dr. Pete Roach always has been interested in patient comfort because many of his dental procedures involve long appointments for his patients. He was searching for a pillow to help his TMJ patients when he came across a new material from Sweden that actually molds to the body contours. The material responds to your body heat and then contours to relieve all pressure points. Dr. Roach was impressed with the therapeutic aspects of the Tempur-Pedic material, and he has designed the ultimate in patient comfort - The DentaPedic pad. It has been designed to fit any existing dental chair. I retrofitted one of my chairs with the DentaPedic pad about eight weeks ago. My patients love it! They comment on it when they initially sit down and then they rave about it when their procedure is over. Most say they have never been that comfortable in a dental chair before. My biggest problem now is that the patients are fighting to be scheduled in the one room with the "comfortable" chair. The material in the DentaPedic cushion is a unique, high-density visco-elastic, which is breathable and open-celled. Many major hospitals have thrown out their "egg crate" material and converted beds to this material. DentaPedic products are covered with a PU Wetsafe impermeable material that will not absorb any liquid. The cover can be cleaned with standard disinfectants. Call DentaPedic Products at (800) 500-0518 for additional information.
Dr. Blaes has a general practice in the St. Louis area. He is known for his expertise in dental materials and techniques and his innovative systems designs. He writes and lectures on "How To Increase Productivity and Profitability." He may be reached at (314) 434-6808.
Figure 1
Figure 2