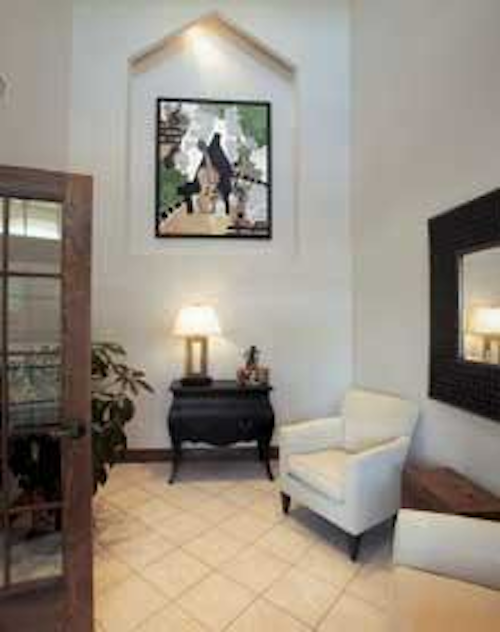 Dr. Thomas Grabeman and Dr. Erik Ellefson build value and trust at South Dayton Family Dentistry
by Linda Holeman, Assistant Editor
Playing it safe was not an option for Thomas Grabe-man, DDS, of Kettering, Ohio. After more than 20 years in dentistry, he had a comfortable practice with a loyal, dedicated staff and patients who were more than just clinical cases — they were his friends.
So, why change? "I was at a crossroads: either stay in a small, outdated office or build a facility I would truly enjoy working in for the next 15 to 20 years," explains Dr. Grabeman. "My wife Lisa and I decided to invest in our office and practice instead of a second vacation home or the stock market."
It was a decision the 46-year-old general practitioner did not take lightly. Dr. Grabeman credits the L.D. Pankey Institute for shaping his philosophy about dental practice. One of many canons the institute stresses is to provide quality care one patient at a time. It's a philosophy Dr. Grabeman takes to heart. Over the years, he has carefully cultivated a relaxed and inviting practice that performs exquisite services. It was atmosphere he and his partner, Dr. Erik Ellefson, wanted to maintain.
Another Pankey principle Dr. Grabeman espoused was to create a Board of Directors for his practice. This board consists of seven individuals who share a deep friendship with Dr. Grabeman and a commitment to his practice. It was to this group Dr. Grabeman turned for advice about the direction his practice should take.
Not surprisingly, the board urged him to make the leap. Board member Lee Carpenter, CEO of Design Forum, was especially adamant. He pointed out that the space in the existing facility was constraining, and there was no room for new, high-tech equipment. Says Dr. Grabeman, "He felt if I was going to practice at a level of continuing excellence, then I needed an office designed for proper dentistry." For Dr. Grabeman, the time was ripe.
Two months later, he attended a three-day dental office design seminar put on by T.H.E. Design group of Austin, Tex. He returned to Ohio inspired and immediately called James Faulkner, a patient and friend who also happens to be an architect. Together, they began to shape what would become South Dayton Family Dentistry.
Site selection was of paramount importance. The current facility, originally a private home, was in a noisy, high-traffic area with poor access and inadequate parking. For their patients' sake, the two doctors wanted a lot that was close to their existing facility, yet removed from the congestion and bustle. They found the ideal location three blocks away — a serene, wooded half-acre conveniently located on the bus line, yet removed from traffic.
Dr. Grabeman's consultive approach to office planning, design, and construction has paid off handsomely. The new 6,200 square-foot building, which has 3,200 square feet dedicated to dentistry, took almost a year to complete. "It's worth every penny," says Dr. Grabeman. The office houses eight operatories, a private consultation room, lab, sterilization room, staff lounge, and a private doctors' suite. Dr. Grabeman credits another friend and patient, interior designer Jan Wagner, for giving the office a modern and spacious feel that retains the sense of intimacy so important to the practice's philosophy. Each exam and treatment room has a large window with a soothing view of the outdoors. The split-operatory concept — four rooms on either side of the building — allows both dentists ample room to practice flexibly.
Incorporating their equipment needs into the office design was also crucial. Dr. Grabeman and Dr. Ellefson met with their Sullivan Schein representative, Terri Witters, to map out a plan for upgrading their equipment and investing in new technology. They quickly concluded digital radiography was a must and decided on the Gendex system. They installed new software in each operatory, including the CAESY patient education system. They also purchased intra- and extraoral digital camera systems and an intraoral video camera. Each chair is equipped with headphones that offer both radio and CD musical selections for patient relaxation. "We purchased 75 percent new equipment and retained only 25 percent from our old office," says Dr. Grabeman.
One of the most surprising and gratifying results of this undertaking has been the response of the staff, which consists of five assistants, four office personnel, and five hygienists. Working in such a beautiful, high-tech office has remotivated them. Says Dr. Grabeman, "Their excitement with dentistry and their level of care continues to increase."
Both Dr. Grabeman and Dr. Ellefson, age 30, a former patient whom Dr. Grabeman mentored throughout college and dental school, report a solid increase in the practice's bottom line. Dr. Grabeman states that in the first year alone, their net profits were up by 30 percent. He also notes that patients more readily accept treatment recommendations. As one patient says, "The first time I walked into your beautiful office, I knew it was the right place for me."
Another Pankey tradition Dr. Grabeman transferred from his old practice is the commitment to balancing his personal and professional life. He and his wife of 23 years, a former hygienist, enjoy following daughter Leslie on the junior golf circuit. Their son, Kevin, also is a devotee of the sport and will enter Ohio State University on a golf scholarship in the fall.
As he begins the second half of his career, Dr. Grabeman has this advice for colleagues who are considering whether to take the plunge and build a new office: "It's the best investment you could make!"