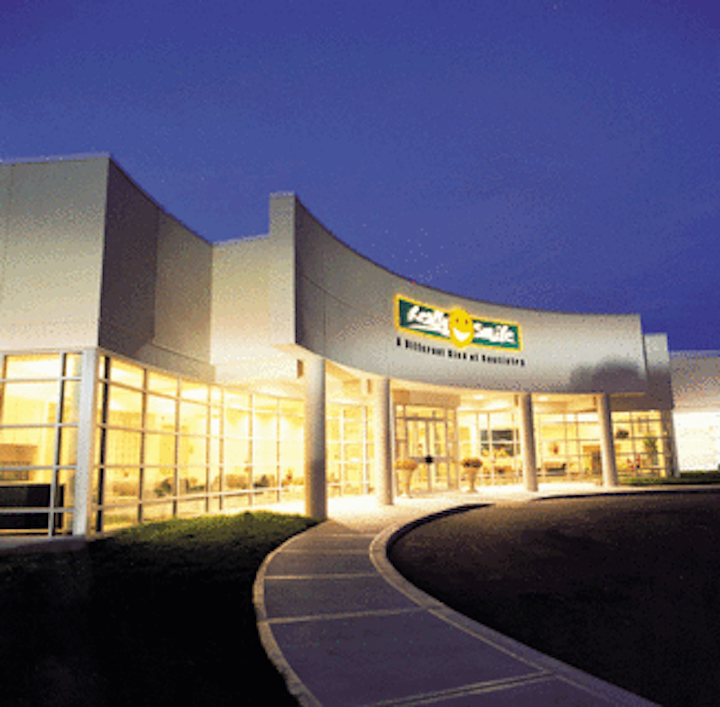 An Indianapolis office demonstrates how an innovative blueprint combines a high-tech feel with a comforting coziness. The result was first place in the Dental Office Design Competition.
Barbara Baccei
Breaking the mold was the design strategy for the new offices of Drs. Rod Strickland and Dave Smith of Fishers, Ind. Their practice, Really Smile Dental, was awarded the grand prize in The Matsco Companies Dental Office Design Competition 2000. The practice also tied for first place in the competition`s high-tech integration category.
"Dentistry has changed from the traditional approach we learned in school to the new age of adhesives," said Dr. Strickland. "We wanted to create a building reflecting the new paradigm - something that matched our philosophy of treating patients."
That philosophy, "high-tech treatment mixed with high-touch care," is evident from the moment patients approach the inviting curved glass entry through their end-visit review of treatment plans and financial arrangements at private checkout desks. All elements of the floor plan, structuring, and furnishings support the most technologically advanced approach to treatment while giving patients a comfortable and individualized experience.
The unique artistry of the building amplifies the uniqueness of the practice. Brick, limestone, and a stucco façade immediately communicate a sense of style and innovation. Were it not for the prominent signage, passersby would be hard pressed to identify the exquisite structure as a dental practice. Yet, this was an intention of the strategic design - a means of communicating immediately that Really Smile Dental is "a different kind of dentistry." Even the outside curve and landscaping which flows with the architecture proclaim that this high-tech office offers dentistry unlike any other dental experience.
Entering the sleek, curved-glass entry that glows like a mouthful of shining veneers, patients find themselves in a luxurious reception area with the feel of a sophisticated hotel. There is an instant overturn of their models of the typical dental office where a receptionist slides back a glass window and hands them a clipboard for check in. They step up to a polished wood reception desk with a curvature that echoes the exterior façade. They are greeted by name by a cheerful staff member and offered a beverage. All fears about the potential of a painful dental experience immediately fade.
Even the wait for treatment is pleasurable due to the environment and volume of operatories. Separate waiting areas for adults and children cater to their unique sensibilities. The children`s area features a captivating 1,000-gallon salt water aquarium, toy furniture, colorful books, and a 43-inch DVD television with shows for kids. In the adult area, patients lounge on soft leather sofas and chairs, have their own 43-inch television tuned for patient education, and a workstation with a computer and telephone. Just as they get comfortable, they are ushered into an operatory and prepped for treatment.
"In our old office, we understood what it was like to lose efficiency due to lack of space," said Dr. Strickland. "If any procedure took longer than usual, the next patient had to wait or reschedule since there were no treatment rooms available. This was unacceptable with the standards of our practice."
The new facility has been designed with overflow operatories to accommodate patients when procedures go over time and erode the schedule. That enables patients to be admitted into overflow treatment rooms and prepped in time for the doctors to complete the overtime procedures and turn their attention to the next patient. It diminishes the traditional downtime and frustration experienced when a practice must wait to treat patients until an operatory can be vacated and cleaned.
Even inside the operatory, patients have an atypical dental experience. Each room has an outside window with a scenic view. The layout and furnishings are ergonomically designed with doctor, patient, and assistant comfort in mind. Procedures are delivered with the most advanced technology ensured by Cat 6 network cabling. To provide enough electrical power for all components, along with dedicated power for equipment sensitive to energy fluctuations, an isolation transformer has been installed. The design called for an inventive means of wiring the intraoral camera, Caesy patient education system, Planmeca digital radiography, and computer onto a regular 27-inch television monitor and computer monitor.
Selecting the right architect was critical to the project. Using an initial floor plan created with a representative from Patterson Dental Co., the doctors began surveying the field for an appropriate candidate. They found three possibilities in their local market but went no further than the first interview because they found an ideal match in the Indianapolis firm of Browning, Day, Mullins and Deardorf. Even without direct experience developing dental properties, the doctors knew this architectural firm could turn their vision into reality.
"If you want to create something really outstanding, you have to surround yourself with the right people," commented Dr. Smith. "We found it was very easy to work with our architect, John Lindstaedt, because he had no preconceived ideas about how the office should turn out."
The doctors had found someone who could think "outside the box" with them. Because Lindstaedt was not entrenched by traditional dental design solutions, he was able to illuminate the doctors` vision of creating a totally different dental experience.
With an understanding of the doctors` desires in terms of functionality and patient flow, Lindstaedt interviewed every staff member and then developed a design strategy. The final design was a true team effort created through an evolving progression of drawings that incorporated staff changes in function and the architect`s changes in form. Nearly one year in process, the planning involved mechanical and structural engineers who also were new to the infrastructure specifics of a dental office.
"Obviously, the costs were greater because we had to pay for some of their learning curve but, in the end, we got exactly the office we`d envisioned," said Dr. Strickland.
Marrying the intimacy of a small office experience with the advantages of a high-tech environment in a fully integrated,16-operatory practice was the challenge.
"We didn`t want the bowling alley effect," said Dr. Smith, "with one long hallway leading to all the operatories."
The architect translated those desires into connected avenues of curved glass walls in the same theme as the exterior. Creating discrete areas for clinical, administrative, and reception functions, the curved-glass walls also provide adequate sound barriers while allowing light to shine through. The result is a feeling of openness mixed with the benefits of privacy.
While technology integration is in its infancy in dentistry, Really Smile Dentistry endeavors to push the envelope. They have made great inroads in becoming a truly paperless, chartless office. A filmless digital radiography system and dental software allow the team to chart fillings, decay, periodontal disease, and other case-specific findings. And they are working with software companies to create more efficient integration with voice charting.
With patient care at the forefront of planning, the doctors have made a tremendous investment in technology and a commitment to ensuring that it is effectively utilized. To that end, great emphasis is placed on educating patients about the use of innovative technology for effective treatment. All patients are shown intraoral photographs of their mouths as an aid to teaching them about their dental problems and having them buy in to the prescribed treatment. The photographs are efficiently taken on stand-alone cameras in each operatory and are networked onto the server for accessing from any treatment or consultation room.
"We recommend the same treatment to our patients that we would recommend to our families," said Dr. Strickland. "When patients are convinced that we have their best interest at heart, and they are convinced of the value of treating teeth with the best techniques and materials possible, we build the foundation for a long-term patient relationship."
Relationship is also at the foundation of the professional partnership of Drs. Smith and Strickland. After successfully creating a combined dental lab to serve their individual practices, they began to discover that they shared the same philosophy of practice and a dream for the ideal office. That led to the decision to practice together under the corporate moniker ADKOD (A Different Kind of Dentistry).
Today, that philosophy is championed by their team and manifest in the style of their office.
"We go overboard to try to take care of our patients` needs," said Dr. Smith. "We earn our patients` trust and respect by going beyond the call of duty." That commitment is evidenced by the doctors` willingness to respond personally to emergencies, make follow-up calls after difficult treatments, and invest in the people, systems, and facilities that have totally transformed the way the community of Fishers, Ind., looks at dentistry.
What advice do they offer to other dentists embarking on a new office design? "If you want something unique, find an architect that has not done a lot of dental buildings before," suggested Dr. Strickland. "Find someone who has created buildings that appeal to you and who doesn`t have preconceived notions. Show the plans to a lot of different people, not just dental people. Listen to their feedback.
"Get involved with the contractor early on. The contractor can assist in the design process and help keep the project on budget."
For information about the next annual Dental Office Design competition, call Matsco at (800) 326-0376.
The Technology at Really Smile Dental
Putting the patient`s needs first, rather than fear of rejection form insurance companies, Really Smile Dental has invested in the following technology:
- CEREC 2 one-visit ceramic restorations
- Digital intraoral radiography
- Digital panoramic radiography
- Diode soft tissue laser
- Er/YAG hard tissue laser
- High-speed PAC curing lights
- Electric handpieces
- Warm air dryers
- Caesy patient education system in all operatories
- S-video switching system to control video the patient view monitor
- Wand computerized anesthesia system
The honor roll
Inspired by observations that efficient and esthetic dental office design helps boost practice value, production, and team self-esteem, The Matsco Companies created a program for recognizing exemplars of practice design. For the first program, Dental Office Design Competition 2000, 142 outstanding entries were judged according to rigorous criteria by a panel of experts in the fields of architecture, interior design, management, ergonomics, and equipment.
Matsco and Dental Economics are pleased to announce this year`s winners. Winners will continue to be featured in upcoming issues of Dental Economics and at the Matsco Dental Office Design Symposium, June 16-17 in San Francisco.
The finalists of the 2000 competition are as follows:
Dental Office Design of the Year
Outstanding achievement in overall design, esthetics, uniqueness, efficiency, and technology relevant to practice philosophy and goals. The first place winner will be featured at Matsco`s Dental Design Symposium 2000.
1st Place
> Really Smile Dental, Rod Strickland, DDS, and Dave Smith, DDS, Fishers, Indiana
2nd Place
> Center for Cosmetic Dentistry, L. John Rose, DDS, Long Beach, California
3rd Place
> Birmingham Endodontics and Ballard Endodontics, Darin Cissel, DMD, John Collier, DMD, and James Ballard, DMD, Birmingham, Alabama
Honorable Mentions
> Boyd O. Whitlock III, DDS, MS, Springfield, Arkansas
> Charles Fischer, DDS, Greenwood Village, Colorado
> North Raleigh Dental Care, Dinah B. Vice, DDS, Vichy, Missouri
Outstanding First Dental Practice
A model for design efficiency, functionality, creativity, and appeal at a stage in the practice when resources are often limited.
1st Place
> Center for Cosmetic Dentistry, Cynthia McKim, DMD, Boise, Idaho
2nd Place
> New England Dental Group, Margarita Panajoti, DDS, Marlborough, Massachusetts
3rd Place
> Office of Dr. Robert D. Eliott, Pediatric Dentistry, Robert D. Elliott, DMD, MS, Apex, North Carolina Honorable Mentions
> Antonio Nunez, Jr., DDS, Marietta, Georgia
> Silberstein Orthodontics, Robyn and Kurt Silberstein, DDS, Highland Park, Illinois
> Stephen Lawrence, DDS, Carlsbad, California
Best in High Tech Integration
Displaying exemplary commitment to patient care, comfort, and practice growth by introducing state-of-the-art equipment that does not detract from the overall office esthetic.
1st Place (tie)
> Really Smile Dental, Rod Strickland, DDS, and Dave Smith, DDS, Fishers, Indiana
> Center for Cosmetic Dentistry, Cynthia McKim, DMD, Boise, Idaho
2nd Place
> Boyd O. Whitlock III, DDS, MS, Springfield, Arkansas
3rd Place
> Center for Cosmetic Dentistrym L. John Rose, DDS, Long Beach, California
Honorable Mentions
> North Raleigh Dental Care, Dinah B. Vice, DDS, Vichy, Missouri
> New England Dental Group, Margarita Panajoti, DDS, Marlborough, Massachusetts
> Silberstein Orthodontics, Robyn and Kurt Silberstein, DDS, Highland Park, Illinois
Outstanding Specialty Practice
Special recognition for overall office design, esthetics, comfort, and efficiency in a practice providing alternative or additional dental health care programs.
> Newport Coast Oral Facial Institute, Cherilyn G. Sheets, DDS, and Jacinthe M. Paquette, DDS, Newport Beach, California
The reception desk at Really Smile Dental.
A separate waiting area (left) designed for parents with small children features a play area and a 1,000-gallon salt-water aquarium. New patients are ushered into the "VIP room" (right) where they meet with their treatment coordinator.
After treatment, patients are seated at a private check-out desk (left) to review treatment plans and make payment arrangements. All 16 operatories (right) feature state-of-the-art technology.
A 2,000-square-foot dental lab (top) is located on the lower level of the Really Smile Dental facility. A staff lounge (middle photo) can also be used for occasional training. The doctors` office (right) includes two work areas, a conference area, a private changing room, shower, and restroom.